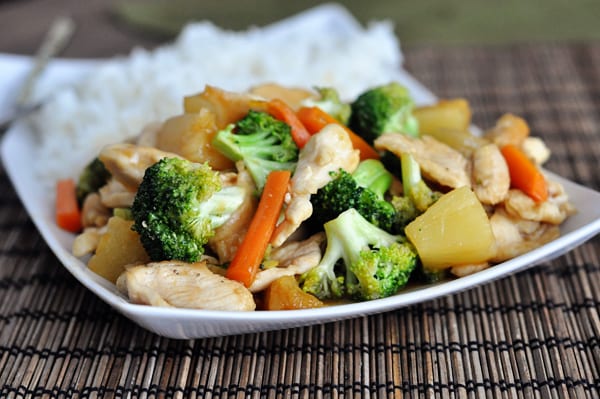 Gosh, I love a good stir-fry. I don't know what it is. The abundance of fresh vegetables? Tender pieces of juicy chicken? Thousand varieties of sauce and flavors? Quick prep and cooking time?
This particular teriyaki version is fast and simple and totally delicious. And it brought about some self-awareness which is always a bonus. I realized a few critical things about my stir-fry personality when I threw this together: a) I like cutting the carrots into thick strips instead of chunks; I don't think I'll cut carrots any other way now (plus I get all giddy when I buy the real, live knobby, big carrots instead of the popular, shaved-down baby carrots…I don't know why and clearly I have issues since carrots are carrots) and b) cutting the chicken into ultra thin strips makes the finished stir-fry feel very authentic, like it came from your favorite Chinese takeout place. Try it.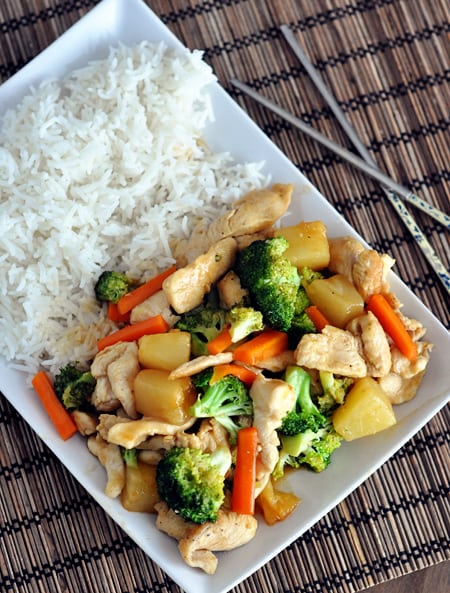 A super simple homemade teriyaki sauce is stirred into the chicken/vegetable mixture at the end and simmers into this velvety, glorious concoction that, when served over fluffy rice, is as close as you can get to stir-fry perfection. I splurged most recently when making this and threw caution to the wind while making white basmati rice but usually we eat it with the perfected brown rice. It might seem odd to throw in pineapple to cook with the vegetables but those little bursts of juicy sweetness were by far my favorite part.

Stir-fries are kind of a low-maintenance, weeknight meal for us and since the big question in life is what to serve with stir-fry (since the meal itself already encompasses protein, vegetables and carbs), I usually go boring but functional and serve fresh fruit or applesauce and sometimes a bit of yogurt or cottage cheese.
Phew! Enough talking. Just make this already and save yourself the agony of wondering what's for dinner!
One Year Ago: Curried Nachos with Mango Salsa
Two Years Ago: Curried Cauliflower "Popcorn"
Three Years Ago: Cherry Tomato Caprese Salad
Teriyaki Chicken Stir-Fry
It probably goes without saying, but the vegetables in this recipe are highly adaptable to what you have on hand or what you prefer. Cauliflower, peas, green beans and about a million other veggies would be fantastic. The key to this recipe is slicing the chicken as thinly as you can - I cut mine into 1/4-inch slices, if not slightly thinner. The chicken cooks in a flash and stays really tender. This meal is perfectly saucy for our family but if you like a lot of sauce, you might consider doubling or at least increasing by half the sauce recipe.
Ingredients
20-ounce can pineapple chunks, drained (juice reserved)
1 1/2 to 2 pounds boneless, skinless chicken breasts
1 tablespoon cornstarch
Salt and pepper
1 tablespoon oil, plus more as needed (I use coconut oil but canola, vegetable or olive oil would work also)
2 cups broccoli florets
1 cup chopped carrots
1 red pepper, seeded and chopped or sliced
1/4 cup of reserved pineapple juice
1/2 cup reserved pineapple juice
1/3 cup low-sodium soy sauce
1 tablespoon molasses
2 tablespoons brown sugar
1 tablespoon rice vinegar
1 clove garlic finely minced
1 teaspoon minced fresh ginger or 1/4 teaspoon dried ginger
2 teaspoons cornstarch
Directions
Thinly slice the chicken breasts and toss them in a medium bowl with the cornstarch and salt and pepper (about a teaspoon of each). Let the chicken sit for about 10-15 minutes while whisking the sauce and prepping vegetables.
For the sauce, combine all the ingredients together in a bowl or liquid measuring cup and whisk until smooth.
Heat the oil in a large, 12-inch nonstick skillet over medium-high heat until rippling and hot. Add half of the chicken to the skillet in a single layer without overlapping and let it cook until nicely browned, about 30-45 seconds. Flip the chicken and let it cook through on the other side, 1-2 minutes. If your chicken is sliced super thin, it won't take long to cook through. Remove the chicken to a plate and repeat with the remaining chicken.
Add another teaspoon or so of oil to the pan if needed and heat again until hot and rippling. Add all of the vegetables and pineapple to the hot skillet and cook, stirring often, until the vegetables are bright in color and barely tender. Add about 1/4 cup of the reserved pineapple juice to the skillet and cover (you can add water here instead of the juice, if desired). Cook, letting the vegetables steam for 2-3 minutes until crisp-tender (add more liquid, if needed, if it dries up).
Add the chicken back to the skillet. Whisk the sauce to recombine and then stir the sauce into the skillet and simmer for 2-3 minutes until slightly thickened. Serve immediately over hot, cooked rice, if desired.
https://www.melskitchencafe.com/teriyaki-chicken-stir-fry-30-minute-meal/
Printed from Mel\'s Kitchen Cafe (www.melskitchencafe.com)
Recipe Source: Mel's Kitchen Cafe