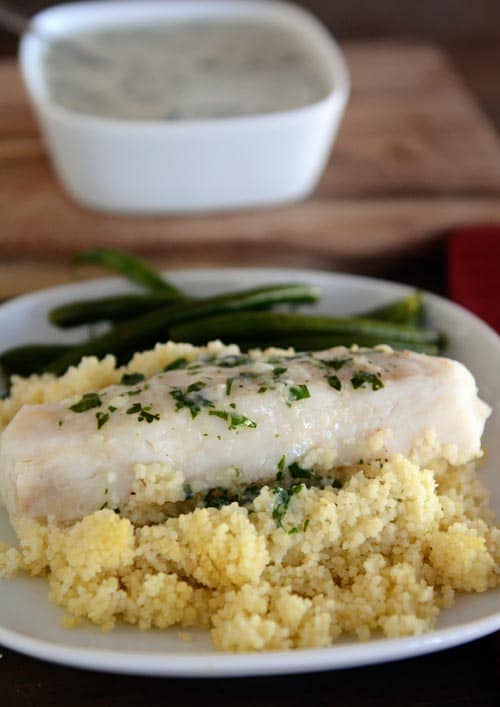 What better way to come off a long weekend than with a giveaway, right? And if that isn't great in and of itself, you're getting a double whammy today: giveaway + amazingly delicious and healthy meal. I could not believe how tasty these little foil packets filled with tender couscous and fish turned out. Then, with a drizzle of the flavor-boosted creamy coconut sauce this meal transforms into fabulous, fabulous, fabulous.
My entire family is still raving about this meal and my kids thought we gained instant extra cool family points for eating a meal out of tin foil (most of them chose to eat it straight out of the packet instead of nicely plated like in the picture – hello, real life). Not only is it crazy good, but it is so revolutionarily easy, you're going to be doing back flips (don't hurt yourself). The entire meal can be quickly made ahead up to 24 hours in advance and popped into the refrigerator to be baked whenever your heart desires.
But don't thank me, thank the brilliant minds over at America's Test Kitchen (which brings me to the awesome giveaway part). They've come up with this new cookbook: The Make-Ahead Cook. And if you know me and my love for make-ahead meals, you won't be surprised that this book speaks to my soul. It's filled with chapter after chapter of unbelievable recipes (I've made several already), all armed with make-ahead tips that will knock your socks off. What you get is basically 8 cookbooks in one. I am loving this book. Loving it. It is going to be a lifesaver for all those busy home cooks out there who need healthful, delicious dinners on the table, like, now.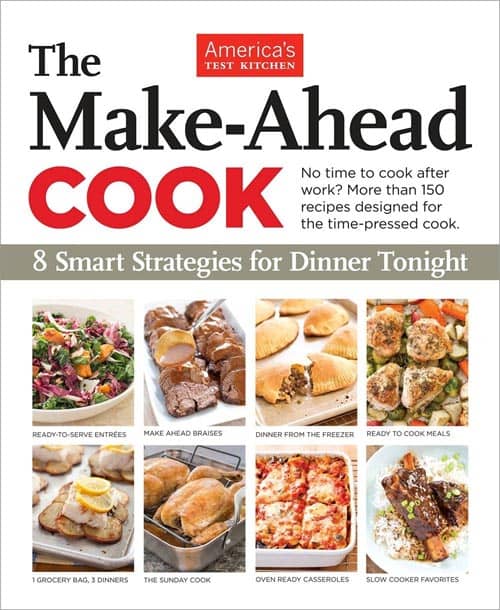 The generous folks at ATK provided me with a copy and want to do the same to one of you. So to enter the giveaway for a make-ahead book all for yourself, go HERE! What a smart, practical, delicious cookbook: everything I've ever wanted in one, that's for sure.
And while you wait on pins and needles to see if you've won, make these fish and couscous foil packets. I'm not even kidding you – the flavors in this recipe completely wowed me and I'm pretty sure I want to eat fish and couscous covered in a creamy coconut and cilantro sauce baked in a foil packet for the rest of my days on this lovely earth.
If you're scared of crimping foil into packet form, take my hand. You can do this. Not that it's rocket science or anything but I took it upon me to take a few pictures of the very intricate process. Think of this meal as a totally upscale, gourmet tin foil dinner. Fold and seal that foil like you've been doing it all your life. It's easy. And totally worth it when you unseal the packets to reveal utter deliciousness for dinner.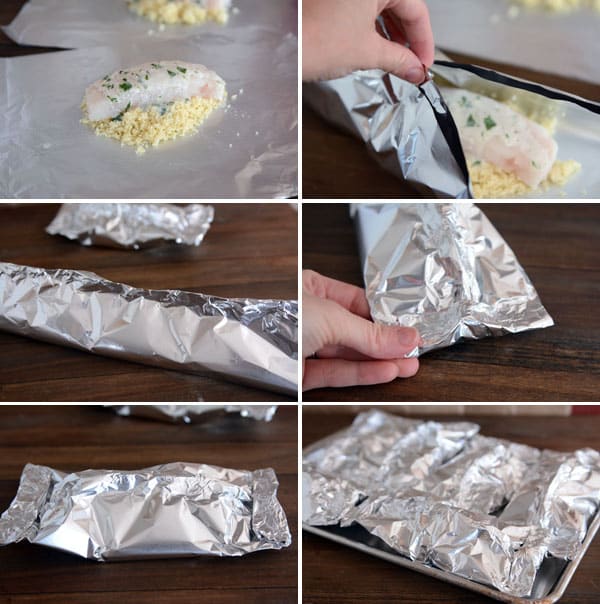 Thai-Style Fish and Creamy Couscous Packets
The original recipe calls for halibut which is hard to find for me (and a bit too expensive when I can find it) so while it would be delicious, I found that other mild white fish (thick fillets) work great, like these hake fillets I found at Costco. Also, I increased some components (not all) of the recipe to feed more than 4 since my family is larger than that, but you could decrease the amounts in the sauce and the number of fish fillets if you want to serve less - be adventurous, play around; this recipe is very forgivable.
Ingredients
1 3/4 cups couscous
2 1/4 cups boiling water
1/2 teaspoon salt
1 can light or regular coconut milk
1/3 cup chopped fresh cilantro
2 tablespoons fish sauce
1 1/2 tablespoons grated fresh ginger
4 garlic cloves, finely minced or pressed
Pinch of red pepper flakes
6 skinless halibut or hake fillets, about 6 ounces each (see note above)
2 tablespoons rice vinegar
Directions
In a medium bowl combine the couscous and 1/2 teaspoon salt. Pour the boiling water over the top and immediately cover with plastic wrap. Let the couscous sit until the liquid is absorbed and the couscous is tender, about 5 minutes. Uncover, fluff with a fork and season to taste with additional salt and pepper if needed. Let the couscous cool completely.
In a small bowl or liquid measuring cup, whisk together 1/3 cup room-temperature water, coconut milk, cilantro, fish sauce, ginger, garlic and pepper flakes.
Lay out six 14- by 12-inch sheets of heavy-duty aluminum foil (or use two layers of regular foil). Lightly spray the centers of each with nonstick cooking spray.
Pat the fish dry with paper towels and season with salt and pepper on both sides. Divide the cooled couscous evenly among each of the foil pieces, mounding it in the center of each piece. Place one fish fillet on top of the couscous and spoon about a tablespoon of the sauce over the top.
Bring the long sides of the foil together and crimp down the entire length (see the pictures in the post) leaving as much headroom above the fish as possible. Fold in one of the short sides and crimp tightly; repeat with the other side.
Place all of the foil packets on a large, rimmed baking sheet and refrigerate them and the remaining coconut sauce for up to 24 hours.
To serve, preheat the oven to 400 degrees F. Place the rimmed baking sheet with the foil packets in the oven and bake for 18-20 minutes, until the fish is cooked through (and registers 140 degrees on an instant-read thermometer). Let the packets rest for about 5 minutes.
Microwave the refrigerated coconut sauce for about a minute until warmed through. Stir in the rice vinegar.
Transfer the fish packets to individual plates and open carefully to avoid any escaping steam. Slide the contents onto each plate. Drizzle warm sauce over the fish and couscous and serve immediately.
https://www.melskitchencafe.com/thai-style-fish-and-creamy-couscous-packets/
Printed from Mel\'s Kitchen Cafe (www.melskitchencafe.com)
Recipe Source: adapted slightly from America's Test Kitchen

The Make-Ahead Cook