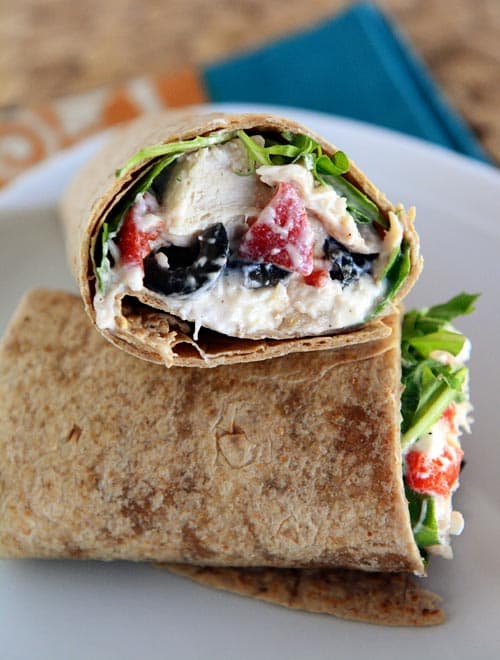 For the first time in my history as a mother, three of my five kids are playing soccer (no soccer mom jokes, please). Instead of entering this phase gradually, we decided to jump in head first since they were all so stinking excited to play. The boys are each on a different soccer team, of course, and as such, we have between 6-8 practices to get to in the evenings Monday through Thursday and a very special dedication of entire Saturdays to soccer games until at least the end of forever (ok, October).
I'm trying to be gracious about it all but my hermit tendencies and desire to underschedule instead of overschedule my kids is making this painful. Especially when it comes to dinner time. Maybe I'm crazy (no comment, please) but I'm bound and determined to try and get a healthful, family meal in everyone's tummies despite the nuttiness of soccer schedules.
Enter this meal: it comes together in less than 15 minutes (gotta be prepared with cooked chicken, yo) and better yet, the creamy, flavorful chicken filling can be prepped ahead of time and refrigerated (although I wouldn't assemble the wraps too far ahead of time, maybe an hour max, in the event they get a little soggy action going on).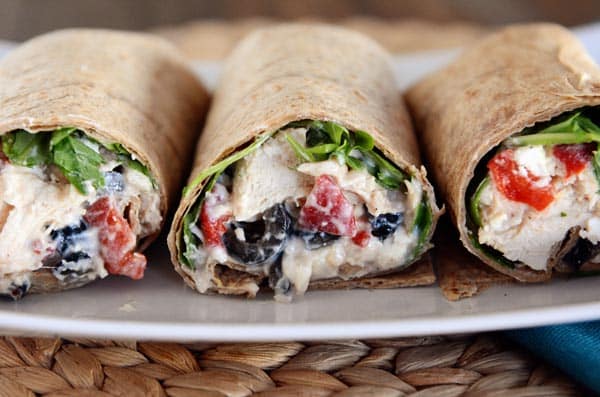 These little wraps are tasty and filling and pretty darn healthy. Keep in mind that the flavors here are fairly bold Mediterranean style so you may want to tone down the Feta cheese or use black olives instead of kalamata and consider spinach instead of spicy arugula if you want a more mild approach. Super adaptable, though.
We ate them one night while child A was finishing up soccer practice at which point he collapsed in the shade and I handed him a wrap while ushering child B onto the field and simultaneously shoving a couple chocolate chip cookies in my face (after I finished my own wrap, of course; I'm nothing if not a good example of eat-your-dinner-and-you'll-get-dessert to my kids). Coping skills. Everyone needs them and the cookie variety does me just fine while I navigate this era of busy boys, sweaty soccer socks, and desperate dinner times.

Fresh fruit or Honey Lime Fruit Salad
Chips or pretzel crisps with hummus
One Year Ago: Chocolate Zucchini Cake with Brown Sugar Streusel
Two Years Ago: 39 Meals to Make in 30-Minutes or Less
Three Years Ago: Over-the-Top Andes Mint Cupcakes
Mediterranean Chicken Wraps
These tortillas have quite a bit of filling per wrap; I think you could definitely get away with making an extra wrap and putting less filling on each but it's up to you. I made four wraps and cut them all in half - eight halves served our family of 7 eaters perfectly (keeping in mind that a few of my younger kids are pretty small eaters). PS: a rotisserie chicken, if you have access them at your store(s), works perfectly here, otherwise, this simple method for cooked, shredded chicken is waiting for you.
Ingredients
4 cups cooked and shredded chicken
4 ounces crumbled feta cheese (about 1 cup)
1/2 cup plain Greek yogurt
1/2 cup jarred roasted red peppers, patted dry and chopped
1/2 cup black or kalamata olives, chopped
1 teaspoon fresh lemon zest
2 teaspoons fresh lemon juice
1/2 teaspoon salt
1/4 teaspoon pepper
4 (12-inch) flour tortillas, white or whole wheat
4 ounces baby arugula or spinach (about 4 cups)
Directions
In a large bowl, combine the chicken, feta, yogurt, red peppers, olives, lemon zest, lemon juice, salt and pepper.
Divide the arugula (or spinach) among the tortillas, spreading across the entire tortilla. Spoon the chicken mixture down the center of the tortilla (about 1/4 of the mixture for each tortilla if making 4 wraps), and roll up tightly.
Use a serrated knife to slice in half. Serve.
https://www.melskitchencafe.com/mediterranean-chicken-wraps-15-minute-meal/
Printed from Mel\'s Kitchen Cafe (www.melskitchencafe.com)
Recipe Source: adapted slightly from

Cook's Country

October/November 2013 (used both arugula and spinach, subbed in black olives for the kalamata, omitted the shallots)