I've made a lot of BBQ sauce recipes in my day and this is hands down the best BBQ sauce ever! Throw all the ingredients in a pot and simmer; you're only 20 minutes away from the BBQ sauce perfection.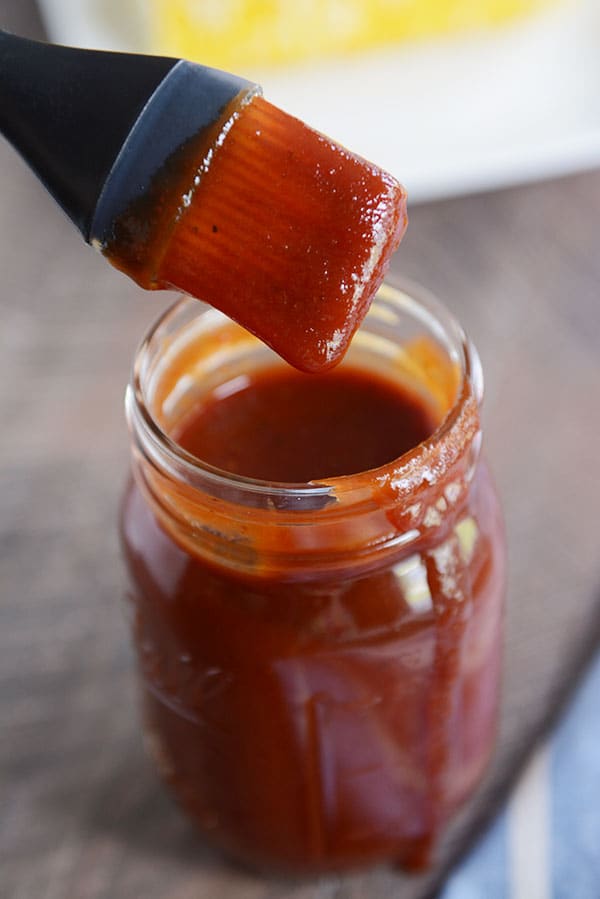 Thick and smoky, tangy and sweet, this is the best homemade barbecue sauce I have ever made. Several years ago, I set out to find my go-to recipe for BBQ sauce and when I found this gem, the search was over (you may recognize this recipe; it was originally posted all the way back in March 2010!).
In fact, it's the only homemade barbecue sauce I've made for the last six years and if you know me and my tendency to get bored with recipes very easily, that should tell you just how good it is.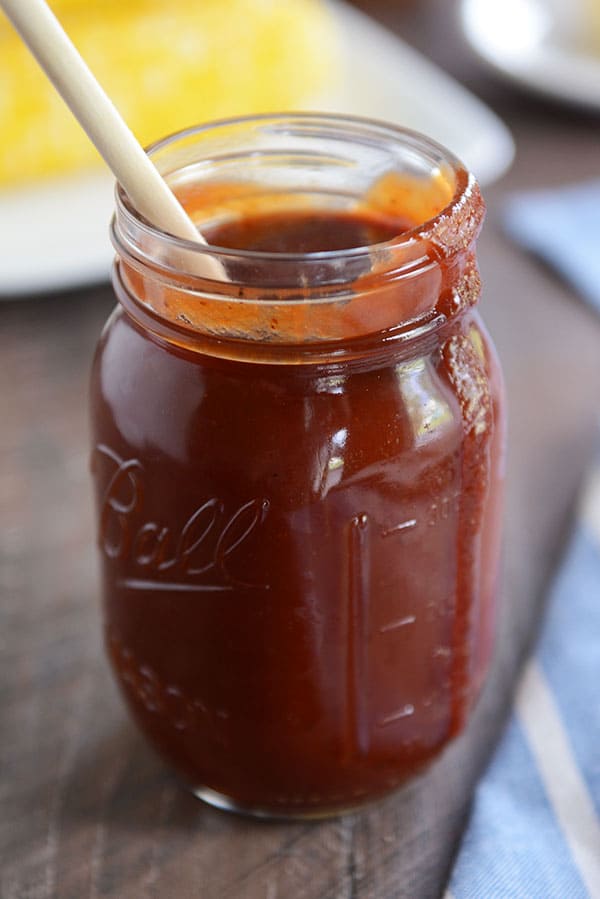 I always have a jar of this in my fridge and some in the freezer (because who has time to make homemade barbecue sauce every time the need arises, right?). It keeps very well in the refrigerator for several weeks and freezes for months.
The flavors are spot on for a not too vinegary, not too ketchupy, not too sweetsy, not too watery BBQ sauce and it's so easy – stir everything together in a pot and let it simmer for 20 minutes. Seriously! Homemade barbecue sauce for the win.
Brian is a total BBQ sauce snob (one of the few things he really has a strong opinion about; bless his calm and peaceful nature forever) and I'm afraid this homemade version has only intensified that issue. He far prefers it over any of his old favorite storebought brands (although he won't turn away Sweet Baby Ray's now and then, that's for sure).
If you've never made homemade barbecue sauce, now's the time! It's so simple and the flavors are incredibly delicious. You can see from the comment thread of this recipe that I'm not the only one who has a deep and abiding love for this barbecue sauce.
Once you've made this recipe a couple times, start experimenting with different variations! I sometimes use smoked paprika instead of regular, and one time I used sriracha ketchup (yes, it's a thing; I died when I saw it in the grocery store) in place of standard ketchup for an extra spicy, extra delicious version. I've included a few other variations in the notes of the recipe but overall, I've left the original recipe the same.
I hope this homemade BBQ sauce makes you as happy as it does me and my family!
One Year Ago: Amazing and Simple Greek Feta Dip
Two Years Ago: Skillet Chicken with Broccoli, Pasta, and Parmesan
Three Years Ago: Honey Lime Chicken Enchiladas
I've found over the years that I like to reduce the celery seed to 1/4 teaspoon (I've left the amount as the original 1/2 teaspoon) and also decrease the coarse, ground black pepper to 1/2 teaspoon since it packs a little heat. The spices and flavorings in this recipe are adaptable like that! Try using smoked paprika in place of regular paprika for extra deliciousness!
This BBQ sauce freezes great!
Ingredients
2 cups ketchup
2 cups tomato sauce
1 1/4 cups brown sugar
1 1/4 cups red wine vinegar
1/2 cup unsulphured molasses
2 tablespoons butter, cut into small pieces
4 teaspoons hickory flavored liquid smoke
1/2 teaspoon onion powder
1/2 teaspoon garlic powder
1/4 teaspoon chili powder
1 teaspoon paprika
1/4 to 1/2 teaspoon celery seed
1/4 teaspoon ground cinnamon
1/2 teaspoon cayenne pepper
1 teaspoon salt
1/2 to 1 teaspoon coarsely ground pepper
Directions
In a large saucepan, over medium heat, mix together all the wet ingredients and then add the seasonings.
Bring to a boil then reduce the heat to low and simmer for at least 20 minutes or up to an hour, stirring occasionally. The sauce will thicken slightly as it cools.
Once cooled, the sauce can be frozen. Thaw in the refrigerator and use as needed.
https://www.melskitchencafe.com/the-best-barbecue-sauce/
Printed from Mel\'s Kitchen Cafe (www.melskitchencafe.com)
This recipe was first posted on March 1, 2010; I've updated it with new photos and a few more details. Enjoy!
Recipe Source:

sent to me by my friend, Liz K. (by way of this recipe on allrecipes)