This homemade best-ever broccoli salad is so good it will make even the biggest broccoli salad-snobs reconsider! Flavorful, simple, and delicious!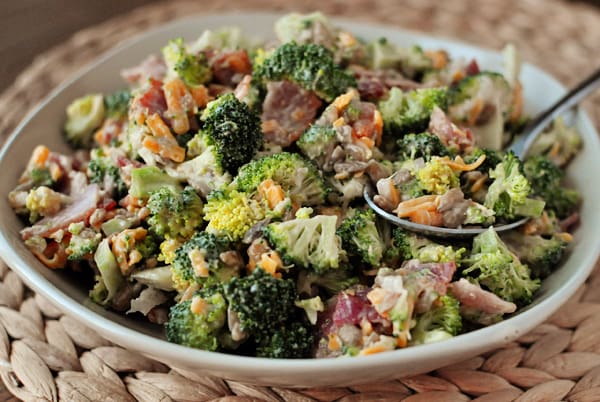 From the famed, Aunt Marilyn, this broccoli salad is delicious, even evoking two thumbs up from my broccoli-salad-snob-of-a-husband.
I was ecstatic when my Aunt Marilyn emailed me this recipe and was even more pleased with the result, which was a slight tweak from the original recipe.
Personally, I get frightened by raisins in nearly anything (including cinnamon rolls, don't hate me!) so I left those out.
But because I know many people aren't weird like me and would like the raisiny contrast, I left them in the ingredients list as a strong optional choice.
You could definitely sub in craisins or regular raisins if that's your thing.
Additionally, I cut down the mayo in the recipe a bit and swapped out the red wine vinegar for balsamic to give the dressing a bit more depth of flavor.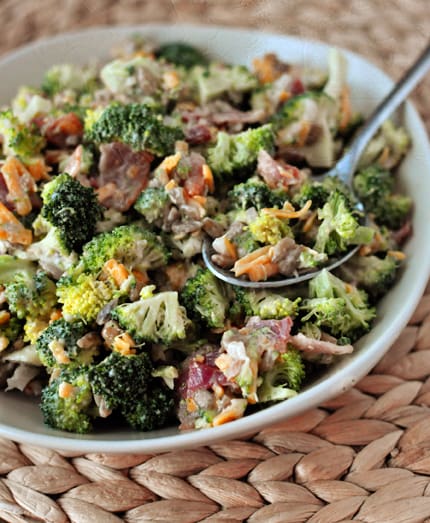 The end result is a salad lightly dressed in a subtly sweet and tangy dressing.
See how to make the recipe here!
Not gloopy or heavy or overpowered by a strong mayo dressing, it's just the perfect balance of crunchy broccoli with all the other yummy ingredients..
My favorite part? The crunchy sunflower seeds and crisp bacon.
Serious yum factor right there. As you can tell already, the salad is super versatile, as well, so feel free to experiment with salad ingredients that suit your personal taste.
This broccoli salad is definitely going straight to the Best Recipes archive.
Broccoli salad needs to be part of everyone's life, don't you think? It makes the perfect dish to bring to potlucks or BBQs or church dinners.
Bring it everywhere! Even your weeknight Tuesday dinner with just your kids. It really is amazing.
One Year Ago: BLT Pita Pockets
Two Years Ago: Creamy Banana Pudding Trifle
Three Years Ago: Parker House Rolls
The Best Broccoli Salad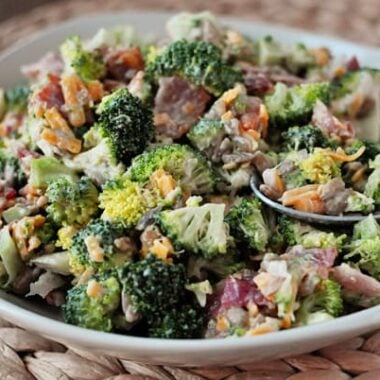 Ingredients:
Dressing:
3/4 cup light or regular mayonnaise
1/4 cup granulated sugar
1 tablespoon balsamic vinegar
Salad:
1 1/2 pounds fresh broccoli, chopped into small bite-sized pieces
1 cup golden raisins (optional)
3/4 cup sunflower seeds
1 small shallot or red onion, finely diced (about 1/4 cup)
1 cup shredded sharp cheddar cheese
6 slices bacon, cooked and crumbled
Directions:
In a small bowl, whisk together all of the dressing ingredients. Set aside.
In a large bowl, toss the salad ingredients together. Pour the dressing over the broccoli mixture and toss to coat all the ingredients with the sauce. Chill in the refrigerator for at least 2 hours before serving. Right before serving, give the salad another good toss to recombine any dressing that may have settled at the bottom.
Notes:
This salad is extremely versatile. I, personally, omit the raisins, and all of the other ingredients can be upped or diminished according to your preference.
All images and text ©
.
Follow @melskitchencafe on Instagram and show me the recipes you are making from my blog using the hashtag #melskitchencafe. I love seeing all the goodness you are whipping up in your kitchens!
Recipe Source: adapted from my Aunt Marilyn