The Ultimate 7-Layer Dip
What makes this 7-layer dip different than most other throw-together variations is that each component has a little slice of homemade love!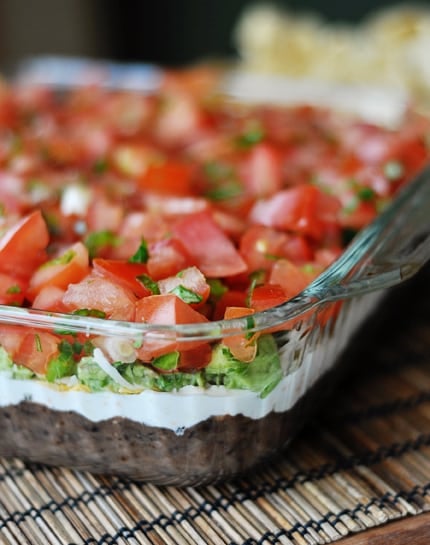 This recipe is one you probably already have in your arsenal. I mean, 7-layer dip is basically the most common dip known to man, according to my scientific polls. But I'm telling you, promising you, guaranteeing you, that this isn't just your ordinary 7-layer dip, this is the ultimate 7-layer dip. And I mean, ultimate.
What makes this 7-layer different than most other throw-together variations is that each component has a little slice of homemade love to it. As in, instead of refried beans, you get a simple mixture of slightly pureed black beans with a smoky spice and fresh lime juice thrown in.
The sour cream layer is blended up with handfuls of cheese – which sounds strange, but it lends a delightful thick, cheesiness to the layer. Guacamole layer? Homemade – taking minutes to throw together but adding worlds of freshness and goodness. The salsa layer is replaced with a homemade pico de gallo variation that, again, is simple, simple, simple.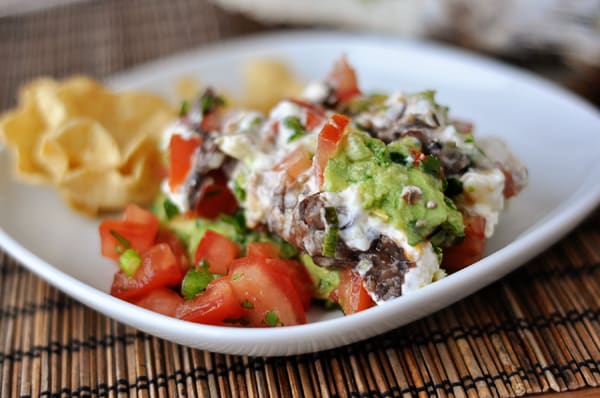 Remember how I told you that my husband was consuming this cranberry-jalapeno dip by the pound, unable to bring himself to stop? Well, sadly for his weakening metabolism, this 7-layer dip has had an equally addictive response.
He and I both have been fighting over the last remnants. It is so fresh and tasty, it's easy to keep thinking "just one more chip, just one more chip." And for the record, the layers of this dip just don't add up to 7, so don't ask. I think the original recipe (before I adapted it) counted the tortilla chips as a layer (strange) and also some sliced green onions on the top, which I omitted.
Any way you look at it, it's still 7-layer dip in my mind…and tummy.
Yield: 8-10 servings

Prep Time: 20 minutes

Additional Time: 30 minutes

Total Time: 50 minutes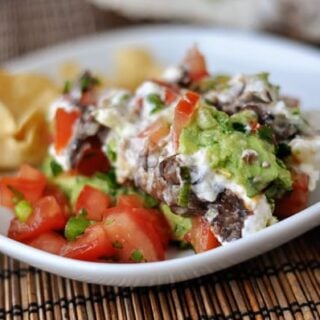 Ingredients
Tomato Layer:
4 large tomatoes, cored, seeded, and chopped fine
1 jalapeno, seeded and minced
3 tablespoons finely chopped cilantro
2 green onions, finely minced
2 tablespoons lime juice (from about 2 limes)
1/8 teaspoon salt
Guacamole Layer:
2 green onions, sliced thin, green and white parts separated
1 jalapeno chile, seeded and finely minced
1 small garlic clove, minced
2 tablespoons lime juice (from about 2 limes)
3 avocados, pitted, peeled and chopped
3 tablespoons chopped fresh cilantro
Salt to taste
Black Bean Layer:
1 16-ounce can black beans, drained but not rinsed
2 garlic cloves, minced
2 teaspoons fresh lime juice (from about 1 lime)
3/4 teaspoon chili powder
1/4 teaspoon salt
Sour Cream Layer:
1 1/2 cups sour cream
1 cup shredded pepper jack cheese
1 cup shredded sharp cheddar cheese
Cheese Layer:
1 cup shredded pepper jack cheese
1 cup shredded sharp cheddar cheese
Extras:
Tortilla chips, for serving
Instructions
For the tomato layer, in a medium bowl, combine tomatoes, jalapeno, cilantro, minced green onions, and lime juice. Stir in salt and let stand until tomatoes begin to soften, about 30 minutes. Strain mixture through a fine mesh strainer or colander and discard the liquid. Set aside.
For the guacamole, in a small bowl, combine the white parts of the green onions, jalapeno, garlic and lime juice. Let sit for 30 minutes. Add two-thirds of the avocado to the bowl with the jalapeno mixture and mash with a potato masher until smooth. Gently fold remaining avocado into mashed avocado mixture. Gently stir in the green parts of the green onions and the cilantro. Season with salt. Set aside.
Pulse black beans, garlic, remaining lime juice, chili powder, and remaining salt in a food processor until mixture resembles a chunky paste. Transfer to a glass 8X8 or 9X9-inch dish or similar sized bowl, spreading into an even layer. Quickly rinse and wipe out the food processor and pulse the sour cream, 1 cup pepper jack cheese cheese and 1 cup sharp cheddar cheese until smooth. Dollop the sour cream mixture on top of the black bean layer, smoothing to the edges in an even layer.
Sprinkle evenly with remaining cheese. Spread guacamole over cheese and top with tomato mixture. Sprinkle with additional sliced green onions, if desired, and serve with tortilla chips. The dip can be tightly covered and refrigerated for up to 24 hours.
Notes
End Result: don't get scared away by all the components and ingredients listed below. I promise it's not as complicated as it looks - and I promise the result is worth it.

Clear Dish: this recipe is usually served in a clear dish so you can see the layers.

For a Crowd: double the recipe and serve in a 13 by 9-inch glass baking dish.

Prep: keep in mind that the parts of the prep for the tomato and guacamole layers need to sit at room temperature for 30 minutes before proceeding with the recipe.
Recommended Products
As an Amazon Associate and member of other affiliate programs, I earn from qualifying purchases.

Recipe Source: adapted from Cook's Country/America's Test Kitchen
Disclaimer: I am a participant in the Amazon Services LLC Associates Program, an affiliate advertising program designed to provide a means for me to earn fees by linking to Amazon.com and affiliated sites. As an Amazon Associate I earn from qualifying purchases.