Training Update: Week #6
A little update for this last week (six weeks in, baby!) complete with some unfiltered, emotional details of my tough week and the run Saturday morning (which involved a bit of a breakthrough for me).
Week #6's Workouts
-Monday: ran 3 miles on the treadmill late at night
-Tuesday: did a short 15-minute workout from the Nike app (thanks Mary for recommending it in last week's comments) – was a little nervous to hurt my back again so mainly focused on lower body and a few pushups
-Wednesday: ran 4 miles today! didn't realize I was running slightly uphill half the distance until I turned around to run back and realized how much easier it was (and I could actually breathe)
-Thursday: was supposed to do a yoga or cross-training workout but between cooking 40 pounds of BBQ pork and making 200 rolls for our Cub Scout banquet, it didn't happen (but I did eat a lot of rolls so there is that)
-Friday: rest (was going to pick up a yoga workout today but life got in the way and it just didn't happen)
-Saturday: ran 4 miles (more on this and my total breakdown below)
Here's What Happened
So this week was rough for me. Without getting into all the nitty gritty, I got to Friday and just wanted to collapse – emotionally, physically, mentally. Every which way I looked, I was stressed and tired (staying up past midnight to cross things off my to-do list every single night wasn't helping) and I think a little down and out. My runs on Mon and Wed had gone pretty well but still kind of drudgy and painful. I woke up this morning (Saturday) knowing I had to get my run in bright and early since we would be at a wrestling tournament for my oldest son most of the day as well as fitting in lots of errands, cleaning the house and yard, spending an evening with another family, etc. When I woke up before 7, I wasn't sure I could do this. The yucky feelings from the rotten week were still lingering but without giving myself time to talk my body out of it, I set out to go 4 miles.
I decided on the same course I ran that very first Saturday I signed up for the half-marathon (over six weeks ago, before I officially started a training schedule). That day, I had wanted to see if I could do 4 miles and seriously, it almost killed me. I've never been that miserable and sore in my life.
Today as I started running, the air was cool and crisp and the sun was just cresting over the horizon. It was an incredibly glorious morning, despite the pain of getting up so early on a Saturday, and about a half mile in, I had this rush of air kind of enter my chest and as I exhaled, an overwhelming but wonderful thought entered my mind: that this run could be my new start – a way to shed off the heaviness and stress of a lousy week and reset my emotions to create a new outlook for the next week. Maybe it was the music I was listening to (or just my overactive imagination or quite possibly the endorphins setting in), but that thought nearly made me burst into tears, and ok I actually did get a little teary-eyed for a second, and I felt this insane gratitude for running and the opportunity to be out there alone which honestly, would not have happened (the alone thing) thanks to a very busy family day if it hadn't been for running. Waking up early and going on a run was 100% completely for me and no one else. And maybe it sounds selfish, but I think after spending a week doing 87% of my tasks for other people, I needed a minute alone. It was just me and the intense beauty of the spring morning and the chance to have 40 interrupted minutes to rebalance.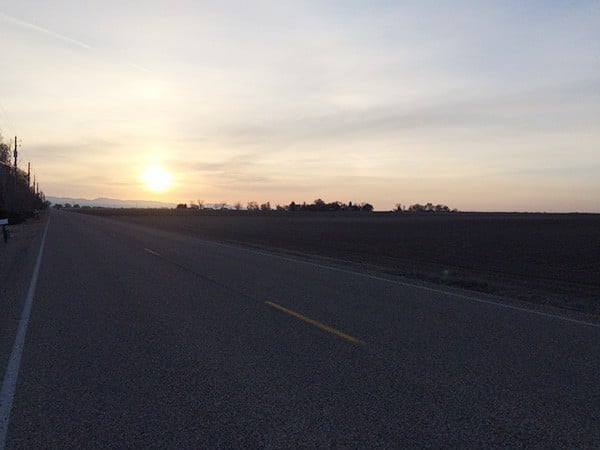 To make a long story a bit shorter, I ran the same course that six weeks ago nearly brought me to my knees unable to go further – and it was like it was a totally different path and me a completely different runner. I guess I haven't noticed a huge change in my running ability day-to-day (a lot of days I feel frustrated that running doesn't seem to be getting easier) but when I compare that first run with this one today, six weeks later, it's almost incomparable. Yes, it was still hard today. I had to talk myself into not stopping a couple times. But there were also times that I felt like I was flying. When I finished and walked for a few minutes on our long driveway, I couldn't help it. I just burst into tears. I had done something I never thought possible. Four miles, not dying, may seem simple and inconsequential to many of you, but to me, it's a milestone that showed me I am getting stronger. That persistence and determination is paying off. That making time for myself and my running shoes is worth it. That I can do this.
I did it. And I'll have to do it again and again and run even farther. While that scares me, today's run was a breakthrough for me. I don't expect the following weeks will be a breeze, but running out there in the peace and quiet of a Saturday morning rejuvenated me after a rough week – and I'm not sure anything else would have offered the same level of therapy today. Without realizing it or really even seeking it out, it's what I needed so desperately.
This Week
–Monday: 3 miles (after two 4-mile runs last week, I'm glad to cut it down a mile)
–Tuesday: Cross-training (shooting for a HIIT workout in the a.m.)
–Wednesday: 4 miles (will have to be in the a.m. since this day is crazy, crazy)
–Thursday: Yoga or some stretching exercises
–Friday: Should be a rest day but I'll be doing my long 5-mile run (ohmygosh, this one scares me so, so much) today since I'll be traveling all day Saturday – will also have to be in the early morning if I'm going to not chicken out and fit it in
–Saturday: rest rest baby
A Few Quick Notes
-I bought these without knowing what I was doing but my running shoes (ASICS Gel-Cumulus 16) are as wonderful as I hoped. Cushiony and comfortable and I love them every time I run (now if only they came with wings to speed up my running…)
-Up to this point, I've only been listening to audiobooks while running outside (and usually watching something on Netflix if doing treadmill running) but on Saturday's run, I took my friend Mel's advice and decided to go for music to change things up a bit (besides my audiobook was so boring I was afraid I would just stop in the middle of the road unable to run at all if I listened to it) but instead of channeling my regular, ol' playlist, I did what she suggests and tuned in to Pandora (put the app on my phone). The new, unexpected, sometimes unfamiliar songs were just what I needed for a little life in my running game. Loved this.
-I asked the question a few weeks ago about what to eat before running. I pored over all your advice. I'm finding I do better (with these little 3- and 4-mile runs) when I drink some water beforehand but don't eat anything (for the morning runs). I feel like I have plenty of energy and since my stomach always feels a little weird after I run, I'm glad to not let that weirdness move up to when I'm actually running. That may change when I increase my mileage but for now, after my run, I drink a big glass of water and then after about 30 minutes or so usually go with a piece of whole wheat toast with peanut butter and a banana.
Did anyone else have a milestone week this week? Share (the good and bad)!
Disclaimer: I am a participant in the Amazon Services LLC Associates Program, an affiliate advertising program designed to provide a means for me to earn fees by linking to Amazon.com and affiliated sites. As an Amazon Associate I earn from qualifying purchases.