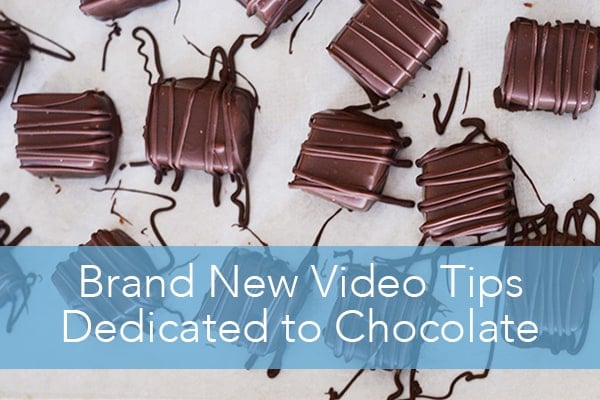 Just popping in to let you know I've uploaded two new videos to my YouTube channel (they also get archived right here on the Video Tips page). After the chocolate-dipped caramel post on Monday and the fact that everybody is dipping everything in chocolate this time of year, hopefully these tips will come in handy. And yes, I'm wearing the same outfit in both because I'm too lazy to change just to make it look like I videoed these on different days. Focus on the chocolate, not the clothes.
Tempering Chocolate: This video is all about how to quickly and easily temper chocolate at home. Have you ever seen chocolate that's been melted and has cooled with white or gray streaks running through it? Or maybe it looks dull and spotty? That's called blooming and it's not what you want to have happen when you've worked hard to dip your favorite treats in chocolate. It happens when chocolate isn't melted correctly (too hot, mostly). Expert chocolatiers will tell you that chocolate needs to be heated, cooled, and then warmed again to properly temper. But in the video tip, I'll show you my amateur way (using the seeding method) that yields perfect results every time: glossy, smooth chocolate with a delightful snap!

Dipping Stuff in Chocolate: Just like it sounds, in this short video tip, I'm demonstrating how I dip treats in chocolate (in this case, caramels) since many of you have requested a visual. It's so easy and will make you look like a rock star. Be careful, knowing how to do this so quickly and professionally is a dangerous-in-a-good-way thing for your reputation. You don't have to let your admirers know how simple it really is.

Remember all of the video tips can be seen on my Video Tips page as well as on Mel's Kitchen Cafe You Tube channel.