Vanilla Bean White Chocolate Mousse Cheesecake
All that can be said about this homemade vanilla bean white chocolate mousse cheesecake is: Best. Cheesecake. Ever.
It's a good thing you are reading about this cheesecake instead of having a conversation face-to-face with me about it because I can guarantee coherent sentences would not be coming out of my mouth.
Thanks to the modern invention of backspace and delete, I think I'll probably be able to sum up my feelings in writing…but in person?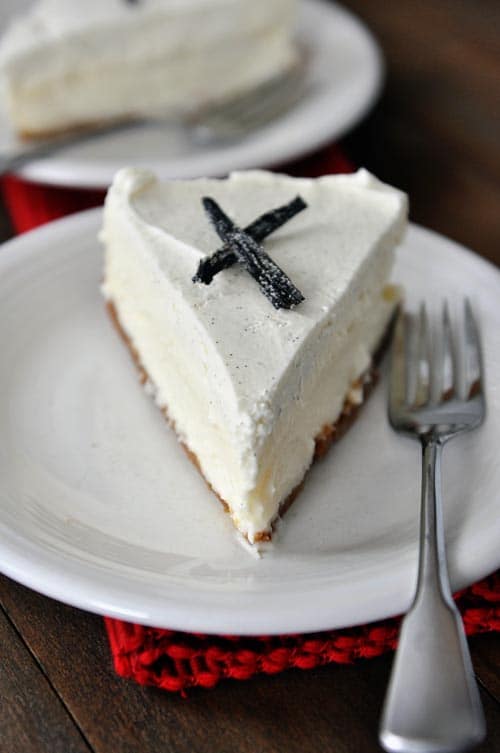 Yeah, I'd be a mess of blubbery blubberiness talking about this most divine of all cheesecakes. It would be embarrassing.
How can I adequately convince you that in all my hysterics of exclaiming this or that to be my new favorite – that this cheesecake truly takes the cake, so to speak, on all other cheesecakes (and is most definitely going straight into The Best Of files)?
A wonderful friend-made-through-blogging-with-incredible-taste-in-food (yes, another one, I'm so lucky, not to mention all the fabulous recipes I get daily from all of you!), Lien, sent me this recipe along with a picture of when she made it.
Come to find out, she made it five times throughout the holiday season all to rave reviews so I knew it was going to be good. I just didn't realize how good.
The unique thing about this cheesecake is that there are no eggs in the batter which struck me as strange since I don't think I've ever met a baked cheesecake without eggs.
But I realize now that even though I love cheesecake, baked and no-bake, this has been the recipe I've been searching for all of my 30 plus years.
It is the creamiest cheesecake I've ever had. Like so creamy there aren't words…but I'm sure I'll find some so we can continue this conversation aren't you lucky.
Plus, sandwiched between the glorious cheesecake and the lightly sweetened clouds of whipped cream is the most fantastic burst of luxurious white chocolate mousse (here I go again loving on white chocolate), intimidating by the sounds of it, but ridiculously easy to whip up.
Shall I go on?
And…not only is the crust (known to be my favorite part of any cheesecake) buttery and grahamy, like one would expect, but it is also soft and almost cake-like-in-a-crazy-way thanks to the egg yolks added to the graham cracker crumbs.
Strange. I know! But it works.
(A sidenote, though, that if you were excited about an egg-free cheesecake only to be dismayed that the missing eggs from the batter wound up in the crust, you could easily leave them out for a more traditional cheesecake crust to make the entire dessert egg-free). It's so different and yet so wonderfully amazing at the same time.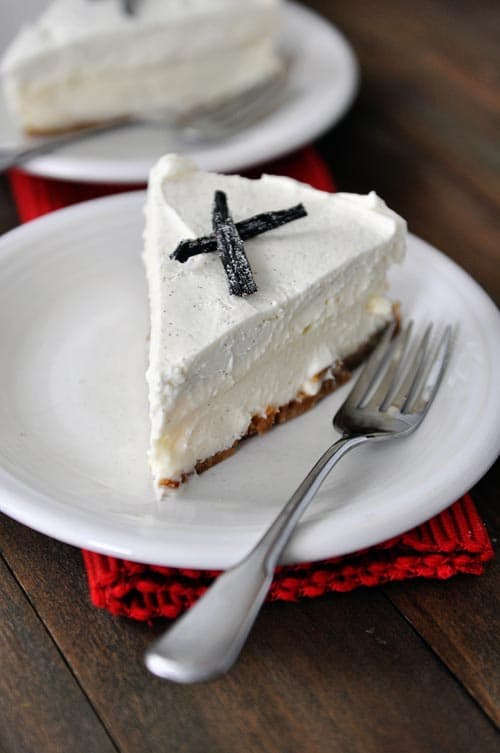 Apparently this is a knockoff of the vanilla bean cheesecake at TGIF's.
I've never had it there but let me tell you, if it is half as good as this cheesecake which came out of my kitchen, it should win some kind of award for changing lives. Don't let the multiple steps and mixing bowls needed scare you off. Albeit a few dishes to wash, it's simple to make and did I mention?
Best. Cheesecake. Ever.
You'll have to take my word for it unless you dare make it for yourself. Just be prepared to not be able to form a full coherent thought or sentence for weeks because it will blow your mind with absolute rock star goodness.
Quick note about vanilla beans: I love the vanilla beans from Penzey's Spices most of all but they aren't convenient or economical to order online and since I don't have a Penzey's close, lately, I opt for these vanilla beans on Amazon.
I've ordered them 2-3 times; they are good quality especially for the price and keep well since clearly I'm not using dozens of vanilla beans within a week. Also, if you've never worked with a vanilla bean before, here's a quick video tip that can help you out.
One Year Ago: Confetti Chicken Bake with Cheddar Biscuit Topping
Two Years Ago: Classic Orange Julius
Three Years Ago: Mulligatawny Soup
Vanilla Bean White Chocolate Mousse Cheesecake
Ingredients
Crust:
1 ½

cups

(

150

g

)

finely crushed graham crackers

¼

cup

(

53

g

)

granulated sugar

1

egg yolk

¼

teaspoon

vanilla extract

6

tablespoons

(

85

g

)

butter

,

melted
Cheesecake:
16

ounces

(

454

g

)

cream cheese

,

softened

1

cup

(

227

g

)

sour cream

2

tablespoons

cornstarch

1

cup

(

212

g

)

granulated sugar

½

teaspoon

vanilla

vanilla bean seeds

,

scraped from one pod
White Chocolate Mousse:
1

cup

heavy whipping cream

¼

teaspoon

vanilla extract

2

tablespoons

powdered sugar

4

ounces

(

113

g

)

cream cheese

,

softened

4

ounces

(

113

g

)

white chocolate baking squares

,

melted
Sweetened Whipped Cream:
1

cup

heavy whipping cream

1

tablespoon

powdered sugar

vanilla bean seeds

,

scraped from one pod
Instructions
For the crust, preheat the oven to 375 degrees F. In a medium bowl, mix the graham cracker crumbs and sugar. Add the egg yolk and vanilla and mix; then stir in the melted butter. Press the graham cracker mixture into the bottom and just barely up the sides of a 9-inch springform pan (could also use a 10-inch pan although all the layers will be slightly thinner). Bake the crust for 8 minutes. Remove and let cool completely. Reduce the oven temperature to 350 degrees F.

For the cheesecake layer, in a medium bowl or the bowl of a stand mixer, beat the cream cheese with an electric handheld mixer (or stand mixer) until soft and creamy. Add the sour cream, cornstarch, sugar and vanilla and mix until smooth. Mix in the vanilla bean seeds until evenly mixed. Don't overmix or the cheesecake will have a tendency to crack while baking.

Spread the cheesecake over the cooled crust and bake at 350 degrees for 30-35 minutes, until the edges are set but the center still jiggles slightly. Remove from the oven and let cool completely.

For the white chocolate mousse, in a medium bowl, beat the cream and vanilla with an electric mixer (handheld or stand mixer) until soft peaks form. Add the powdered sugar and mix until combined and the peaks are slightly stiffer. In a separate bowl, beat the cream cheese until fluffy. Add the white chocolate and mix until smooth and creamy. Fold in the whipped cream, taking care not to deflate the whipped cream, and mix gently with a rubber spatula, lifting and turning the cream, until the mousse is combined and creamy.

Spread the white chocolate mousse over the cooled cheesecake.

For the sweetened whipped cream, beat the whipping cream and powdered sugar together until soft peaks form. Add the vanilla bean seeds and mix until slightly stiffer peaks form and the vanilla bean seeds are mixed in.

Spread the whipped cream evenly over the white chocolate mousse. Refrigerate at least 1-2 hours before serving (or up to overnight).
Notes
Vanilla Beans: don't throw away those scraped out vanilla bean pods (you need two vanilla beans for this recipe)! Learned from the almighty Mr. Alton Brown, I throw the empty pods into a cup of granulated sugar, cover, and let sit for a few days. It makes the most delicious vanilla sugar and I use it almost always for creme brûlée. I mean, who doesn't need an excuse to make that, right?
Tutorial:
also, here is an easy tutorial on scraping out the seeds if you haven't done it before.
Serving:
1
Slice
,
Calories:
585
kcal
,
Carbohydrates:
42
g
,
Protein:
6
g
,
Fat:
45
g
,
Saturated Fat:
26
g
,
Cholesterol:
150
mg
,
Sodium:
316
mg
,
Fiber:
1
g
,
Sugar:
33
g
Recommended Products
Follow @MelsKitchenCafe on Instagram and show me the recipes you are making from my blog using the hashtag #melskitchencafe. I love seeing all the goodness you are whipping up in your kitchens!
Recipe Source: lightly adapted from this recipe from food.com sent to me by my friend, Lien (thank you!)
Disclaimer: I am a participant in the Amazon Services LLC Associates Program, an affiliate advertising program designed to provide a means for me to earn fees by linking to Amazon.com and affiliated sites. As an Amazon Associate I earn from qualifying purchases.