Peppermint Bark White Chocolate Mousse Cheesecake
Ultra festive, this creamy, decadent white chocolate peppermint bark cheesecake dotted with peppermint and chocolate bits and topped with a simple white chocolate mousse is out of this world delicious!
I'm sitting here a little stumped on how to even start describing the deliciousness of this peppermint bark white chocolate mousse cheesecake.
I mean, peppermint bark cheesecake is nothing new (thank you, Cheesecake Factory). However, the fact that I made it at home and ate it in my PJ's? Well, it felt revolutionary (as in, I'm sorry, Cheesecake Factory, but I may not need you anymore).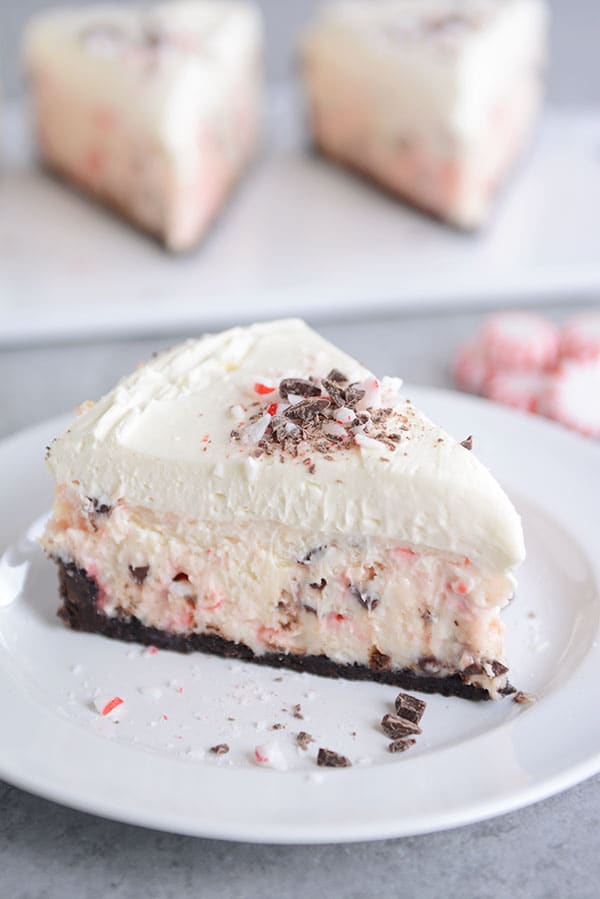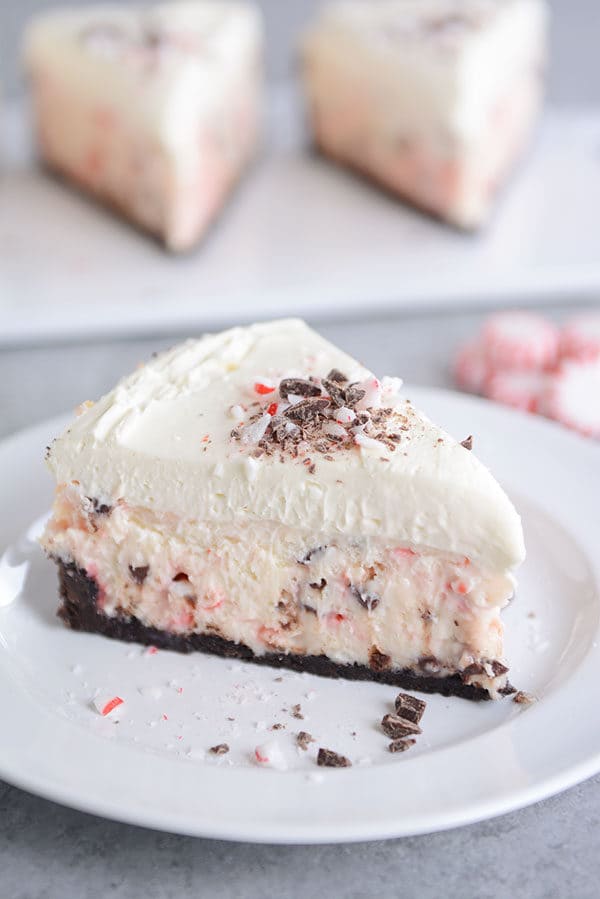 Cheesecake is a funny thing.
It's actually quite a polarizing topic. People either love it or hate it.
I've rarely met someone who is just "meh" about cheesecake, but I have a lot (a lot, a lot, a lot) of passionate cheesecake lovers in my circle of life. And yes, some who are on the opposite end of the spectrum.
Throw in peppermint bark flavors to beloved cheesecake, and you're asking for a whole lot of opinions.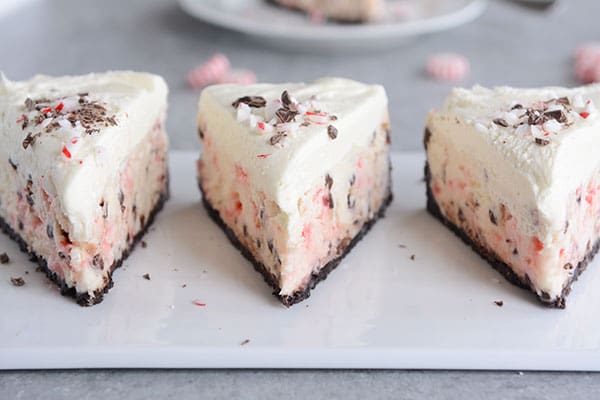 When I started asking around if peppermint bark cheesecake should happen in my kitchen, I was surprised at the responses. Even my faithful cheesecake peeps weren't sure.
I'm ashamed to admit, their doubt caused me to pause, but only for about half a second.
All I had to do was cast my mind back a couple years to the moment I enjoyed (ok, devoured) a legit piece of peppermint bark cheesecake at The Cheesecake Factory, and I knew this needed to happen.
I'm telling you, peppermint bark, with it's creamy white chocolate, decadent dark chocolate, and spicy peppermint, was meant to live in cheesecake.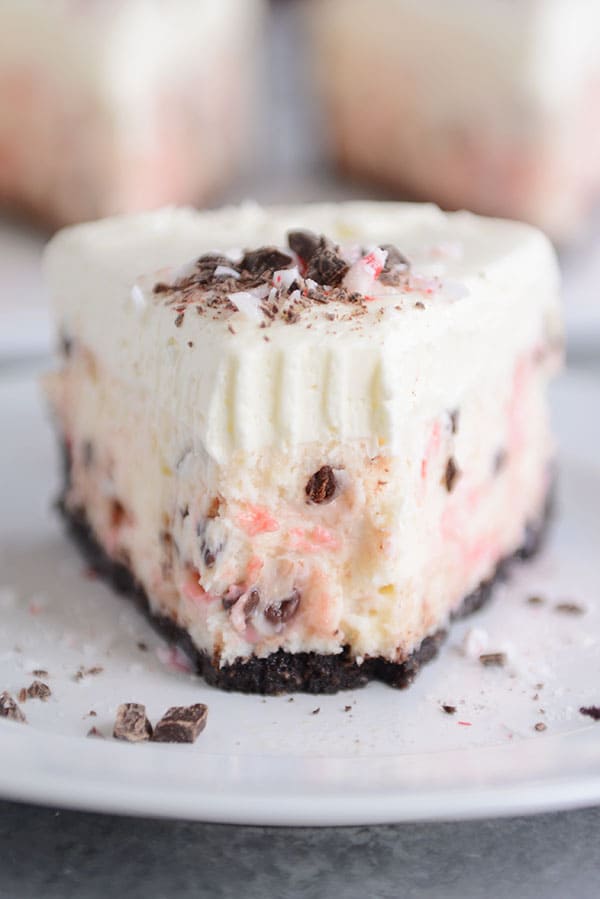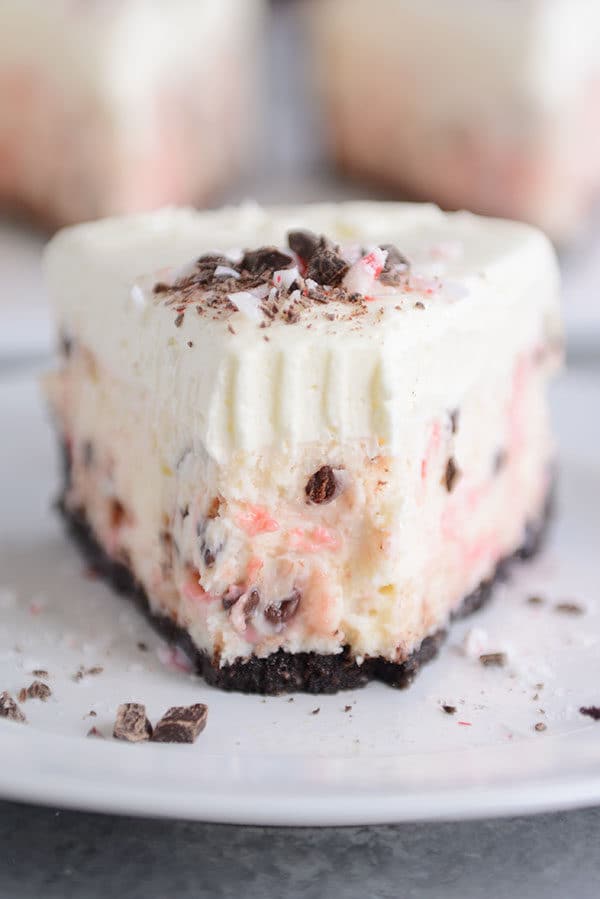 When figuring out and testing the best ever recipe, it was a no-brainer I would use my favorite vanilla bean cheesecake as a starting point.
If you haven't made that cheesecake yet, why the hay-hay aren't you getting your buns into the kitchen to make it ASAP?
I can only assume you must be a cheesecake hater. Prove me wrong, if that isn't true. Prove me wrong.
It's a life-changing (and egg-free!) cheesecake. All you have to do is read the comments, and you'll see I'm not the only one who feels that way.
It even transitions beautifully into a wonderful pumpkin cheesecake.
It's just a solid, reliable, versatile, wonderful, heart-warming, ridiculously delicious cheesecake.
And my hunch was right, you know. The vanilla bean cheesecake was even more magical with ribbons of peppermint and little bits of chocolate, not to mention the swirl of white chocolate cream in the batter that upped the luxurious factor tenfold.
Even for me, a fairly vocal white chocolate hater, that white chocolate mousse topping the luxurious peppermint bark cheesecake is one of the most irresistible concoctions on the planet.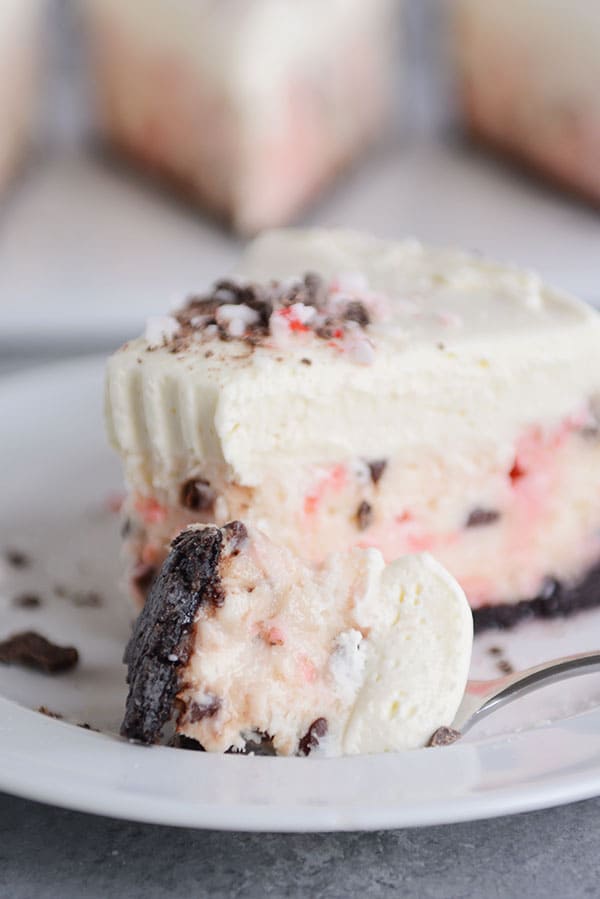 Cheesecake is almost always on our Thanksgiving and Christmas holiday menus, and this peppermint bark version couldn't be more festive for the upcoming Christmas holiday.
Although it has a few steps, what with the white chocolate mousse and all, it's actually surprisingly simple and is such a show stopper of a dessert.
We ended up with about three pieces leftover from Thanksgiving, and what happened next might be the reason I'm so in love with this cheesecake…
…Peppermint Bark White Chocolate Mousse Cheesecake Milkshakes.
When everyone else was throwing their leftover pumpkin pie into milkshakes last month (or still feasting on apple pie leftovers…or swearing off pie and desserts and baking all together), we were in a peppermint bark coma thanks to someone's brilliant idea to make a milkshake out of this amazing cheesecake.
It seems a shame to go to all the work of making a homemade cheesecake just to toss it in the blender with ice cream, vanilla and a little evaporated milk (the secret to great milkshakes), but honestly, the next time I make this? I'm not sure any of it will appear on a plate.
Cheesecake milkshakes for life.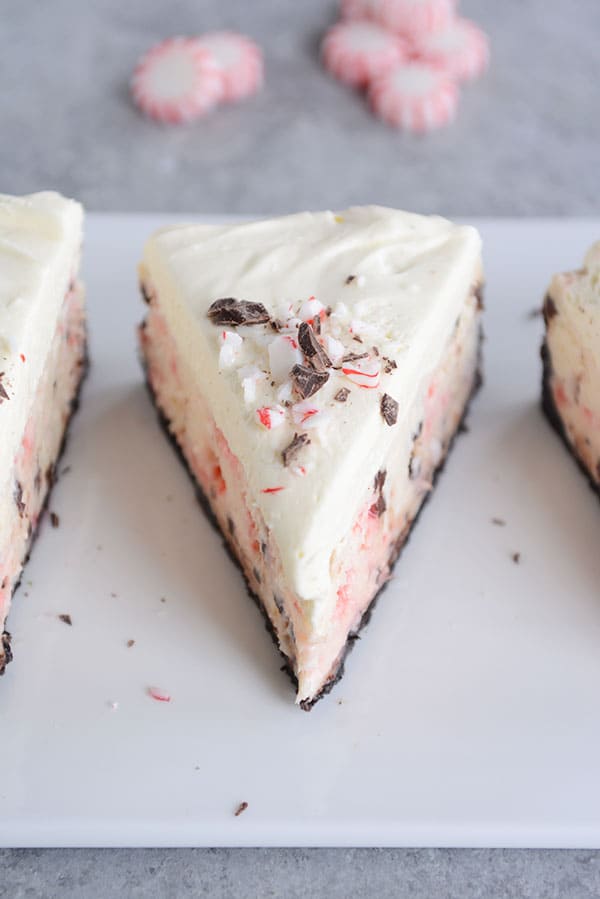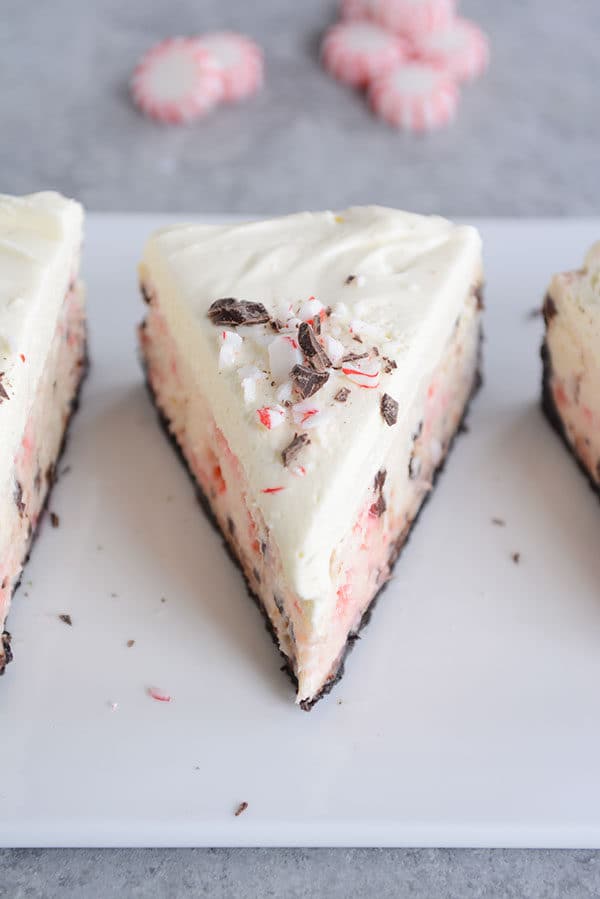 I've included several notes in the recipe in regards to white chocolate. For instance, don't even think about melting white chocolate chips unless you want to introduce stress, frustration, and bad words into your life, and a few other things, like how far you can make this ahead of time, so please read through the recipe before making, and let me know if you have any questions!
And just in case these questions might come up:
-This is the 9-inch springform pan I've had for years; love it.
-My trick for getting the cleanest, neatest slices out of a cheesecake? I use my 8-inch chef's knife, run it under really hot water, wipe it clean with a cloth or paper towel and immediately (while the blade is still warm) make a slice; wipe the blade clean of all the cheesecake guts and make another slice. Repeat the hot water trick and all succeeding steps. It's not rocket science…just wipe the knife clean after every slice and do the hot water step now and again.
-I never bake my cheesecakes in a water bath, so I didn't forget to include that step in the recipe, promise. I just don't do it (especially for cheesecakes like this one that have a topping that will disguise any cracks). The good news? I've never had this cheesecake crack on me. Make sure not to overmix or overbake, and you'll be golden.
One Year Ago: Chocolate Fudge Sour Cream Bundt Cake
Two Years Ago: Video Tip: How to Easily Temper Chocolate at Home
Three Years Ago: Homemade Thin Mint Cookies
Peppermint Bark White Chocolate Mousse Cheesecake
Ingredients
Crust:
20

Oreo or other chocolate sandwich cookies

,

(about 283 g), finely crushed (no need to remove cream from the middle)

3

tablespoons

salted butter

,

melted

1

egg yolk

,

optional, but makes the crust smooth and rich
Cheesecake:
6

ounces

(

170

g

)

white chocolate

,

not white chocolate chips or almond bark – see note for details

¼

cup

heavy whipping cream

3 packages

(8-ounces each)

(

681

g

)

cream cheese

,

softened to room temperature

1

cup

(

227

g

)

sour cream

1

cup

(

212

g

)

granulated sugar

2

tablespoons

cornstarch

1

teaspoon

vanilla extract

1

teaspoon

peppermint extract

1

cup

(

170

g

)

mini chocolate chips

½

cup

(

about 100

g

)

crushed starlight/peppermint mints
White Chocolate Mousse:
1

cup

heavy whipping cream

¼

teaspoon

vanilla extract

2

tablespoons

powdered sugar

4

ounces

(

113

g

)

cream cheese

,

softened

4

ounces

(

113

g

)

white chocolate

,

melted (not white chocolate chips or almond bark – see note for details)
Garnish:
Crushed mints and chocolate shavings
Instructions
Preheat the oven to 350 degrees F.

For the crust, in a medium bowl, mix the chocolate cookie crumbs, butter and egg yolk (if using), until well-combined. Press the mixture into the bottom and just barely up the sides of a 9–inch springform pan (make sure the sides are at least 3-inches tall as this makes a very full pan). See note for 10-inch springform pans. Bake the crust for 10 minutes. Remove and let cool completely.

For the cheesecake layer, add the white chocolate and cream to a microwave-safe bowl (alternately, you can do this in a bowl set over a pan of simmering water) and melt on 50% power for 1-minute increments, stirring in-between, until melted and smooth. Let cool until room temperature (can be very, very slightly warm…but definitely not hot!).

In a medium bowl with a handheld electric mixer or in the bowl of a stand mixer fitted with the whisk or paddle attachment, beat the cream cheese until soft and creamy, 1-2 minutes. Add the sour cream, sugar, cornstarch, vanilla, and peppermint extract. Mix until smooth and just combined.

Fold in the cooled white chocolate/cream mixture until combined.

Add the chocolate chips and mints, and stir with a spoon or spatula until evenly distributed – the mints will start to bleed color into the cheesecake batter, so stir as quickly and efficiently as possible.

Spread the cheesecake over the cooled crust and bake at 350 degrees for 40-45 minutes, until the edges are set about 2- to 3-inches from the side, but the center still jiggles slightly. Remove from the oven and let cool completely.

For the white chocolate mousse, in a medium bowl, beat the cream, vanilla, and powdered sugar with an electric mixer (handheld or stand mixer) until peaks form. In a separate bowl, beat the cream cheese until fluffy. Add the melted white chocolate and mix until smooth and creamy. Fold in the whipped cream, taking care not to deflate the whipped cream, and mix gently with a rubber spatula, lifting and turning the cream, until the mousse is combined and creamy. (Alternate instructions: I've made this topping several times by throwing everything but the melted white chocolate in a blender and processing until very thick and creamy – then I add the melted, cooled white chocolate and mix until combined).

Spread the white chocolate mousse over the cooled cheesecake.

Refrigerate for 1-2 hours (or up to two days). Garnish with crushed peppermints and chocolate shavings right before serving.
Notes
Cream Cheese:
it's more critical than I can even stress to make sure that cream cheese is at room temperature. Cool or chilled cream cheese will result in lumpy batter. Also, light cream cheese will not work as well in this recipe (it will make for a cheesecake that doesn't want to set up).
Pan: this cheesecake can definitely be baked in a 10-inch springform pan; I haven't tried it since I almost always use my trusty 9-inch pan, but keep in mind the layers will be thinner (especially the crust).
Make Ahead: the cheesecake can be baked and topped with the white chocolate mousse and refrigerated for up to two days or frozen for several months if well wrapped.
White Chocolate Chips: with very few exceptions, white chocolate chips do not melt well. They can get clumpy and seize up. So, make sure to use white chocolate baking squares (not almond bark!)…usually found in the baking aisle above the chocolate chips or nearby. The brand most commonly found in my area is Ghirardelli (here's a visual).
Serving:
1
Slice
,
Calories:
770
kcal
,
Carbohydrates:
69
g
,
Protein:
9
g
,
Fat:
52
g
,
Saturated Fat:
30
g
,
Cholesterol:
144
mg
,
Sodium:
385
mg
,
Fiber:
1
g
,
Sugar:
57
g
Recommended Products
Follow @MelsKitchenCafe on Instagram and show me the recipes you are making from my blog using the hashtag #melskitchencafe. I love seeing all the goodness you are whipping up in your kitchens!
Recipe Source: from Mel's Kitchen Cafe (adapted from my favorite Vanilla Bean White Chocolate Mousse Cheesecake)
Disclaimer: I am a participant in the Amazon Services LLC Associates Program, an affiliate advertising program designed to provide a means for me to earn fees by linking to Amazon.com and affiliated sites. As an Amazon Associate I earn from qualifying purchases.