Slow Cooker Jalapeno Popper White Bean Chili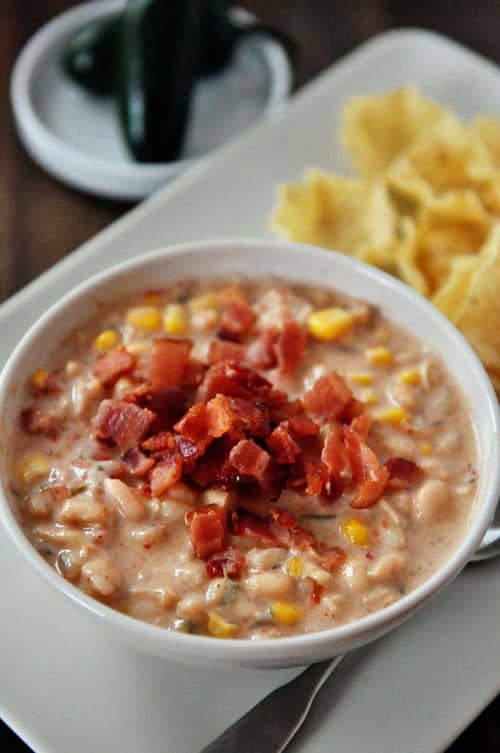 There is nothing quite like a warm bowl of chili on a cold/frozen/icy/wintery/subzero/I'mbarelysurviving kind of day. While I love chili in all its forms, if you twisted my arm and forced me to choose, I would have to say I'm partial to white bean chilis and this white bean jalapeno popper chili fits right in there with my favorites.
Do you mind if I detail its merits for you?
First, it's simple. Like, throw it in the slow cooker simple.
Second, it's relatively healthy, especially if you cut down/omit the bacon (I'll weep for you) or use turkey bacon and light cream cheese.
Third, if I said it's freakishly delicious would that frighten you or entice you to make it? I'm using freakish in the best of all ways here, because this chili is so good it hurts. It's flavorful without being spicy (see the recipe notes to add a little heat if that's your thing) and is so hearty and satisfying.
I don't often repost a recipe that's around the internet in several places since you can easily find it elsewhere, but this chili is too good not to share.
I kind of wish I had this waiting for me right about now! Good thing tomorrow will come dawning a bright new day full of slow cooker jalapeno popper white bean chili resolutions.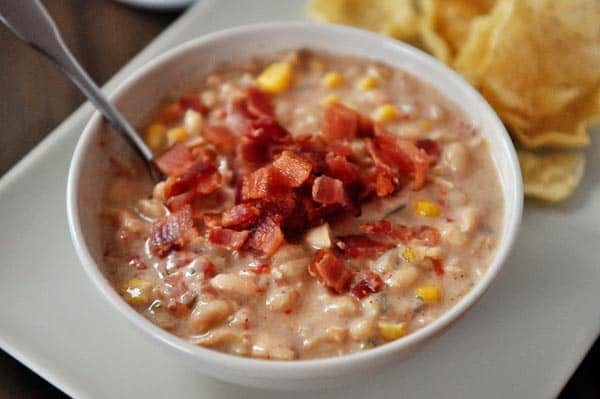 Tortilla chips (for crushing over the soup or just for dipping)
Fresh, seasonal fruit or this fruit salad
Simple green salad (or something more fancy like this Asiago Crisped Spinach and Raspberry Salad)
One Year Ago: DIY Homemade Yogurt  
Two Years Ago: Homemade Taco Seasoning
Three Years Ago: Classic Blueberry Cobbler
Slow Cooker Jalapeno Popper White Bean Chili
Ingredients:
1 cup chopped yellow or white onion
2 jalapeno peppers, seeded and finely chopped
3 cloves garlic, finely minced or pressed
1/2 cup red or yellow bell pepper, small diced
1 pound chicken breasts, trimmed of fat (about 2 chicken breasts)
1 teaspoon chili powder
1 teaspoon ground cumin
1 teaspoon dried oregano
1 (14-ounce) can diced tomatoes, undrained
4 cups low-sodium chicken broth
12 ounces dry white beans, rinsed and picked through to remove any stones or bad beans
1 teaspoon salt
1/2 teaspoon pepper
8 ounces light cream cheese, cut into cubes
1 cup frozen corn kernels
6-8 slices bacon, cooked and crumbled or chopped
Directions:
Add all the ingredients except the cream cheese, corn and bacon to a 5-quart slow cooker. Cook on low for 7-9 hours.
Remove the chicken and chop into pieces or shred into bite-sized pieces. See the note above about thickening part of the soup. Make your decision. Then return the chicken to the slow cooker.
Stir in the cubed cream cheese and the corn. Cover the slow cooker to let the cream cheese soften and the corn heat through, about 10-15 minutes.
Stir to combine. Add additional salt and pepper to taste. Serve topped with the crumbled bacon.
Notes:
I have made this a time or two and never soaked the beans the night before (I use Great Northern dry beans) and they soften perfectly during the cooking time; however, without actually trying it, I'm guessing if you did soak the beans overnight, you might be able to get away with a shorter cooking time (or maybe 5 hours on high or something like that). Also, before adding the chicken back in and before stirring in the cream cheese and corn, you can blend a couple cups of the soup to a smooth consistency and stir it back into the pot for a thicker variation. I've done it both ways…and love it both ways. The flavor is ultimately the winning factor. Finally, this soup is not spicy. If you'd like to make it with more heat, you can leave the seeds in the jalapenos or add a touch or more of cayenne pepper or red pepper flakes.
All images and text ©
.
Follow @melskitchencafe on Instagram and show me the recipes you are making from my blog using the hashtag #melskitchencafe. I love seeing all the goodness you are whipping up in your kitchens!
Recipe Source: adapted from Everyday Reading by way of Sweet, Treats and More by way of Cinnamon Spice (basically, I altered the amount of dry beans just slightly, used chicken breasts instead of thighs and adapted the method ever so slightly)