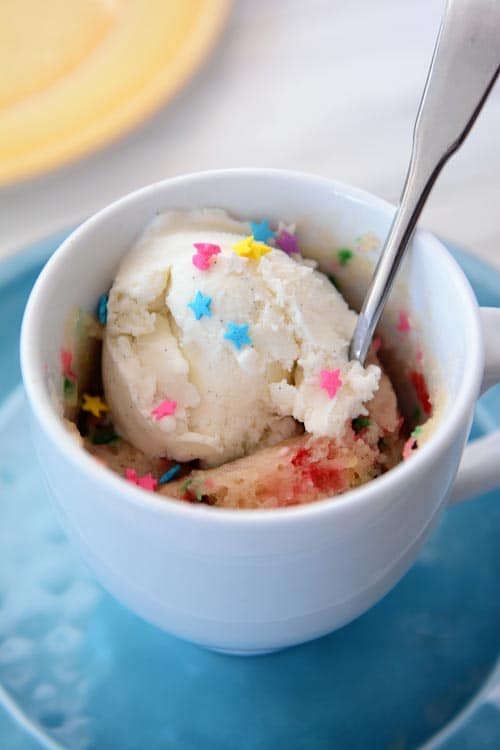 A made-from-scratch funfetti cake baked in 90 seconds? Seriously, where do I sign up? Oh wait, I already have, evidenced by the fact that we've made and devoured this mug cake three days in a row and that is no exaggeration. Yep, I'd say we've officially signed up on the I Love Mug Cake Registry, wherever and whatever that is. That's what happens when something so delicious is also so easy and fast to make (even my 5-year old can mix this up himself). Even though food blogs, including my own, are rife with declarations of Best Ever This and Best Ever That, which kind of minimizes the power of that statement, I'm not even hesitating in declaring these mug cakes The Best Mug Cakes. Ever. Ever ever everrrrr.
I mean, I should know. I've had a lot of mug cakes in my day (some good, some not so good) and these vanilla funfetti mug cakes are not just good, they are ridiculously good. And, in case you missed it from the title, they are egg- and dairy-free (I know, I was skeptical, too, that a cake without an egg or even an egg substitution would work, but trust me, it does).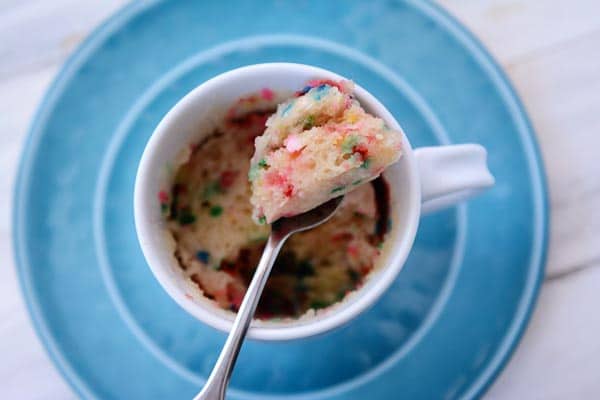 It's a very, very dangerous thing for me to know I can go from zero to warm cake in 90 seconds especially when said cake is mixed right in the mug, so the only dishes are the mug, a few minor measuring utensils and my little spoon. Ack! This is not good. Not good at all. In fact, after my friend, Lien, emailed me this recipe and I made it all those days in a row, I responded back with a "I kind of want to hate you for sending me this recipe" – all said in the spirit of love, of course.
I'm telling you, your life won't be complete until you experience this mug cake. Crazy, crazy delicious, especially if you plop a dollop of vanilla bean frozen yogurt (or a dairy free alternative) on top of the warm cake and go to town.
PS: A winner has been announced for the Italia Artisan Pizza Oven Giveaway! Don't forget that the MKC15 coupon code is still good at Outdoor Cooking (<–affiliate link) through June 15 for 15% off all Camp Chef products.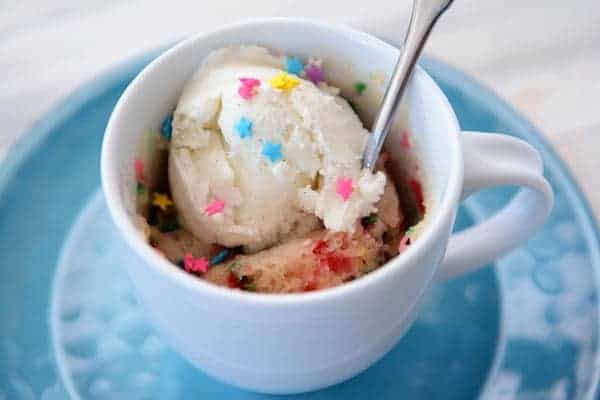 Vanilla Funfetti Mug Cake
Let's talk a few details. First up, for the milk options, you can definitely substitute regular dairy milk for the coconut or almond milk - but if you DO use coconut or almond milk, it's the refrigerated kind in the cartons (not the canned coconut milk). I've made it with all three (dairy, coconut and almond) and the cakes are wonderful each time.
Also keep in mind that each microwave varies in power. These cakes cook perfectly in about 90 seconds on 80% power in my microwave but you may need to adjust slightly since microwaves vary in power. Because they are egg-free, we like to sometimes undercook them just slightly to make a pudding mug cake of sorts. Oh boy.
You can increase the yield of this (if you want to make more than one mug cake) by multiplying the ingredients times however many mug cakes you want (six in my house), mixing the ingredients in a large bowl and then dividing evenly among the mugs.
Finally, you can make this recipe in ramekins/custard cups if you don't have a mug (although it overflows slightly in my 6-8 ounce ramekins so I prefer using a standard-sized mug).
Ingredients
1/4 cup all-purpose flour
2 tablespoons granulated sugar
Pinch of salt (very light pinch!)
1/2 teaspoon baking powder
1/4 cup almond or coconut milk (see note)
1/2 teaspoon pure vanilla extract
1 1/2 tablespoons extra-virgin or refined coconut oil, melted (or canola or vegetable oil)
2 teaspoons sprinkles
Directions
In an 8-ounce (that's a fairly standard size) mug, whisk together the flour, sugar, salt and baking powder. Make a small well and add the milk, vanilla and oil. Mix just until combined. Stir in the sprinkles.
Microwave for 90 seconds at 70-80% power (adjusting as needed depending on the heat/power of your microwave). Serve warm with a dollop of frozen yogurt or ice cream, if desired.
https://www.melskitchencafe.com/vanilla-funfetti-mug-cake/
Printed from Mel\'s Kitchen Cafe (www.melskitchencafe.com)
Recipe Source: adapted slightly from my virtual friend, Lien (I think originally from

this recipe

, although I adapted it to be made start-to-finish in the mug instead of dirtying another bowl, added a slight pinch of salt, decreased the sugar just slightly, and omitted the single serving ice cream stuff)