Video Tip: How to Cut Grape Tomatoes and Other Pesky Foods Quickly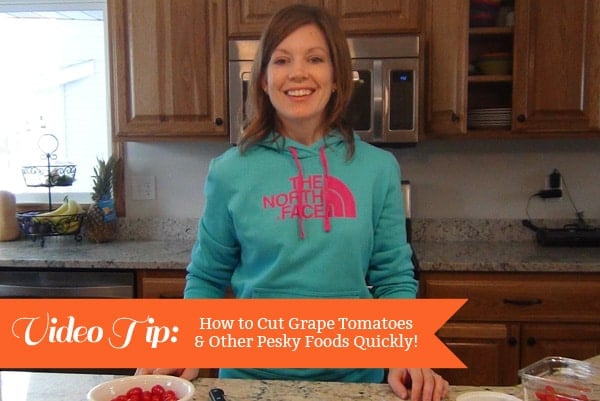 I'm so excited about today! I've been waiting a long time to roll out my new series and contest and can't wait to tell you about it.
Here's the dealio: throughout the year I am going to be posting more video tutorials/tips. There are a lot of questions/tips/tutorials you guys have requested in video form (pie crust, among a hundred others) and there are a million and a half tips that I personally want to share. Sometimes, it's a lot easier to show it rather than just type about it and post a few pictures.
I'm hoping to build up the Video Tip section to be extremely useful (in addition to the Kitchen Tips I already add to now and again).
As well as the video tips I'll personally share (and I've roped some of my innocent family members into putting together a few of their own that are super helpful to share with you), I am opening up a little contest for YOU! If you have a fabulous cooking/kitchen tip you want to share, I'd love to see it! I'll be choosing up to two submitted videos to be published on my blog each month (archiving into the useful Video Tips page for the rest of time) and in addition, if your video is chosen, you'll win a $50 gift card.
I've listed all of the contest rules and info on how to submit your video HERE so definitely check it out for more information!

Update: Due to a few unforseen logistical details, the video contest has been temporarily suspended. I'll be sure to update when I get it back up and running. Thanks everyone!
To kickoff the video tip series, I threw together a short video on something near and dear to my heart: chopping up pesky little foods, like cherry or grape tomatoes, quickly and efficiently without having to cut them one-by-one.
You didn't know you'd been waiting your whole life for this, did you? I dressed up in my fanciest clothes just for you and yes, the open cupboard bugs the heck out of me, too.
Remember, that you'll be able to go to THIS PAGE to see all the video tips in one place (I put a handy dandy link in the navigation bar for quick access). And I've also created a YouTube channel which will feature all of the videos I post as well as the winning contest entries! Keep checking back to see winning videos posted here and my own video tips to help you out in the kitchen!
Disclaimer: I am a participant in the Amazon Services LLC Associates Program, an affiliate advertising program designed to provide a means for me to earn fees by linking to Amazon.com and affiliated sites. As an Amazon Associate I earn from qualifying purchases.