Whole Grain Banana Chocolate Chip Muffins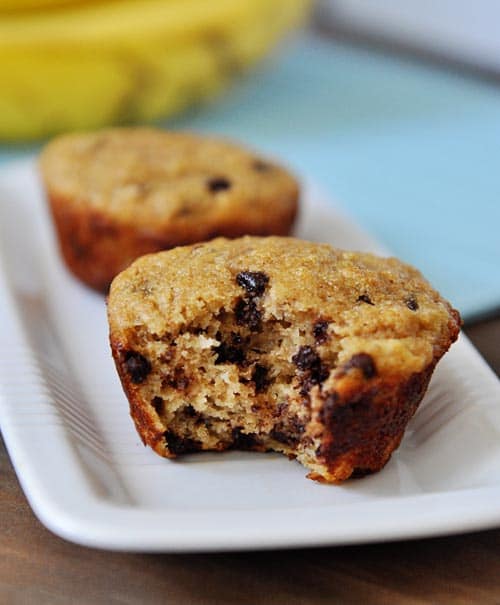 I woke up two Tuesdays ago and knew immediately at the onset of brain functioning that I needed to figure out a recipe for whole grain banana chocolate chip muffins.
I was unable to think about anything else.
Maybe the success of these healthy applesauce oat muffins was subconsciously driving me to figure out another stellar, healthful muffin to throw in my kids' lunchboxes. I don't know.
No matter the motivation, the result of several test batches is a crazy delicious banana chocolate chip muffin.
Baby Cam (ok, she's 1 1/2 and not a baby anymore but I still can't quit calling her that) devoured them. Like, threw a full-on tantrum on the floor, lowering her head ever so gently to the tile before the screaming began, because I wouldn't let her have a third, and my sweet 4-year old Ty-guy politely stepped over his flailing sister to ask me if he could have her requested muffin instead (upping his muffin intake to soaring levels).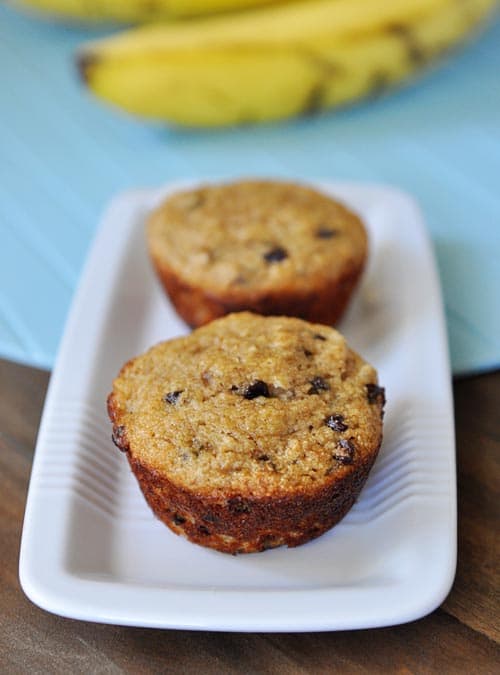 They've been made several times since then and have graced lunchboxes, after-school snack sessions, sneak-out-of-the-freezer-cravings and a few playdates.
While they won't win any awards in the looks department – kind of homely, really – maybe that's not such a bad thing since I already mentioned that their plain counterparts have pretty much rocked our world.
If you are looking for an indulgent, sweet, fluffy fluffiness of a muffin, you probably ought to not make these. They are soft and moist but the presence of whole wheat flour is alive and strong and these definitely fall into the "muffin" category, not the "cupcake-posing-as-a-muffin" category.
Otherwise, if you want a fabulous healthful muffin with just the right amount of chocolate to help the world go round, then by all means make them. Hope you love them as much as we do!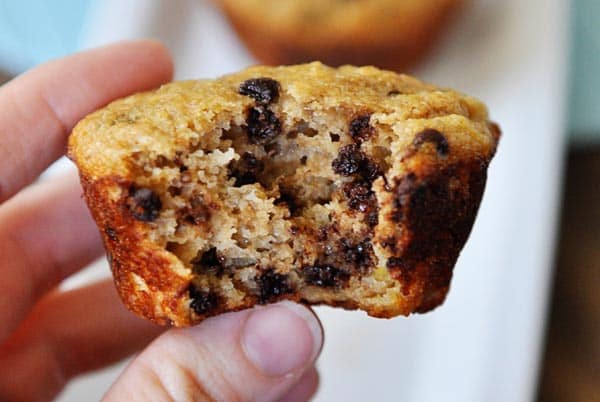 One Year Ago: Pumpkin Cheesecake Crumble Bars
Two Years Ago: Classic Macaroni and Cheese
Three Years Ago: Decadent Chocolate Cheesecake

Whole Grain Banana Chocolate Chip Muffins
Yield: 12 muffins

Prep Time: 15 minutes

Cook Time: 18 minutes

Total Time: 33 minutes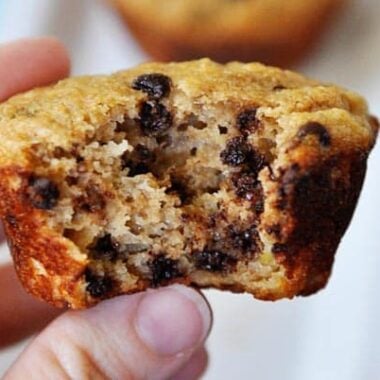 Ingredients
2 average-sized bananas, peeled and mashed
1/3 cup packed light brown sugar (optional, see note)
1/2 cup plain yogurt
1 large egg
1/2 cup unsweetened applesauce
1 1/2 cups whole wheat flour
1 teaspoon baking powder
1/2 teaspoon baking soda
1/4 teaspoon salt
1/3 to 1/2 cup mini chocolate chips
Instructions
Preheat the oven to 375 degrees F. Lightly grease a 12-cup muffin tin or line with cupcake liners (lightly grease the muffin liners if using).
In a large bowl, whisk together the bananas, sugar, yogurt, egg, and applesauce.
In a small bowl, combine the flour, baking powder, baking soda, salt and chocolate chips.
Fold the dry ingredients into the wet ingredients and stir just until combined. Don't overmix.
Spoon the batter evenly into the muffin cups. Bake for 16-18 minutes until a toothpick inserted in the center of a muffin comes out clean.
Remove the muffins from the tin and let them cool completely on a wire rack.
Notes
Bananas: if your bananas are super ripe (and really sweet because of that), you could probably get away with decreasing or even eliminating the sugar.

Freezable: also, these freeze magnificently!
Recommended Products
As an Amazon Associate and member of other affiliate programs, I earn from qualifying purchases.

Recipe Source: Mel's Kitchen Cafe