Real quick before I dive into today's recipe, many of you have let me know over the last few weeks that you aren't receiving email updates anymore even though you have subscribed and your email address is still active (this is a widespread problem for bloggers right now – you may have noticed that you aren't receiving the email updates from more than one blog you follow). Sorry about that! I spent the weekend transitioning all the subscribed email addresses over to a new email service, so if the emails showing up in your inbox look a bit different that's why. Ultimately, it's the same deal, though – a full feed of each new post delivered right to your inbox. This new premium service should work much, much better! If you want to subscribe to free email updates click here (or type in your email address over there in the sidebar). Thanks for your patience!
Ok, now for today's beauty of a meal. It's fast. It's a start-to-finish one-skillet meal (I won't even bore you with how much I love skillet meals since I've gushed more times than I can count). It's light and refreshing and creamy without being loaded with heavy cream…and, it's really just a perfect weeknight meal to make you feel like you can go ahead and pin that gold star on your apron for one more dinner knocked right out of the park.
The flavors are crazy delicious. And if you ask me, lemon, broccoli and chicken are a match made in skillet heaven. I've included a few notes in the recipe about different pasta brands and the consistency of the sauce so be sure you don't skim over that part. This lovely recipe is a riff from one of our other constant, favorite skillet meals: Skillet Pasta with Chicken, Broccoli and Sun-Dried Tomatoes and this new lemon version is just as stellar.
Who can resist a meal that is healthy, flavorful and only requires one measly skillet for cooking? Clearly, I can't, since at the risk of being completely one-dimensional, I think I have a bazillion one-skillet meals on this blog.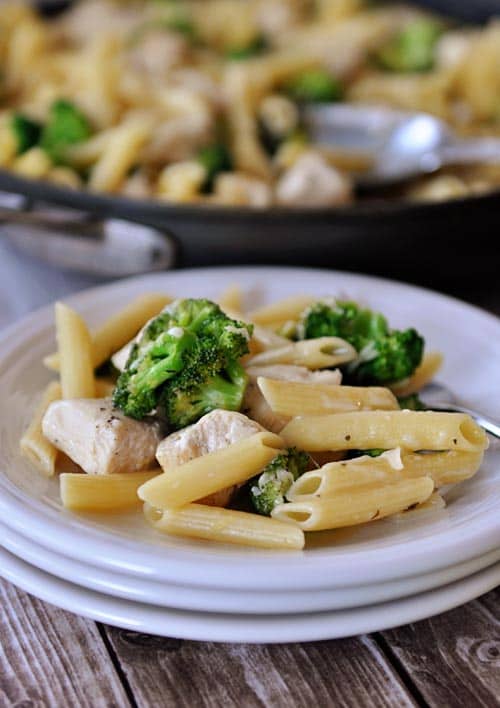 Divine breadsticks or Cheesy Garlic Bread
Killer green salad (throw together your own or use a variation on this Gourmet Green Salad)
Fresh, seasonal fruit
P.S. If you haven't noticed the semi-new feature in the footer, take a look way down there at the bottom of the page. The Weekly Menu Plan is updated every single week and is full of inspiration to help you get dinner on the table all week long.
One Year Ago: Layered Mexican Cornbread Salad
Two Years Ago: Chocolate Peanut Butter Fun Cake
Three Years Ago: Asiago Crisped Spinach and Raspberry Salad
Skillet Creamy Lemon Chicken Pasta with Broccoli
The brand of penne you use will define how much liquid to add total. When I use the Creamette (green package) brand of penne that cooks to al dente in 7 or so minutes, I use the amounts stated in the recipe. But I've also made this with Barilla penne which is slightly thicker and needs 10-11 minutes to cook until al dente. When using a pasta like that (thicker with more cooking time needed), keep your eye on the liquid amount. If the liquid is mostly absorbed but the pasta isn't close to being tender yet, add another 1/2 cup liquid to the skillet (and possibly another minute or so of cooking time).
If you want to give a burst of fresh lemon flavor, squeeze an additional 1 tablespoon of fresh lemon juice into the skillet pasta right before serving.
Also, if you don't have a large 12-inch skillet, you could totally make this in a large pot. Finally, if you like your sauce a bit thicker, use a little extra cornstarch (maybe another 1/2 tablespoon?) or cover the skillet off the heat and let the pasta sit for 5-10 minutes before serving.
Ingredients
1 1/2 pounds chicken breasts, cubed
Salt and pepper
1 tablespoon oil
4 cloves garlic, finely minced or pressed
1/2 teaspoon dried basil
2 1/2 cups water
2 cups low-sodium chicken broth
Zest of two lemons, about 1 tablespoons
1/3 cup freshly squeezed lemon juice (from about 2 lemons, use the same ones you just zested)
12 ounces penne pasta (see note)
2-3 cups chopped fresh broccoli florets
3/4 cup milk
1 tablespoon cornstarch
1/2 cup freshly grated Parmesan cheese
Directions
Pat the chicken dry with a paper towel and season well with salt and pepper. Heat the oil in a large, 12-inch nonstick skillet over medium heat until the oil is hot and rippling. Add the chicken and saute, stirring frequently, until the chicken is browned and cooked through. Remove the chicken to a plate, keeping as much oil/liquid in the skillet as possible.
Keep the skillet on medium heat and add another teaspoon of oil if needed (I usually don't but you'll want to keep an especially close eye on the garlic). Add the garlic and basil and stir constantly for about 30 seconds. Add the water, broth, lemon juice and pasta. Stir to combine.
Bring the mixture to a simmer and cook, stirring occasionally just to keep the pasta from sticking, for 10-12 minutes until the pasta is tender - it will cook for a few more minutes in the next step. There will be a bit of liquid left in the skillet; that's ok.
Add the broccoli and lemon zest. Cover and cook for 2-3 minutes until the broccoli is bright green and tender. While the broccoli is cooking, whisk together the milk and cornstarch.
Uncover the skillet and stir in the milk mixture along with the Parmesan cheese and reserved chicken. Simmer, uncovered, until the sauce has thickened slightly, 1-2 minutes.
Season with additional salt and pepper (this is really important - don't skip this step!) and serve.
http://www.melskitchencafe.com/skillet-lemon-chicken-pasta-with-broccoli/
Printed from Mel\'s Kitchen Cafe (www.melskitchencafe.com)
Recipe Source: adapted from
this skillet meal