Cheesy Garlic Bread
This homemade cheesy garlic bread is so buttery, garlicky, cheesy, and delicious, that it just might steal the show from the lasagna!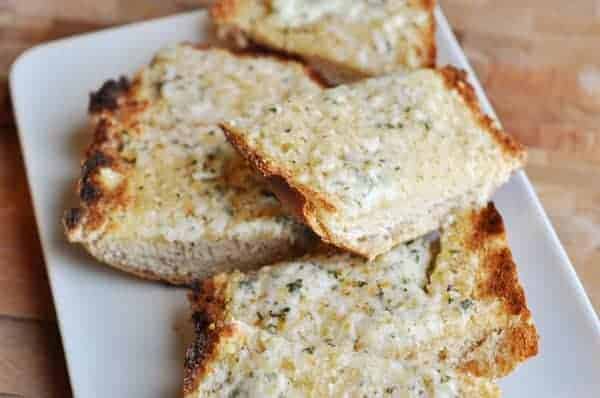 This bread may look simple and unassuming, but don't underestimate it's deliciousness.
The flavor power that sets this bread apart from other garlic breads made with garlic salt/powder lies in the five cloves of fresh garlic that are steeped in butter and slathered on the bread before baking.
The bread is baked in foil to allow the butter and garlic to totally and completely overwhelm the basic french bread with buttery garlic goodness.
Then, to top it all off, you literally top the bread with freshly grated cheese and let it broil.
Oh. My. I served this with a lasagna (incidentally this bread recipe was also given to me by my amazing Aunt Marilyn) and after eating more helpings of lasagna than I'm willing to admit, I still couldn't stop eating this bread.
I even forewent dessert in order to have another slice of this dreamy bread. I'm, like, totally all about calorie conservation.
One Year Ago: Asian Lettuce Wraps
Two Years Ago: My Favorite Cheesecake…Ever
Yield: 8-10 servings

Prep Time: 8 minutes

Cook Time: 28 minutes

Total Time: 36 minutes
Ingredients
5 garlic cloves, finely minced (click here for a tutorial on working with fresh garlic)
8 tablespoons (1 stick) butter, softened
1/2 teaspoon water
1/4 teaspoon salt
1/4 teaspoon pepper
1 18-20-inch baguette or loaf of french bread, sliced in half horizontally
1 1/2 cup shredded cheese (I used a blend of Parmesan and mozzarella and my aunt uses just Parmesan – you can tailor this to what you have on hand but I think a mix of white cheeses would be best)
Instructions
Adjust oven rack to lower-middle position and heat oven to 400.
In a small nonstick skillet, cook the garlic, 1 tablespoon of the butter and water over low heat, stirring occasionally, until the mixture is straw colored, 7-10 minutes. It is important to keep the heat low or the garlic will burn and turn bitter. The garlic should be lightly browned but not burned!
In a small bowl, place the remaining 7 tablespoons softened butter and the salt and pepper. Mix in the hot garlic mixture and stir to combine. Using a rubber spatula, spread the butter mixture on the cut sides of bread. Sandwich the bread back together and wrap the loaf in foil. Place the wrapped loaf on a baking sheet and bake for 15 minutes.
Remove from the heat and turn the oven to the broil setting.
Sprinkle the bread with the shredded cheese. Broil until cheese has melted and bread is crisp, 1-2 minutes. (As my Aunt Marilyn points out, don't take your hand off the oven door while the bread is broiling – it can burn quickly!) Transfer the bread to a cutting board with the cheese side facing down. Cut into angled pieces and serve. Please try to exert self-control and share the bounty with others at the table.
Recommended Products
As an Amazon Associate and member of other affiliate programs, I earn from qualifying purchases.

Recipe Source: from Aunt Marilyn
Disclaimer: I am a participant in the Amazon Services LLC Associates Program, an affiliate advertising program designed to provide a means for me to earn fees by linking to Amazon.com and affiliated sites. As an Amazon Associate I earn from qualifying purchases.