A Bit of Housekeeping + Some Things You Should Know
1) I've been doing some cleaning up of my Pinterest boards so if things look a little different, it's because I'd rather do spring cleaning there than in my own house.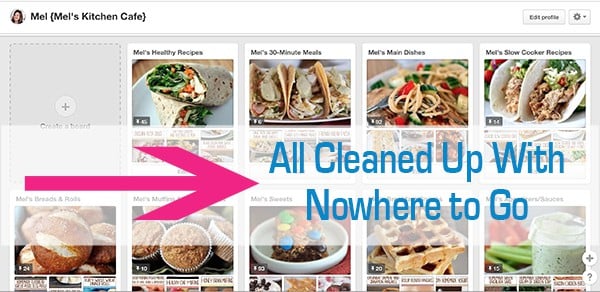 2) Remember that running updates won't show up on my homepage (or on email updates or RSS feeds) so if you are interested in the details of the upcoming half-marathon (including fun meet-up details, training updates, and motivating stories), those gems are all right here on the running page. For someone who hadn't run more than a mile in almost 10 years, these last seven weeks have been incredible (and kind of painful, let's be serious). I just hit a milestone of five miles and am wondering who I am and how I got here.
3) For all of you subscribed to my email list, I apologize if you received the Carrot Cream Cheese Swirl Bundt Cake email update twice. There was a small glitch this week and as awesome as it is to see carrot cake in your inbox two days in a row, no one likes repeats. So, sorry about that.
4) On Instagram last week I posted a pic of the mini cream puffs I made in my much-loved 48-cup mini muffin tin. It's monstrous, fits in a standard-sized oven, and makes me very happy. I bought mine at Target during the holiday season but many of you reported it's no longer there. I did some searching online and thought I'd report that Bed, Bath and Beyond (no affiliation) has the exact same one. Just in case you feel like you need one in your life.

5) I've been wanting to share with you a few blogs that I'm really loving. Most of these (not all) are pretty new blogs. None of them asked me to post about their site (in fact, some of them probably don't even know who I am) but with the crazy number of blogs starting every day, sometimes the good ones need a little notice. I don't usually share until I've actually made a recipe or utilized a useful tip from a website. These blogs are no exception.
The Merchant Baker – I've made her Triple Peanut Butter Blondies (don't worry, there's chocolate in them, too) and Sausage Lentil Soup (I used chicken sausage; so hearty and delicious!); Ramona definitely knows her food and has some fabulous recipes.
Debs Faves – if you are looking for tried-and-true favorites, this new blog is one to watch. Deb, mother of seven-almost-eight, knows her stuff when it comes to tips, tricks, tools, toys that work for families (big or small). She wants to share her favorites with the world (and I, for one, have already benefitted from a few of her ideas like the best whole wheat lasagna noodles tip and baking hard-boiled eggs for a foolproof method).
A Baker's Wife – I think I've mentioned Lisa's site before but I will again because I love it. She's down to earth and her food is amazing. I've made this Fresh Peach Tart and about died – it was so amazing. Plus these Quinoa Power Waffles are life changing.
Leesh & Lu's Recipe Box – these two sisters are adorable and pump out some yummy recipes. Just last week I made their genius baked breakfast taquitos and we inhaled them (I used cream cheese instead of sour cream and omitted the green chiles).
Good Dinner Mom – I've posted about Sally's site before but I continue to adore her and her recipes. I make her food all the time (and have even posted about a few of hers: Cranberry Fluff Salad, Big Fat Greek Tacos and a few others). I've made countless other recipes from her site and I think if I had to choose one person to cook for me for the rest of my life, it would be Sally (she hasn't agreed to this yet). We had these BBQ Cauliflower Chickpea tacos last month…and wow.
Bake.Eat.Repeat. – this cute blog is more than just baking – it's filled with really yummy mostly-from-scratch recipes that are right in line with how my family eats. We loved the Slow Cooker Taco Soup (super simple and yummy) and these browned butter mini peanut butter chocolate cup cookie things were insane (in a good way).
6) I love being part of the Cabot Cheese Board (I don't have to do much other than eat the cheese they send me – it's a pretty sweet deal). Recently, I received a preview copy of the new cookbook they have coming out and seriously, I literally read it like a novel (I'm not obligated or paid to say anything about the cookbook; I just ended up loving it very, very much). Not only are the recipes fantastic (I made several including the cheesy cauliflower nuggets – yum!) but the stories of the farmers who are part of the Cabot Creamery are absolutely fascinating. I seriously wanted to find a dairy farm somewhere in Vermont and move there next week but my fear of cows made me reconsider. The Cabot team is offering a pretty sweet sweepstakes: you can enter to win a copy of their cookbook and a one-year supply of cheese (hello, is that like a lifelong dream come true or what?).
And I think that's it for super random post of the year. Tomorrow, it's all about decadent double chocolate egg-free cookies which obviously means tomorrow can't come soon enough.
Disclaimer: I am a participant in the Amazon Services LLC Associates Program, an affiliate advertising program designed to provide a means for me to earn fees by linking to Amazon.com and affiliated sites. As an Amazon Associate I earn from qualifying purchases.