Almond Joy Chocolate Chip Cookies
Coconut, almond, and dark chocolate- all the flavors of a classic Almond Joy rolled up in amazingly soft, Almond Joy chocolate chip cookies!
Coming from a girl who's normally like "get out of my cookie, all nuts forevermore," I always feel a bit of a who am I and how did I get here sensation when I make these delectable cookies and can't stop eating them.
Loaded with all the flavors of an almond joy candy bar (but a million times better because the ingredients are fresh), these soft and delicious cookies are simply amazing.
You want to know the slightly embarrassing thing about these cookies, though?
I made them years ago when I was living in Minnesota. My sweet friend, Bonnie, wanted an almond joy-esque cookie to make for her husband who loves all those flavors.
We came up with this cookie, made them lots of times, and everyone loved and devoured them. Ahem, particularly me.
And then I moved to Idaho and completely forgot about them.
Seriously. I don't know what happened, but in that chaotic vortex of moving (if you've moved across the country, or let's be serious, even next door, you know the swirly confusion and mess of moving I'm talking about), they were stripped from my cookie-loving memory.
I honestly had no recollection of them for years. And yes, this has planted a deep seed of fear in my heart about what other recipes I may be forgetting.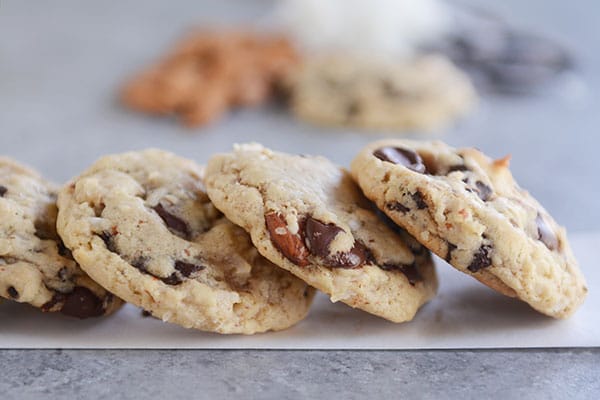 A couple weeks ago late one night, Bonnie's teenage daughter, Leah, texted me a picture of some amazing cookies she had just made. I immediately texted back: SEND ME THAT RECIPE!
She sent a very puzzled response asking if I was joking and then nicely let me know I was slightly crazy since I was the one who gave her family the recipe. All this time, she figured I was making them weekly, just like she and her mom. Oops.
Friends have been lost over similar scenarios.
Needless to say, by 8:30 a.m. the next morning, Almond Joy Chocolate Chip Cookies were made and cooling on my counter.
I proceeded to eat my body weight in tasty, irresistible cookies in order to rekindle my love.
If you want to take them up a further notch, toast those almonds.
And for a slightly less puffy cookie, simply omit 1/4 cup of the flour or so.
Honestly, these almond joy chocolate chip cookies are perfect for those who love a cookie with a lot going on.
The chocolate, almond, coconut flavor combo was destined for a cookie; I'm so happy they are back in my life. And this time, for good!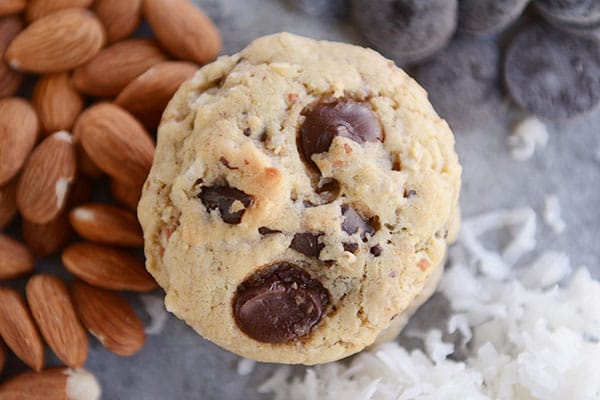 One Year Ago: Cinnamon & Sugar Dusted Whole Grain Applesauce Muffins
Two Years Ago: Soft Batch Iced Pumpkin Sugar Cookies
Three Years Ago: Cinnamon Roll Cake
Almond Joy Chocolate Chip Cookies
Yield: 4 dozen cookies

Prep Time: 20 minutes

Cook Time: 10 minutes

Total Time: 30 minutes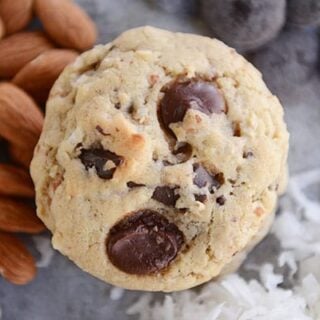 Ingredients
1 cup (16 tablespoons, 8 ounces) butter, softened to room temperature
1 1/4 cup (9.5 ounces) light or dark brown sugar
1 1/4 cup (9.5 ounces) granulated sugar
4 large eggs
2 teaspoons vanilla extract
4 1/4 cups (21.25 ounces) all-purpose flour (see note)
1 teaspoon baking powder
1 teaspoon baking soda
3/4 teaspoon salt
3 cups (18 ounces) semisweet or bittersweet chocolate chips
3 cups (about 9 ounces) shredded coconut (sweetened or unsweetened)
2 cups (10 ounces) chopped almonds (toast them for even yummier flavor!)
Instructions
Preheat the oven to 350 degrees F. Line cookie sheets with parchment paper, silpat liners or lightly grease with cooking spray. Set aside.
In a large bowl with a handheld electric mixer (or in the bowl of a stand mixer fitted with the paddle attachment), beat together the butter, brown sugar and granulated sugar until smooth, 1-2 minutes. Add the eggs and vanilla and beat until the mixture is very light in color, 2-3 minutes.
Add the flour, baking powder, baking soda, and salt. Mix on low speed until just combined (it's ok if there are dry streaks remaining).
Stir in the chocolate chips, coconut, and almonds by hand until combined.
Drop by rounded tablespoonfuls (I use a #40 cookie scoop which is about 2 tablespoons) onto the prepared baking sheets, spacing the cookies a couple inches apart.
Bake for 10-12 minutes. Remove the cookies to a wire rack to cool completely.
Notes
Flour: I like these cookies just ever so slightly puffy. If you want them a bit flatter, cut the flour down to 4 cups instead of 4 1/4 cups.

Freezable: just like most drop cookies, these babies freeze great (baked or unbaked).
Recommended Products
As an Amazon Associate and member of other affiliate programs, I earn from qualifying purchases.

Recipe Source: from Mel's Kitchen Cafe (adapted from this recipe on food.com)
Disclaimer: I am a participant in the Amazon Services LLC Associates Program, an affiliate advertising program designed to provide a means for me to earn fees by linking to Amazon.com and affiliated sites. As an Amazon Associate I earn from qualifying purchases.