Apple Cider Pudding Cake
This apple cider pudding cake is phenomenally delicious, warm, perfect with ice cream, and a quintessential comforting dessert.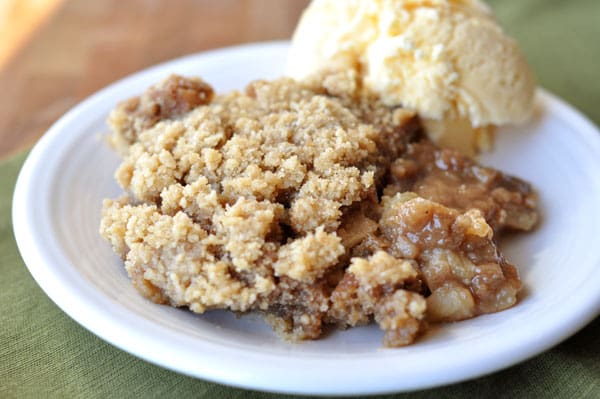 After posting about the lemon pudding cake, Cammee, a MKC reader, sent me an email saying she loved pudding cakes and included this recipe.
Loaded with tart Granny Smith apples, the thick, rich batter is topped with a boiling concoction of apple cider and brown sugar and baked, creating a silky pudding layer covered with moist, tender cake.
Oh, and did I mention the entire creation is smothered in a buttery, crunchy streusel? I have definitely redevoted myself to pudding cakes.
This was a magical dessert experience.
Phenomenally delicious, this cake is warm, perfect with ice cream, and a quintessential comforting dessert. By the way, the leftovers (shocked we even had any!) heated up excellently. Thanks, Cammee!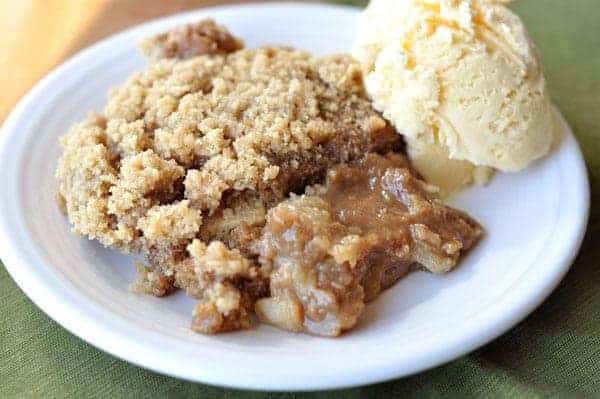 Total Time:
1 hour
5 minutes
Ingredients
Cake:
1 cup flour
2 teaspoons baking powder
1/4 teaspoon salt
1/4 teaspoon baking soda
1 teaspoon cinnamon
1/2 teaspoon ginger
1/4 teaspoon nutmeg
1 large egg
1 cup packed brown sugar
1/3 cup milk
2 tablespoons melted butter
1 teaspoons vanilla
2 cups chopped Granny Smith apples
Boiling Mixture:
1 cup apple cider (apple juice can be substituted if apple cider can't be found)
1/2 teaspoon cinnamon
1 teaspoon vanilla
1/2 cup brown sugar
Streusel:
1/4 cup flour
1/4 cup brown sugar
2 tablespoons cold butter
Instructions
Butter an 8×8 inch square baking dish. Heat oven to 350 degrees.
In a bowl combine the flour, baking powder, salt, soda, 1 teaspoon cinnamon, ginger and nutmeg. In another bowl, whisk together the egg, 1 cup brown sugar, milk, melted butter and 1 teaspoon vanilla. Stir in dry ingredients until just combined. Gently fold in apples. Spread in prepared pan.
In a small saucepan, bring apple cider, 1/2 teaspoon cinnamon, 1 teaspoon vanilla and 1/2 cup brown sugar to a boil. Pour slowly and carefully over the batter. Bake for 35 minutes. Meanwhile, put streusel ingredients in food processor (you can use a bowl and cut in butter with a pastry blender or fork) and pulse until butter is cut up and mixture is crumbly. After the cake has baked for 35 minutes, sprinkle streusel topping evenly over the cake and bake 8-10 minutes more (until a toothpick inserted into the top layer of the cake comes out clean or with a few moist crumbs).
Serve warm with a scoop of vanilla ice cream (don't let the cake sit too long or some of the pudding will be asorbed in the cake topping – I would recommend eating it within 20-30 minutes of it being baked).
Recommended Products
As an Amazon Associate and member of other affiliate programs, I earn from qualifying purchases.
Recipe Source: Cammee, a MKC reader
Disclaimer: I am a participant in the Amazon Services LLC Associates Program, an affiliate advertising program designed to provide a means for me to earn fees by linking to Amazon.com and affiliated sites. As an Amazon Associate I earn from qualifying purchases.