Fluffy Parker House Rolls
These fluffy parker house rolls are incredible and can be made in 3 hours or less! One of the easiest roll recipes ever, they are soft and delicious!
One of the easiest and most delicious roll recipes ever, this recipe comes straight from my Aunt Marilyn (you know you can't go wrong with her recipes, people!). She passed along this favorite roll recipe to me years ago. So far, she's never been wrong in her favorites.
And this fluffy Parker house roll recipe is no exception. It is incredible! The roll dough is soft and tender and a bit sweeter than other roll recipes we love – which has its merits when paired with a smoky ham or salted pork for dinner. Also, these make the perfect Thanksgiving roll (for those leftover turkey sandwiches!).
Quick and Easy Dough
The dough for these rolls comes together really quickly. All the ingredients are mixed up together – no fancy mixing techniques or ingredients. Just toss it all in there and let the mixer knead the dough until it is soft and smooth. It will clear the sides of the bowl but still be rather soft to the touch.
Instead of transferring the dough to another bowl, it rises right in the mixer and just for an hour (although if your house is on the chilly side, it will need a bit longer. You want it to puff substantially.
You can either press/roll out the dough and cut into circles or roll the dough into a rectangle and cut into strips for square shaped rolls. I use about a 3-inch circle cutter but you can use slightly smaller or larger.
How to shape Parker house rolls
The process to get these folded-over rolls is pretty simple. Cut the dough, dip halfway into butter, and then brush the buttered part of the roll forward on the baking sheet, then flip it over and fold in half.
Confused? I show you how to do this below.
And here's a quick look at how to make the rolls square or rectangle instead of circle (no need for a cookie cutter for this method).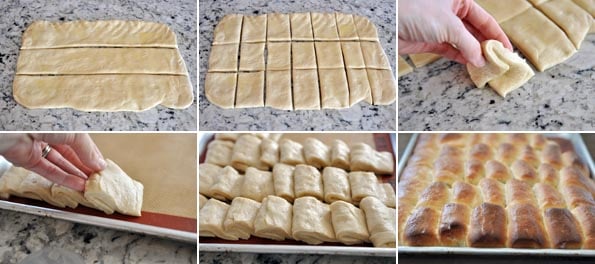 You'll place these rolls fairly close together on the baking sheet. They'll rise until pretty puffy and then bake until golden brown.
Really, these rolls are some of the best ever and one of our most-oft made roll recipes. They are so easy (perfect for beginners!) and incredibly tasty.
If you want a less sweet roll, you can cut down the sugar in the recipe. We like them as is…that hint of sweetness is perfect for sandwiches of any kind or just with salted butter and jam. YUM!
Fluffy Parker House Rolls
Additional Time:
1 hour
10 minutes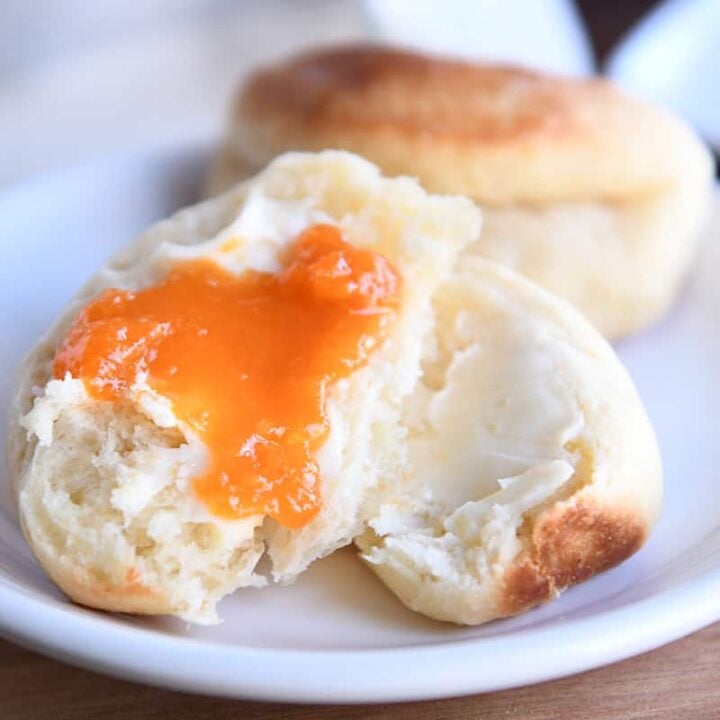 Ingredients
2 cups hot water
1/2 cup granulated sugar
1/2 cup neutral-flavored oil
7 to 7 1/2 cups all-purpose flour or bread flour
2 eggs
1 1/2 teaspoons salt
2 tablespoons instant yeast
1/4 cup butter, melted, for shaping rolls
Instructions
Add hot water to sugar and oil and beat with electric mixer (or by hand). Add 2 cups of the flour, eggs, salt and yeast. Mix well. With the mixer on low speed, continue adding flour until a soft dough forms and clear the sides of the bowl. Do not knead.
Cover the bowl and let rise until doubled, about an hour.
Divide the dough in half. On a lighty greased countertop, roll or pat each portion of dough until 1/4-inch thick or so (slightly thicker is fine, but too thick and the rolls won't stay folded over while rising and baking).
Use a 3-inch circle cutter to cut the dough into rounds OR pat the dough into a rectangle and cut into strips (see pictures in the post). Reroll as needed (the rerolled dough may have a tendency to shrink back when cut/folded; if so, let it rest 15 minutes and try again).
Dip each piece into butter, brush the buttered side across the baking sheet and then flip over and fold in half (again, see pictures in the post for details). Place the rolls close together. For square or rectangle rolls, they can overlap slightly.
Cover and let rise for 30-45 minutes until noticeably puffy. Bake at 375 degrees for 16-18 minutes. Brush tops with additional melted butter, if desired.
Notes
Flour Amount: as with all yeast doughs, I never use the flour amount called for in the recipe as a hard fast rule (unless a weight measure is given and then I pull out my kitchen scale). Because humidity, temperature, altitude and a multitude of other factors can impact how much flour you need in your yeast doughs, I always judge when to quit adding flour by the texture and look and feel of the dough rather than how much flour I've added compared to the recipe. So if you have to add a bit more or less flour than the recipe calls for to achieve a soft, smooth dough that clears the sides of the bowl, don't panic.
Tutorial: this tutorial on yeast may help identify how a perfectly floured dough should be.
Updates: I updated this recipe to increase the salt from 1 to 1 1/2 teaspoon salt. I also increased the flour (since I always ended up using more). You can decrease the sugar for a less sweet roll if you'd like.
Recipe Source: from Aunt Marilyn
Recipe originally posted on August 2009; updated November 2019 with new pictures, recipe updates, etc.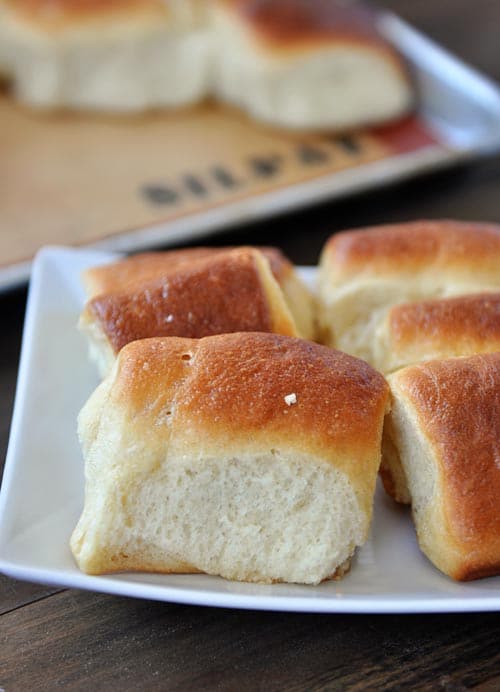 Disclaimer: I am a participant in the Amazon Services LLC Associates Program, an affiliate advertising program designed to provide a means for me to earn fees by linking to Amazon.com and affiliated sites. As an Amazon Associate I earn from qualifying purchases.