Hot Fudge Pudding Cake
This hot fudge pudding cake is decadent and so satisfying it will send you into chocolate heaven. With a scoop of ice cream, it is perfect!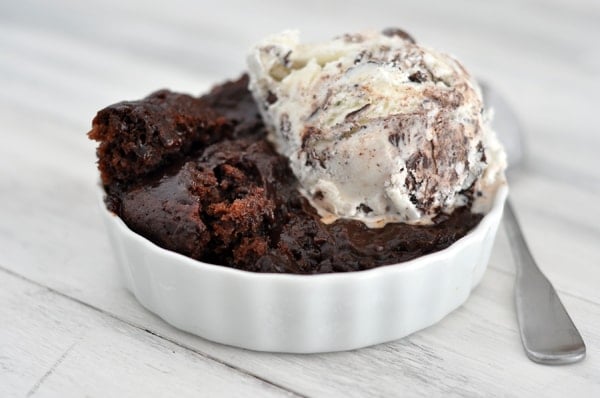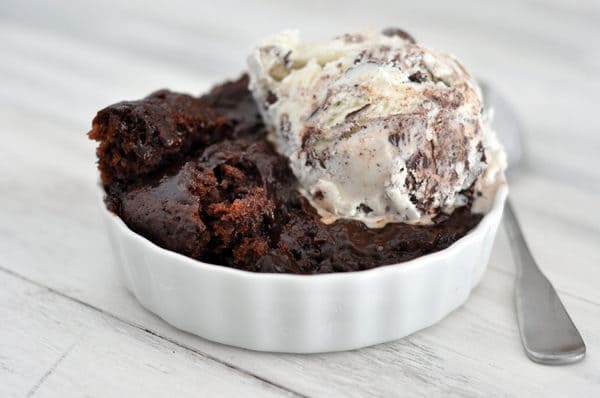 Even after six years or so, I still find this dessert ridiculously delicious. In fact, if you had to nail me down, I might, under duress, admit that it is probably my favorite chocolate dessert in the whole entire world.
Wow. I feel liberated admitting that. Really.
You should make it.
And perhaps this is where I should say: I'm sorry. I am so very, very sorry.
After all the talk and dedication of New Year's Resolutions and the somewhat healthy recipes I've tried to post so far this year, I should not be this rude, posting this decadent, otherworldly dessert that is so ultimately satisfying it will send you into chocolate heaven.
Right up there with the other fantastic pudding cakes I enjoyed last year, this chocolate version is sinfully delicious and yet so worth it.
Served with a scoop of vanilla ice cream? Well, I probably should tell you it was terrible, disgusting and absolutely not worth the calories – just so you won't splurge and ruin your diet, but I love you all too much to lie to you.
So instead I'll say this: make this but don't hate me for it.
After all, you probably have much more self-control than I and can get away with eating a tiny smidgeon instead of the whole pan.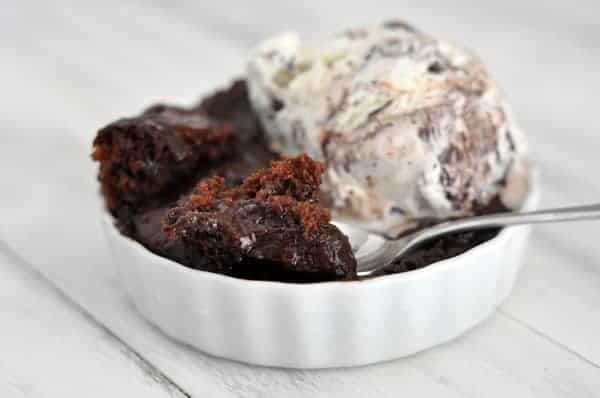 Yield: 8X8-inch pan

Prep Time: 10 minutes

Cook Time: 24 minutes

Total Time: 34 minutes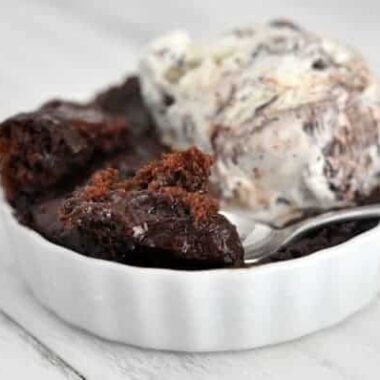 Ingredients
1 cup sugar
½ cup cocoa powder
1 cup all-purpose flour
2 teaspoons baking powder
¼ teaspoon salt
½ cup milk
4 tablespoons butter, melted
1 large egg yolk
2 teaspoons vanilla extract
½ cup semisweet chocolate chips
1 cup boiling water
Instructions
Preheat oven to 350 degrees. Spray an 8-inch square baking pan with cooking spray. Whisk ½ cup sugar with ¼ cup cocoa powder and set aside.
Whisk the flour, remaining ½ cup sugar, remaining ¼ cup cocoa, baking powder, and salt in a large bowl. Whisk milk, butter, egg yolk, and vanilla in medium bowl until smooth. Stir milk mixture into flour mixture until just combined. Fold in chocolate chips (the batter will be stiff).
Using a rubber spatula, scrape batter into prepared pan and spread into corners. Sprinkle reserved cocoa and sugar mixture evenly over the top. Gently pour boiling water over cocoa. Do not stir.
Bake until the top of the cake is cracked, sauce is bubbling and a toothpick inserted into cakey area comes out with moist crumbs attached, about 22-24 minutes. Cool on rack for at least 10 minutes. Serve warm with vanilla ice cream.
Recommended Products
As an Amazon Associate and member of other affiliate programs, I earn from qualifying purchases.

Recipe Source: from Cook's Country
Other Pudding Cake Recipes:
Disclaimer: I am a participant in the Amazon Services LLC Associates Program, an affiliate advertising program designed to provide a means for me to earn fees by linking to Amazon.com and affiliated sites. As an Amazon Associate I earn from qualifying purchases.