Baked Blueberry Pecan French Toast
This baked blueberry pecan french toast is a delicious, out-of-the-norm breakfast. While blueberries are in their prime, you must try this!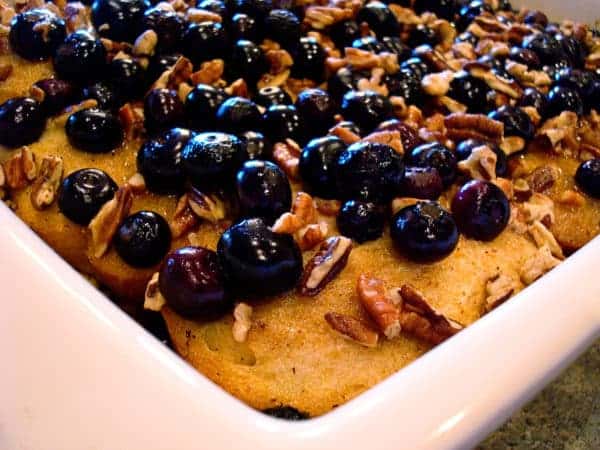 After the success that was Baked Oatmeal, I was on the hunt for another great, out-of-the-norm, breakfast idea.
Thanks to a telepathic cousin-in-law, I was sent this fabulous baked french toast recipe to try, complete with her raving reviews. My family ate it for breakfast this morning and…it was soooooo good. So good.
While blueberries are in their prime, you must try this!
The pecans are toasted and tossed with a smidgeon of butter – giving them a delicious, buttery flavor. The french baquette slices soak in an egg/milk/brown sugar mixture overnight and it all bakes to glorious perfection with fresh, tart blueberries and a brown sugar caramel drizzled atop.
It is very glorious and makes a perfect Saturday morning breakfast.
I owe you, Julianne. Thanks for the recipe (and the devoured calories).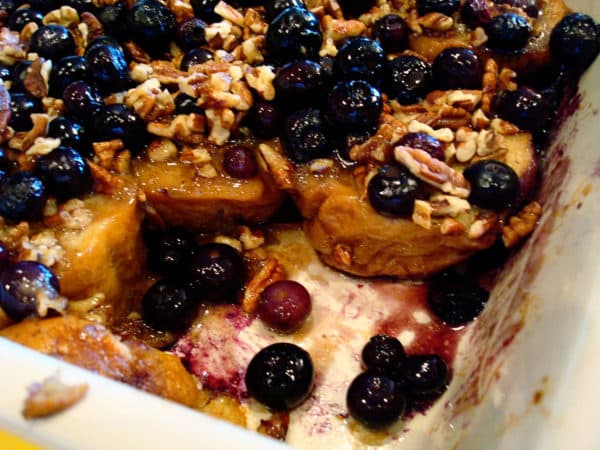 Baked Blueberry Pecan French Toast
Yield: 6 generous servings

Prep Time: 12 minutes

Cook Time: 40 minutes

Additional Time: 7 hours 53 minutes

Total Time: 8 hours 45 minutes
Ingredients
1 French bread baguette
6 large eggs
1 cup milk
1/2 teaspoon nutmeg
1 teaspoon vanilla
3/4 cup packed brown sugar, divided
1 cup pecans, chopped
1/2 stick plus 1 teaspoon butter
2 cups fresh blueberries, rinsed and drained
Instructions
Butter a 9×13 baking dish. Cut 1 1/2 inch slices from the baguette and arrange in one layer in the dish (about 6-8 slices). Whisk together eggs, milk, nutmeg, vanilla, and 1/2 cup brown sugar in a large bowl and pour evenly over the bread. Refrigerate mixture, covered, until all liquid is absorbed by the bread, at least 8 hours and up to 1 day.
When you are ready to bake and serve, preheat oven to 350 F. Spread pecans evenly in a shallow baking pan and toast in middle of oven until fragrant, about 4 minutes. Toss pecans with 1 teaspoon butter. Alternately (and this is what I did), toast the pecans in a skillet in one layer over medium heat, stirring often. Toss with 1 teaspoon butter. (I did this the night before to save time the morning of).
Sprinkle pecans and blueberries evenly over bread mixture. Cut remaining 1/2 stick butter into pieces and heat with remaining 1/4 cup brown sugar in a small saucepan, stirring, until butter is melted and sugar is dissolved. Drizzle butter mixture over bread and bake mixture 30 – 40 minutes or until any liquid from blueberries is bubbling.
Notes
Plan Ahead: be aware that the bread needs to soak in the egg/milk/brown sugar mixture up to 8 hours so plan ahead!
Recommended Products
As an Amazon Associate and member of other affiliate programs, I earn from qualifying purchases.

Recipe Source: adapted from Julianne