Baked Pasta with Chicken Sausage
This baked pasta with chicken sausage is full of delicious flavors. It's perfect to take to someone and it makes a heaping 9X13 pan full.
This is my husband's favorite meal ever. Ever. Right up there with his beloved Sweet and Sour Chicken, which is saying a lot.
He. Loves. This Meal. And he requests it all the time. I think it as one of those meals that is something straight from a restaurant – a good restaurant.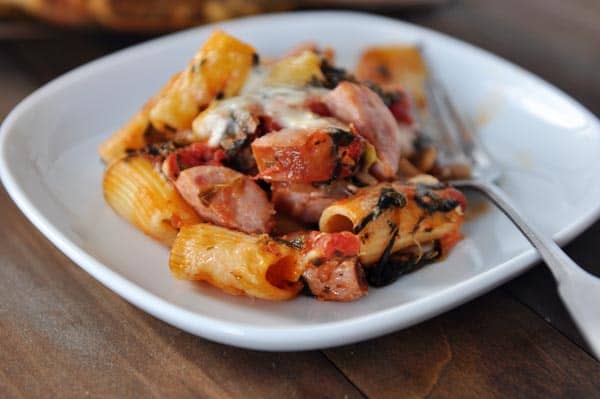 This baked pasta is chock full of good stuff: tender noodles, creamy cheese, flavorful chicken or turkey sausage, hearty sauce packed with spinach, the list goes on and on.
This is a perfect meal to take to someone and it makes a heaping 9X13 pan full (in the pictures above you see an 8X8-inch dish; don't be alarmed, this is overflow from halving the recipe again).
Don't be afraid of the sausage. It is delicious and we love it so much in this dish (fighting over the tender little nuggets) that I've used it in many other pasta/rice dishes because it is so versatile.
Make this. You won't be disappointed.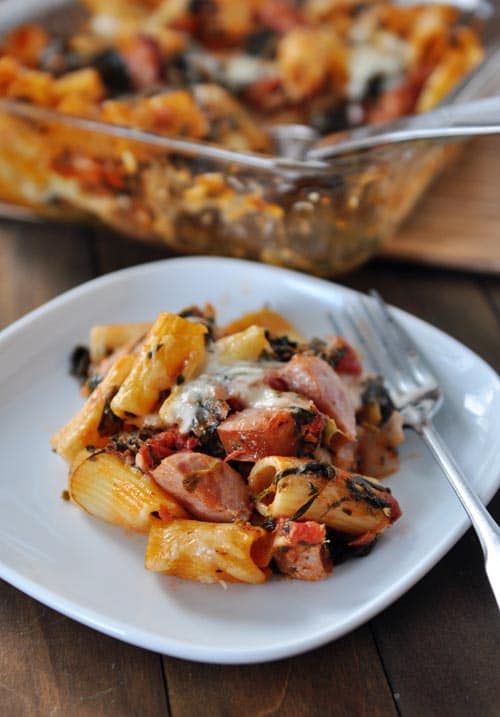 FAQs for Baked Pasta with Chicken Sausage
Can I make this ahead of time then freeze it?
The best way is to seal it really well (you can double layer the foil and then put the whole covered pan in a large freezer ziploc bag and try to press out all the air – or suck it out with a straw)- this will keep really well for a couple of months in the freezer. Then, make sure you let the casserole cool before wrapping up before. That helps reduce freezer burn and ice crystals. 
Can I use a white onion instead?
Yes! Use whatever onion you have on hand!
Can I used whipping cream instead of heavy cream?
Absolutely!

A steamed veggie (or for something fancier this Creamy Confetti Corn with Bacon)
Divine Breadsticks or a really, great dinner roll like these Fluffy Whole Wheat Rolls
Cottage Cheese
Baked Pasta with Chicken Sausage
Total Time:
1 hour
5 minutes
Ingredients
1 tablespoon olive oil
1 medium red onion, chopped
4 cloves garlic, minced
1 (14.5 oz.) can diced tomatoes
1 (14.5 oz.) can crushed tomatoes
1/2 teaspoon dried oregano
1/2 teaspoon dried basil
1/2 cup heavy cream
1 pound rigatoni
10 ounces frozen baby spinach, thawed and drained well (can substitute 1 or 2 9-oz. bags fresh spinach)
12 ounces precooked smoked chicken (or turkey) sausage, halved lengthwise and sliced 1/4 inch thick (I find this in the same section/aisle as the hotdogs next to the precooked kielbasa and chorizo – I use the Jennie-O brand and it is precooked in a U-shape.)
8 ounces mozzarella cheese, 4 ounces cut into 1/2-inch cubes and 4 ounces shredded
1/4 cup freshly grated Parmesan cheese
Instructions
Bring a large pot of salted water to a boil. Heat oil in a large skillet over medium heat. Add onion; cook until translucent, about 3 minutes. Stir in garlic. Cook for another minute.
Stir in tomatoes, oregano and basil; simmer for 8-10 minutes. Add cream; cook until warmed through, about 5 minutes. Season sauce with salt and pepper to taste.
Preheat the oven to 400 degrees. Cook the pasta in the boiling water until about a minute less than the al dente package directions. (If using fresh spinach, add it to the pot of boiling pasta right at the end and cook until wilted.) Drain, and return contents to pot.
Add tomato sauce, sausage, spinach and cubed mozzarella to the pot; toss to coat. Season with salt and pepper. Scoop pasta into lightly greased 9X13-inch pan (or divide evenly between two 8X8-inch pans). Top with shredded mozzarella and Parmesan. Bake until browned and edges are crisp, 20 to 30 minutes.
Notes
Make Ahead Instructions: prepare recipe right up until the baking step and then cover with a double layer of aluminum foil. Freeze. Bake covered for 1 hour and 30 minutes, uncover and bake 30 minutes longer. Alternately, the dish can be prepared and refrigerated (covered) for up to 12 hours before baking. Bake as directed in the recipe, adding an additional 5-10 minutes if needed.
Recommended Products
As an Amazon Associate and member of other affiliate programs, I earn from qualifying purchases.
Recipe Source: adapted from Martha Stewart Everyday Food
Disclaimer: I am a participant in the Amazon Services LLC Associates Program, an affiliate advertising program designed to provide a means for me to earn fees by linking to Amazon.com and affiliated sites. As an Amazon Associate I earn from qualifying purchases.