Balsamic Chicken Noodle Bowl
If you love light sauce over noodles and crisp peppers with mozzarella and feta, then you'll love this balsamic chicken noodle bowl!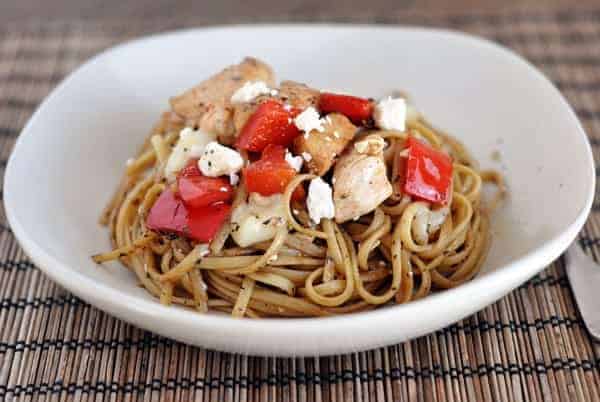 This delectable little noodle bowl has been part of our regular dinner rotation for over several years now.
It's delicious and so, so simple. The key here is to use the best quality balsamic vinegar you can get since the flavor really shines through.
If you love light, silky sauces over tender noodles and crisp peppers with bits of creamy mozzarella and tangy feta nestled among the twists, then you'll love this one.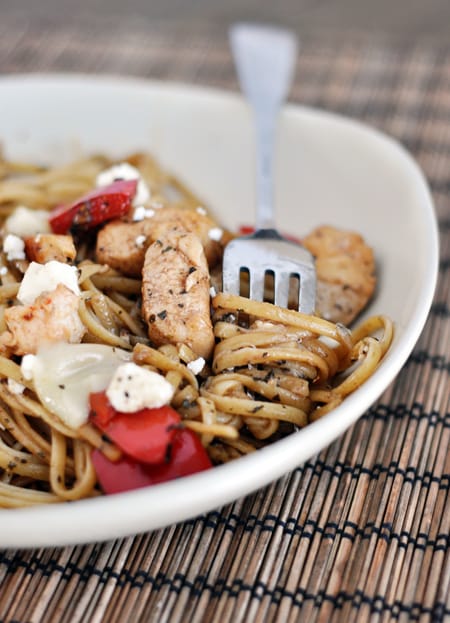 It is definitely one of my favorite simple pasta dishes.
FAQs for Balsamic Chicken Noodle Bowl
Which kind of mozzerella can I use?
I've used both – equally delicious (the fresh mozzarella is creamier) but in the pictures, it's regular mozzarella not fresh.
Can I change the number of noodles in the recipe?
Yes! I like a lot of noodles so this recipe calls for a lot of noodles, but if you like fewer noodles, simply cut it down to about 12 oz.

Honey Lime Fruit Salad
Steamed broccoli or Buttery Peas with Thyme
Green Salad
Balsamic Chicken Noodle Bowl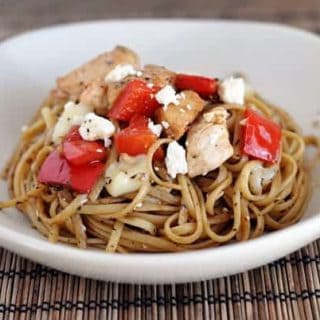 Ingredients
1 pound linguine
1 red pepper, cut into thin strips
4 tablespoons good-quality balsamic vinegar
4 garlic cloves, finely minced
1/2 teaspoon salt
1/4 teaspoon ground black pepper
1/3 cup extra virgin olive oil
1 1/2 tablespoons dried basil (can substitute 1/2 cup fresh basil)
2 cups cooked, shredded chicken
1 1/2 cups shredded or cubed mozzarella cheese
1/2 cup crumbled feta cheese
Instructions
Heat a large pot of water to a boil. Add the linguine and cook until just tender according to package directions. Drain.
In a small bowl, whisk together vinegar, garlic, basil, salt and pepper. When combined, slowly whisk in the 1/3 cup olive oil until the dressing is completely combined.
While the pasta is boiling, heat 1 teaspoon olive oil in a 12-inch non-stick skillet over medium heat and add the bell pepper. Cook briefly until crisp-tender. Add the cooked chicken and cook for 1-2 more minutes, until the chicken is heated through.
When the noodles have been drained, add the hot noodles to the skillet with the red pepper and chicken and toss. Add the shredded or cubed mozzarella and the feta and toss quickly to combine before the cheese melts. Pour the dressing over the top and toss with tongs to coat all the ingredients with the dressing. Serve warm or at room temperature.
Notes
Noodles: I tweaked this recipe to have a high noodle ratio since I love me a lot of noodles, but if you like a bit less noodles, simply cut down the amount to 12 ounces.
Vinegar: also, good-quality balsamic vinegar is key here since the flavor really shines through.
Chicken: when I haven't planned ahead, I use uncooked chicken and cook it up with the peppers.
Recommended Products
As an Amazon Associate and member of other affiliate programs, I earn from qualifying purchases.
Recipe Source: adapted from www.tastykitchen.com