Bavarian Apple Torte
This Bavarian apple torte is an absolutely stunning and delicious dessert that isn't nearly as hard to make as it sounds!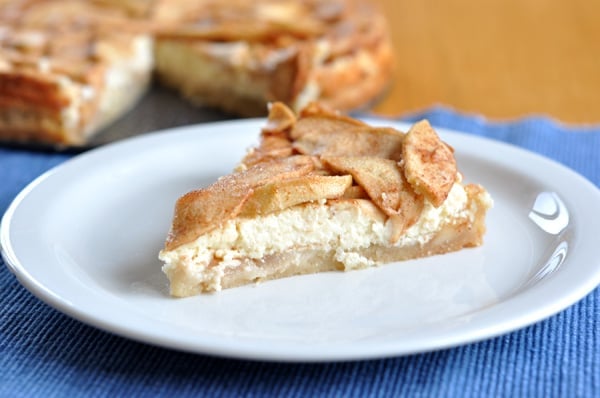 Bavarian Apple Torte. A fancy shmancy name for an absolutely stunning and delicious dessert that isn't as hard to make as it sounds.
And talk about a great way to change up your regular ol' apple dessert.
Where I live, there are apple orchards in abundance, and this is a delicious dessert to serve with those fresh-picked apples (or store-bought or home-grown or whatever!).
A soft, buttery crust is pressed into a pan and topped with a light and simple cream cheese layer and topped again by cinnamon and sugared apples.
The entire concoction bakes to golden and puffed perfection and once cooled it is ready to be sliced into pieces and devoured.
The contrast of layers in this torte is lovely. The dense, cakey crust with the creamy middle layer and the tender bite of the sweet apples is perfection. Thanks, Reyna, for sending the recipe along to me all the way from it's origin in Austria!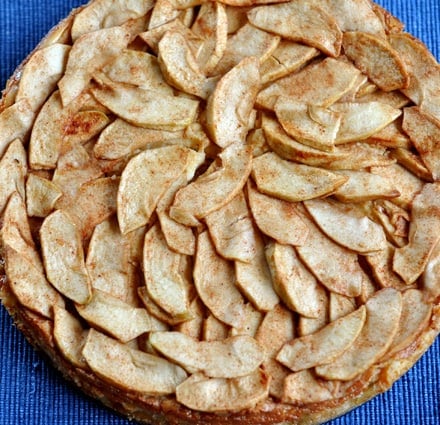 One Year Ago: Best Baked Manicotti
Two Years Ago: Easiest Brownies in the World
Yield: 8 servings

Prep Time: 30 minutes

Cook Time: 1 hour 10 minutes

Total Time: 1 hour 40 minutes
Ingredients
Crust:
12 tablespoons (3/4 cup) butter, softened to room temperature
1/2 cup sugar
1 1/2 cups all-purpose flour
1/2 teaspoon pure vanilla extract
Filling:
2 packages (8-ounce each) cream cheese, softened to room temperature
1/4 cup granulated white sugar
2 large eggs
3/4 teaspoon pure vanilla extract
Topping:
3 cups peeled, thinly sliced Granny Smith Apples (about 3-4 apples)
1/2 cup granulated white sugar
1 teaspoon ground cinnamon
Instructions
Preheat the oven to 350 degrees.
In a medium bowl, combine the first four crust ingredients. Press the mixture into the bottom of a 9- or 10-inch springform pan.
In another medium bowl, beat the cream cheese and sugar together until well blended. Add the eggs and vanilla; mix well. Pour over crust and smooth the creamy layer to the edges.
Combine the topping ingredients and mix well. Spoon the coated apples over the cream cheese layer, taking care to even out the apple layer as much as possible. Place the springform pan on a larger baking sheet and bake the torte for 60-70 minutes, until the center is set. I gently pressed on the middle of the torte (on top of the apples) to check for doneness. When there is not a lot of "give" and the center seems mostly firm, it is finished baking. Keep in mind it will continue to set up a bit as it cools. Cool completely, cut into slices and serve.
Recommended Products
As an Amazon Associate and member of other affiliate programs, I earn from qualifying purchases.

Recipe Source: from Reyna M.
Disclaimer: I am a participant in the Amazon Services LLC Associates Program, an affiliate advertising program designed to provide a means for me to earn fees by linking to Amazon.com and affiliated sites. As an Amazon Associate I earn from qualifying purchases.