Caramel Apple Cheesecake Bars with Streusel Topping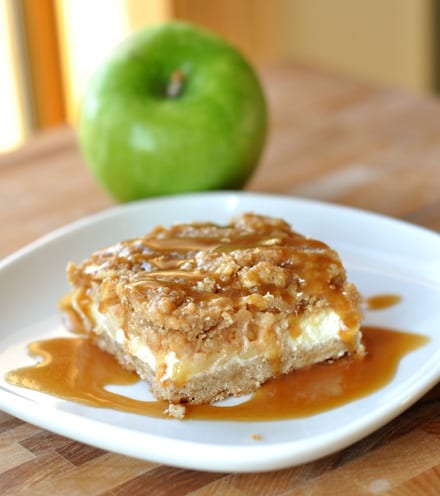 I can honestly say I've never had a dessert quite like this before. I was powerless when it came to trying them after my brother Nate (the same one who gave us the recent pumpkin bread recipe) insisted that this is his wife's favorite dessert of all time. All time. Ok. That's a pretty rave review. It made me start considering the worth of making the recipe.
Then, he told me this decadent treat is the most requested dessert by his co-workers for him to bring in to work. They request it at least weekly. Ok. That's a good point in the favor of these bars.
Finally, he told me that if I didn't make them, he would disown me as his older, smarter sister forever. Noted. Not only does he desperately need my unwarranted advice, but I need his legal counsel and all future recipes.
I decided to make them immediately.
And they are unreal. Absolutely unreal. A soft, lightly spiced, buttery crust holds the divine weight of a creamy cheesecake, cinnamon-and-sugared tart apples, a deliciously sweet, oaty streusel…and to make matters even heavier…all of those incredible layers are drizzled with a heavenly and simple homemade caramel sauce.
My husband has now declared these his new favorite dessert, also, which means we'll be seeing them again frequently around these parts.
One Year Ago: Coconut and Cashew Granola
Two Years Ago: No-Bake Spiderweb Cheesecake
Caramel Apple Cheesecake Bars with Streusel Topping
Ingredients:
Apples:
3 Granny Smith apples, peeled, cored and finely chopped

2 tablespoons sugar

1/2 teaspoon ground cinnamon

1/4 teaspoon ground nutmeg
Streusel Topping:
1 cup firmly packed light brown sugar

1 cup all-purpose flour

½ teaspoon cinnamon

1/2 cup quick cooking oats

1/2 cup (1 stick) butter, softened
Base:
2 cups all-purpose flour

1/2 cup firmly packed brown sugar

¼ teaspoon salt

½ teaspoon cinnamon

1 cup (2 sticks) butter, softened
Cream Cheese Layer:
2 (8-ounce) packages cream cheese, softened

1/2 cup sugar

2 large eggs

1 teaspoon vanilla extract
Caramel Sauce:
4 tablespoons butter

1 cup firmly packed light brown sugar

½ cups half-and-half or cream

Pinch of salt

1 tablespoon vanilla
Directions:
Preheat oven to 350 degrees F.
In a small bowl, stir together chopped apples, two tablespoons sugar, cinnamon, and nutmeg. Set aside.
For the streusel, in a medium bowl, combine all the streusel topping ingredients and mix until crumbly. Set aside.
For the base, in a medium bowl, combine flour, brown sugar, salt and cinnamon. Cut in butter with a pastry blender or two forks until mixture is crumbly but combined. Press evenly into a 9X13-inch baking pan lined with aluminum foil. Bake for 10 minutes or until lightly browned.
For the cream cheese layer, while the crust is baking, in a large bowl, beat cream cheese with 1/2 cup sugar until smooth. Then add eggs, one at a time and then the vanilla. Mix well. Pour over the warm crust.
Spoon the apple mixture evenly over the cheesecake layer. Sprinkle the streusel topping over the apples. Bake for 30 minutes until the filling is set.
Cool the bars to room temperature. Drizzle with the caramel topping (or plate individual slices and drizzle with topping one by one).
For the caramel sauce, mix butter, brown sugar, half-and-half or cream, and salt in a saucepan over medium-low heat. Bring the mixture to a simmer and cook while whisking gently for 5 to 7 minutes, until thickened slightly. Add the vanilla and cook another minute to thicken further. Turn off the heat and pour the sauce into a jar. Refrigerate until cold. If the caramel sauce has cooled in the fridge long enough to harden, warm slightly before drizzling on bars.
All images and text ©
.
Follow @melskitchencafe on Instagram and show me the recipes you are making from my blog using the hashtag #melskitchencafe. I love seeing all the goodness you are whipping up in your kitchens!
Recipe Source: Bars adapted from my brother, Nate (I think he originally found them on the Food Network), caramel sauce from Pioneer Woman