Blackberry-Nectarine Crumble
A perfectly warm, comforting fall fruit dessert, this easy-to-whip-up blackberry-nectarine crumble is stunningly perfect and delicious.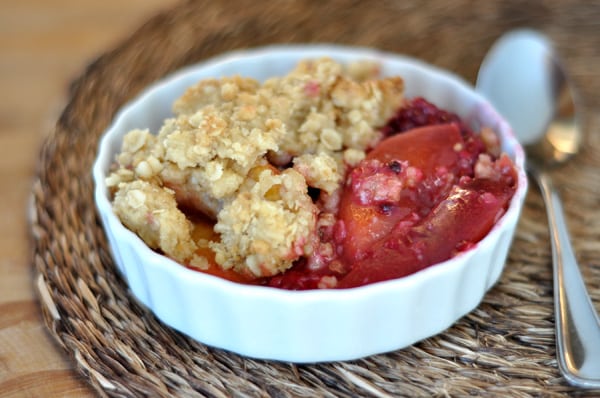 As promised, here is the delicious fall fruit crumble that was the perfect vehicle for the luscious lemon ice cream.
Fresh nectarines and blackberries bask together in perfect fruit harmony. The topping is one of the best buttery crumble mixtures I've ever had on a fruit dessert.
I'm pretty sure I could make a dessert completely out of the crumble topping and nothing else. Of course, I probably would have to add a swoosh of dark chocolate in there somewhere but that's probably a discussion and recipe for another time.
For now, let's concentrate on the tender sweetness of this baked nectarine and blackberry crumble.
A perfectly warm, delicious, comforting fall fruit dessert, this easy-to-whip-up crumble is stunningly perfect with lemon or vanilla ice cream or simply a dollop of freshly whipped cream. Kira W., a longtime reader and recipe tester/reviewer, sent me the recipe and it will definitely be a dessert I make for years to come. Thanks, Kira!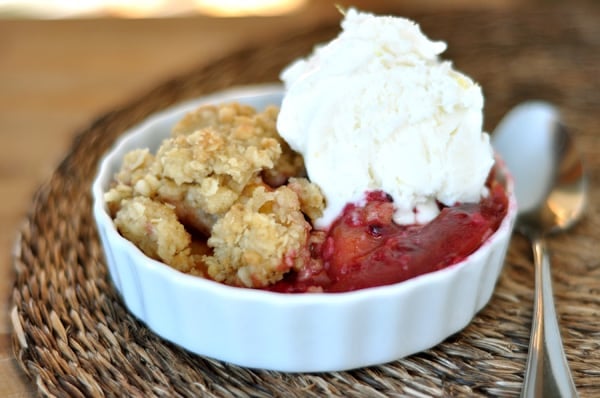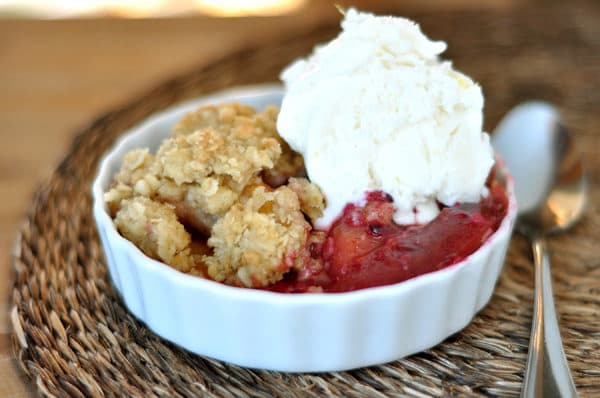 One Year Ago: Kansas City Sue's Chicken
Two Years Ago: Basil Chicken in Coconut Curry Sauce
Three Years Ago: Chocolate Chip Cookie Dough Cheesecake Bars
Blackberry-Nectarine Crumble
Yield: 6-8 servings

Prep Time: 20 minutes

Cook Time: 40 minutes

Total Time: 1 hour
Ingredients
Fruit:
6 nectarines. pitted and cut into thin slices
1 pint blackberries
1 1/2 teaspoons cinnamon
1/8 teaspoon salt
1/4 cup packed light brown sugar
2 tablespoons water
Crumble:
1 1/2 cups quick oats
1 1/2 cups flour
3/4 cup sugar
1/2 cup brown sugar
1 cup butter, melted
Instructions
Preheat oven to 350° F. Butter or lightly grease the bottom of a 9×13 pan. Place nectarines, blackberries, cinnamon, salt, sugar and water in the pan. Toss gently to coat the berries in the sugar mixture.
In a separate medium bowl, mix together all the ingredients for the crumble until the mixture is moist and crumbly. Sprinkle evenly over the top of fruit mixture. Bake the crumble for 40 minutes. Remove from oven and allow to cool for 10-15 minutes before serving. Serve warm with ice cream or a dollop of freshly whipped cream.
Recommended Products
As an Amazon Associate and member of other affiliate programs, I earn from qualifying purchases.

Recipe Source: adapted slightly from Kira W.
Disclaimer: I am a participant in the Amazon Services LLC Associates Program, an affiliate advertising program designed to provide a means for me to earn fees by linking to Amazon.com and affiliated sites. As an Amazon Associate I earn from qualifying purchases.