Green Chile Chicken Enchilada Stack
Try this amazing green chile chicken enchilada stack recipe for a major flavor explosion of enchilada happiness.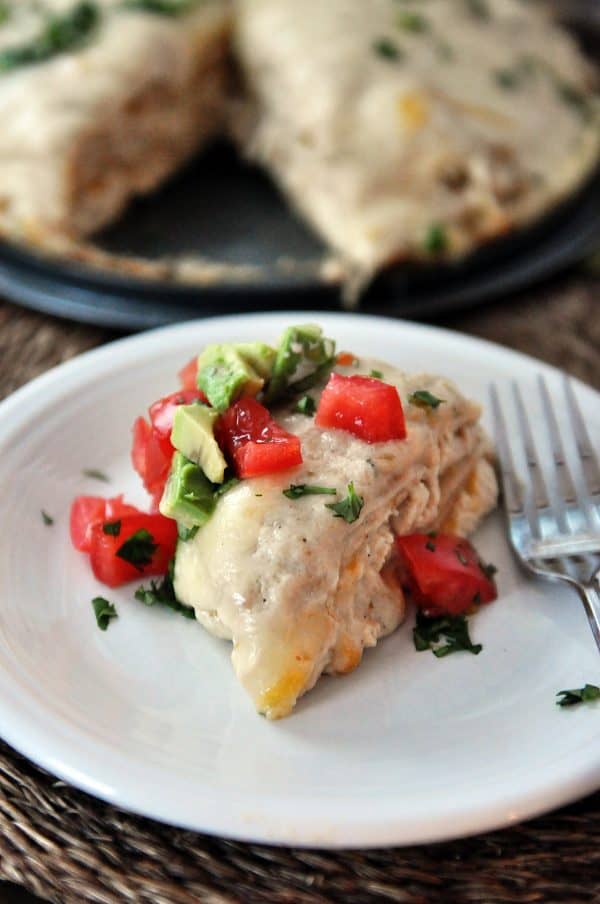 Enchiladas are kind of like lasagna in my book: endless possibilities. And endless possibilities makes this food lover very, very happy.
This stacked version of enchiladas sitting before you is an adapted version of my favorite green chile chicken enchiladas except it's more tall than wide and gets served up just like a piece of pie.
The sauce is still homemade and incredibly simple, but you get away with using a few less tortillas in this version. A slice of this delicious enchilada stack, garnished with fresh tomatoes, avocados, cilantro and lime wedges, is like a major flavor explosion of enchilada happiness.
Not only does this meal include just about all my favorite things in an enchilada recipe, it's also really, really easy to put together. Just slightly over the 30-minute meal mark but not by much, especially if you already have cooked chicken waiting to be repurposed.
We completely cleaned up on this meal. Not a leftover in sight. I think my boys were thrilled with the idea that dinner had been made in the same pan as their favorite cheesecake.
Whatever works, man, whatever works.

Mexican Tomato and Corn Salad or steamed vegetable like broccoli or peas
Shrapnel Dip with Baked Tortilla Chips
Fresh, seasonal fruit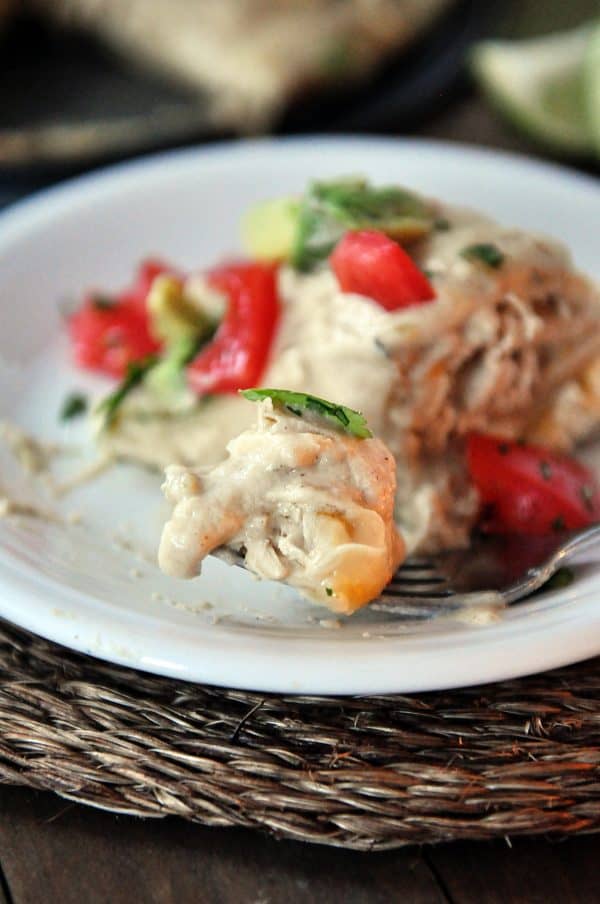 One Year Ago: Fudgy Toffee Chocolate Chip Cookie Bars
Two Years Ago: Overnight Maple & Brown Sugar Oatmeal
Three Years Ago: Heath Bar Cookies
Green Chile Chicken Enchilada Stack
Yield: 6 servings

Prep Time: 20 minutes

Cook Time: 30 minutes

Total Time: 50 minutes
Ingredients
Sauce:
2 tablespoons butter
1/2 cup chopped onion (about 1/2 medium onion)
2 tablespoons flour
1/3 cup chicken broth
1/4 cup milk
1/4 teaspoon salt
1/4 teaspoon pepper
1 can (7 ounces) green chile enchilada sauce (homemade recipe here)
½ cup sour cream, light or regular
For Stacking:
5 white or whole wheat 9- or 10-inch tortillas
2-3 cups cooked, shredded chicken
4 ounces medium or sharp cheddar cheese, shredded (about 1 cup)
4 ounces Monterey Jack cheese, shredded (about 1 cup)
For Serving:
Chopped tomatoes
Diced avocados
Chopped cilantro
Lime wedges
Instructions
Preheat the oven to 400 degrees F.
For the sauce, in a large nonstick skillet, melt the butter over medium heat. Add the onion and cook, stirring occasionally, until the onion softens and starts to turn translucent, about 3-4 minutes. Sprinkle the flour over the onions and stir well. Cook for 1 minute, stirring. Slowly whisk in the chicken broth and milk. As you whisk and the mixture cooks, the flour will get less lumpy around the onions and the mixture will become smooth. Cook over medium heat until the mixture is bubbling and has thickened, about 4-5 minutes. Remove the skillet from the heat and stir in the enchilada sauce, sour cream, salt, and pepper.
To assemble, lightly grease a 9- or 10-inch springform pan (depending on the size of the tortillas you are using). Here's how it will be assembled: one tortilla, sauce, chicken cheese; one tortilla, sauce, chicken, cheese; one tortilla, sauce chicken cheese; one tortilla, sauce, chicken, cheese; one tortilla, remaining sauce and cheese. (Basically it's five layers of nearly the same thing except the final layer doesn't get any chicken.)
Bake uncovered for 20-25 minutes.
Let the enchilada stack rest for 10 minutes before serving. Cut into pie-shaped wedges to serve and garnish with tomatoes, avocado, cilantro and lime wedges, if desired.
Notes
Plan Ahead: this recipe calls for already cooked chicken (here's a great method for quickly cooking delicious, tender chicken for recipes like this).

Servings: the serving size of this recipe is 6 - although my family of 7 cleaned it up with no leftovers (that's five kids and two adults) so if you are serving 6 adults, you might want to make two or add a few extra layers.

Pan: if you don't have a springform pan, you could try making this in an 8- or 9-inch square or round cake pan as long as the sides of the pan are at least 2 inches high (or more). For a square pan, you'll want to probably cut the tortillas to fill the pan.
Recommended Products
As an Amazon Associate and member of other affiliate programs, I earn from qualifying purchases.

Recipe Source: adapted from my favorite Green Chile Chicken Enchiladas after being inspired by Deborah's tortilla stack
Disclaimer: I am a participant in the Amazon Services LLC Associates Program, an affiliate advertising program designed to provide a means for me to earn fees by linking to Amazon.com and affiliated sites. As an Amazon Associate I earn from qualifying purchases.