Healthy Oatmeal Chocolate Chip Cookies
These healthy oatmeal chocolate chip cookies have less butter and sugar than other cookie recipes, but they are still tremendously good!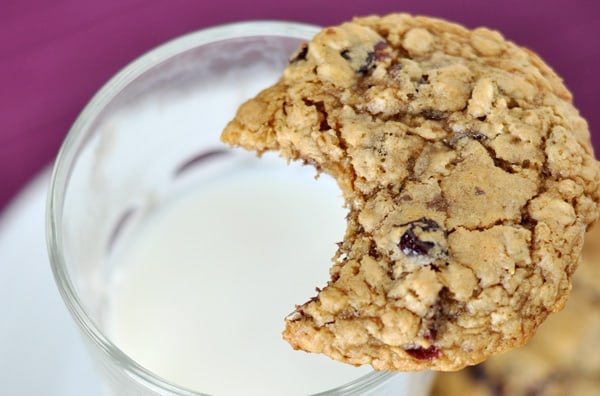 Or should I say "healthier." I mean, I don't know if I can really say these cookies are healthy, but they definitely have less butter and sugar than other cookie recipes I've made in the past.
The wonderful news is they are tremendously good.
Case in point: my brother is one of those. You know. Those people that turn up their noses at "light" or "healthy" versions of classic recipes, especially cookies or desserts. He was at my house when I first made these and he refused to eat one. Seriously! He refused. Not worth his time, he said.
Fast forward a few weeks later when he graciously offers to watch my boys for me. I come home and ask if he is hungry and he sheepishly confesses he found some cookies hidden in the depths of the freezer and snuck a few. The confession is followed with: "By the way, have you posted those cookies yet? They are amazing…some of the best I've had."
Imagine his countenance when I tell him that those yummilicious cookies were the lowfat, heart-smart cookies I had made weeks earlier. The ones he refused to try, the little stinker. To his credit, he didn't back down from his assertion that they were delicious. But I'm 100% sure I won't let him live this down.
Make these cookies! I was so pleasantly surprised by the deliciously chewy, nutty texture and wonderful sweetness. I didn't miss even a tablespoon of the lacking butter. And that's saying a lot, because I really think butter is divine.
The one caveat to the healthy claim on this recipe is that it makes less cookies than some of my favorite traditional cookie recipes. So maybe if you consider that factor, they might not be much lower in fat and calories, but don't let me know.
I like to imagine myself making healthy cookies so I can eat four or ten without feeling guilty.
One Year Ago: Unbelievable Chocolate Cake
Two Years Ago: Southwest Rice and Bean Salad
Three Years Ago: Easiest Brownies in the World
Healthy Oatmeal Chocolate Chip Cookies
Yield: 18-24 cookies

Prep Time: 15 minutes

Cook Time: 12 minutes

Total Time: 27 minutes
Ingredients
About 1/3 cup all-purpose flour (1 1/2 ounces)
About 1/3 cup whole wheat flour (1 1/2 ounces)
1 1/2 cups old-fashioned rolled oats
1 teaspoon baking soda
1/2 teaspoon salt
6 tablespoons butter
3/4 cup packed light brown sugar
1 cup dried cranberries or cherries
1 teaspoon vanilla extract
1 large egg, lightly beaten
1/2 cup semisweet chocolate chips
Instructions
Preheat the oven to 350 degrees F.
In a large bowl, combine the flours, oats, baking soda and salt. Melt the butter in the microwave or in a small saucepan on the stove. Remove from the heat and stir in the brown sugar. Add the butter/sugar mixture to the flour mixture, beating with a mixer at medium speed until well blended. Add the dried cranberries or cherries, vanilla and egg. Beat until combined. Fold in the chocolate chips.
Spoon rounded tablespoonfuls of dough onto baking sheets lined with parchment, silpat liners or coated with cooking spray. Bake for 10-12 minutes, until lightly browned on the edges. Remove the cookies to a wire rack to cool completely.
Recommended Products
As an Amazon Associate and member of other affiliate programs, I earn from qualifying purchases.

Recipe Source: adapted slightly from Cooking Light Jan/Feb 2010
Disclaimer: I am a participant in the Amazon Services LLC Associates Program, an affiliate advertising program designed to provide a means for me to earn fees by linking to Amazon.com and affiliated sites. As an Amazon Associate I earn from qualifying purchases.