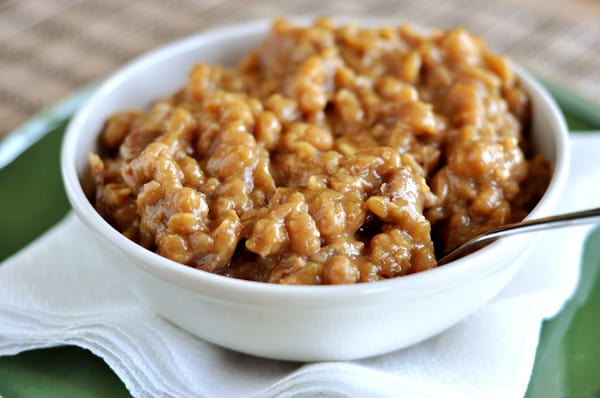 Here's the question of the day:
When it comes to baked beans, are you a lover or a hater?
By simple virtue of the fact that I am posting a baked beans recipe, you'll probably already guess that I'm among the lovers. There is something so classic and delicious about baked beans at a BBQ. What's funny is that if you pulled out a big pot of baked beans and put them on the table alongside, say, manicotti or a slice of pizza, I'd probably think you are crazy and might even have a slight gag reflex going on, but man, serve them at a good old-fashioned BBQ and eat them outdoors (that's the key!), well, then, yes, I'm definitely a lover.
This recipe is a star because thanks to a few key beginning steps (i.e. boiling in a water/baking soda solution), the beans can skip extra hours (hours!) of baking and still come out of the oven tender, creamy and absolutely packed with flavor.
A simple dish to be sure, these baked beans may just steal the show at your next BBQ (but for all that is good and lovely in the world, please don't serve them with manicotti or pizza, people).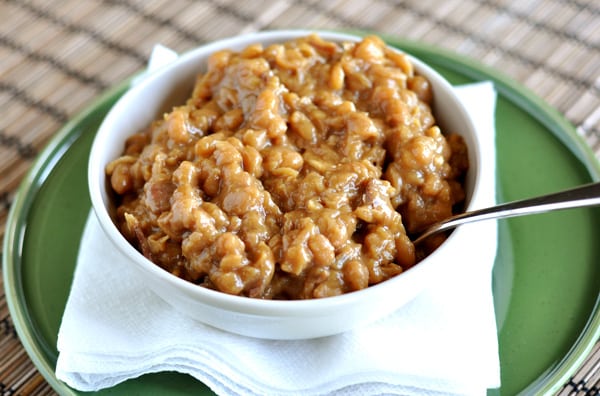 Note: Because liquid evaporates faster in the oven in heavy cast-iron Dutch ovens than in lighter pots, add an additional 1 1/2 cups water before cooking the beans in the oven if you are using a cast-iron Dutch oven.
Ingredients
1 pound dried navy beans, about 2 cups, picked over and rinsed
1 tablespoon baking soda
6 ounces bacon, chopped
1 yellow onion, chopped fine
3 cups water
4 tablespoons packed dark brown sugar
1/4 cup plus 1 tablespoon molasses
2 tablespoons Worcestershire sauce
1 tablespoon plus 1 teaspoon Dijon mustard
1 teaspoon salt
1/4 teaspoon pepper
1 teaspoon cider vinegar
Directions
Preheat the oven to 350 degrees F, positioning an oven rack in the center. In a large Dutch oven or pot, bring 3 quarts water, beans and baking soda to a boil. Reduce the heat to medium-high and simmer vigorously for 20 minutes. Drain the beans in a colander. Rinse the beans and set aside. Rinse the pot and return it to the stovetop.
Heat the pot over medium heat and add the chopped bacon, stirring occasionally, until browned, about 6-8 minutes. Add the onion and cook until the onion is softened and translucent, about 5 minutes. Drain off bacon grease, if desired. Stir in the 3 cups water (use 4 1/2 cups if using a heavy cast-iron pot), rinsed beans, sugar, 1/4 cup molasses, Worcestershire, 1 tablespoon mustard, vinegar, 1 teaspoon salt and 1/4 teaspoon pepper and bring the mixture to a boil. Cover, transfer to the oven and cook until the beans are tender, about 1 1/2 hours.
Remove the lid and continue to bake the beans until they are completely tender, about 30 minutes. Stir in the remaining 1 tablespoon molasses and remaining 1 teaspoon mustard. Season with salt and pepper to taste. Serve.
https://www.melskitchencafe.com/boston-baked-beans/
Printed from Mel\'s Kitchen Cafe (www.melskitchencafe.com)
Recipe Source: adapted from Cook's Country June/July 2011