Grilled Steak and Veggie Kebabs
These grilled steak and veggie kebabs are infused with simple flavor and the cooked meat is bursting with juicy tenderness.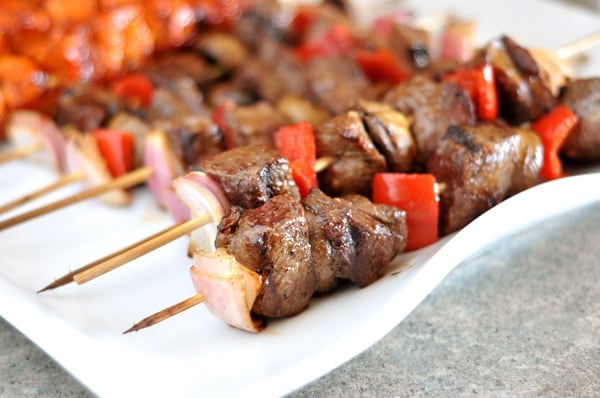 Remember how I said I love me a good, grilled kebab? Well, that fact doesn't begin and end with BBQ Chicken Kebabs. No siree.
These grilled steak kebabs are dee-vine in their own right. It all just depends on whether you belong to the steak kebab camp or the chicken kebab camp. I am personally honored to announce I belong to both camps.
Thanks to a quick marinade composed of soy sauce, garlic, olive oil and a bit of salt and pepper, the steak and veggies are infused with simple flavor and the cooked meat is bursting with juicy tenderness.
Sometimes the best recipes are the simplest and these kebabs prove that to be true.
Simple, flavorful and utterly delish.

Grilled Sweet Potato Skewers
Grilled pineapple
Corn on the Cob
Grilled Steak and Veggie Kebabs
Yield: 4-6 servings

Prep Time: 15 minutes

Cook Time: 20 minutes

Additional Time: 1 hour 25 minutes

Total Time: 2 hours
Ingredients
1/2 cup soy sauce
3/4 cup olive oil
4 garlic cloves, minced
3/4 teaspoon pepper
2 pounds steak tips or sirloin steak/roast, poked all over with a fork and cut into 1 1/2-inch chunks
2 red bell peppers, seeded and cut into 1 1/2-inch pieces
1 medium red onion, cut into 1 1/2-inch pieces
10 ounces white mushrooms, stemmed
6 12-inch metal skewers or 6-8 wooden skewers, soaked in water for an hour
Instructions
In a small bowl, whisk together the soy sauce, olive oil, garlic and pepper. Transfer 1/3 cup of the mixture to a large microwave-safe bowl. Place the remaining mixture in a gallon-size ziploc bag and add the meat, tossing lightly. Press the air out of the bag, seal and refrigerate for at least 1 hour or up to 2 hours (don't marinate longer than 2 hours or the beef will be too salty).
Add the bell peppers, onion and mushrooms to the bowl with the reserved soy sauce mixture and toss to coat. Wrap tightly with plastic wrap and let marinate for 30 minutes. Microwave the vegetables until the onions are translucent at the edges, about 3 minutes, stirring halfway. Uncover the vegetables and set aside until the meat is fully marinated.
Thread the meat onto the skewers, distributing the veggies among the pieces of meat. Grill the kebabs over medium heat, covered, turning frequently, until the meat is well browned and vegetables are tender, about 14-16 minutes. Serve.
Recommended Products
As an Amazon Associate and member of other affiliate programs, I earn from qualifying purchases.

Recipe Source: adapted slightly from Cook's Country August/September 2008