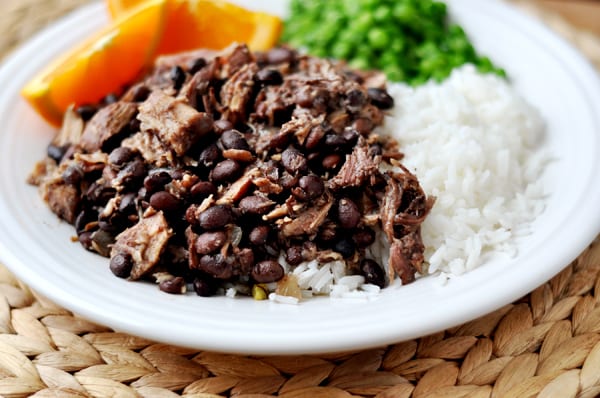 In case you haven't noticed, lately I've had a thing for pork in the slow cooker. Let's blame it on my love of pork and the fact that it doesn't rank among the things that make me feel like puking this pregnancy (sorry to have to be the one to reference puking in a food blog post…life is life these days).
Today I have yet another slow cooker pork recipe to share. And it's a good one. Brazilian Feijoada is a fancy-sounding name for a pork and black bean stew. After my friend, Lesli, referred me to this recipe with rave reviews, I instantly put it on the menu plan. I mean, how could I pass up such an easy no-fuss meal? Especially since Brian lived in Brazil for a few years and I always like to surprise him with Brazilian remakes (uh, usually epic failures truth be told since I don't have a drop of Brazilian culinary authenticity in my body).
Packed with layers of flavor – we are talking, bacon, garlic, short ribs, pork, smoked ham hock – this meal is simple, simple, simple to prepare and throw in the slow cooker. Cooked on low for a good part of the day, the beans soften and cook to tender heartiness while the different flavors of meat meld together to create an extremely delicious concoction.

I served this over rice with orange slices and steamed peas on the side.
The verdict from the resident feijoada expert? My husband sighed his way through this meal, full of nostalgic memories of Brazil and the copious amounts (and diverse preparations!) of feijoada he inhaled while there. His only critique was the encouragement of a bit more salt and more liquid to make it more of a stew and less of a…well, of a not-stew. Regardless, this hearty, filling and absolutely tasty meal was a hit. So much so that I'm already making it again this week. I'll blame the quick repeat on baby #5 controlling my cravings, which ultimately leaves me wondering how long I can use that excuse before some insensitive soul calls me out on my claim that baby #5 needs me to eat a large bag of dark chocolate M&M's every single day. No feedback necessary on that last point thankyouverymuch.
**Looking for Thanksgiving Dinner inspiration? Take a look at my menu-in-progress and plan away!**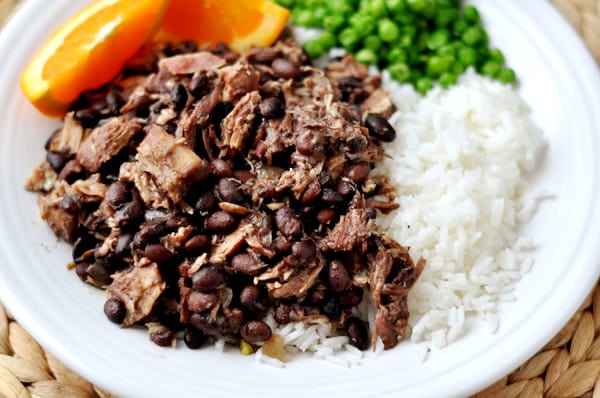 One Year Ago: Mississippi Mud Cake
Two Years Ago: Pumpkin Cream Cheese Muffins
Three Years Ago: Banana Bars with Whipped Cream Cheese Frosting
Note: My husband loved the flavor of this but suggested it needed more liquid to be like the authentic feijoada he enjoyed in Brazil while living there. I liked it as is, since I don't know the difference, but if you really do want it more stew-like, increase the liquid accordingly (perhaps starting with an additional cup of chicken broth).
Ingredients
2 cups dried black beans
4 slices thick-cut bacon
2 pounds boneless pork shoulder, trimmed of fat and cut into 1/2-inch cubes
1/2 teaspoon salt, more for sprinkling the meat before browning
1/2 teaspoon freshly ground black pepper, divided
3 boneless beef short ribs, trimmed (about 1-2 pounds)
3 cups finely chopped yellow or white onion (about 2 medium)
1 1/4 cups low-sodium chicken broth
4 garlic cloves, minced
1 (9-ounce) smoked ham hock
1 tablespoon white vinegar
8 orange wedges
Hot, cooked rice, for serving
Directions
Place beans in a small saucepan; cover with cold water. Bring to a boil; cook for 2 minutes. Remove from heat; cover and let stand 1 hour. Drain. Alternately, place the beans in a bowl and cover by 2-inches with cold water. Soak overnight. Drain.
Cook bacon in a large skillet over medium heat until crisp. Remove bacon from pan; crumble. Let the bacon cool and then place in a covered container or bag in the refrigerator to use before serving. Sprinkle pork evenly with salt and pepper. Increase heat to medium-high. Add pork to bacon drippings in skillet; cook the pork 1-2 minutes per side until golden brown all over. Transfer the pork to a 6-quart slow cooker. Sprinkle ribs evenly with salt and pepper. Add ribs to skillet; cook 2-3 minutes on each side or until browned. Place ribs in slow cooker. Add drained beans, 1/2 teaspoon salt, onion, chicken broth, garlic and ham hock to slow cooker, stirring to combine. Cover and cook on low 8 hours or until beans and meat are tender.
Shred meat with 2 forks (you can do this by removing the pork and ribs from the slow cooker or just digging in and shredding amid the broth and beans). Remove and discard ham hock. Add the meat back into the slow cooker if you removed it for shredding. Stir in vinegar and crumbled bacon. Serve with hot, cooked rice and orange wedges.
https://www.melskitchencafe.com/brazilian-feijoada-slow-cooker-pork-and-black-bean-stew/
Printed from Mel\'s Kitchen Cafe (www.melskitchencafe.com)
Recipe Source: adapted from Cooking Light