Black Bean & Pumpkin Chili
The combination of the warm pumpkin, hearty black beans, fresh onions and peppers and other gentle spices makes for a significantly delicious chili.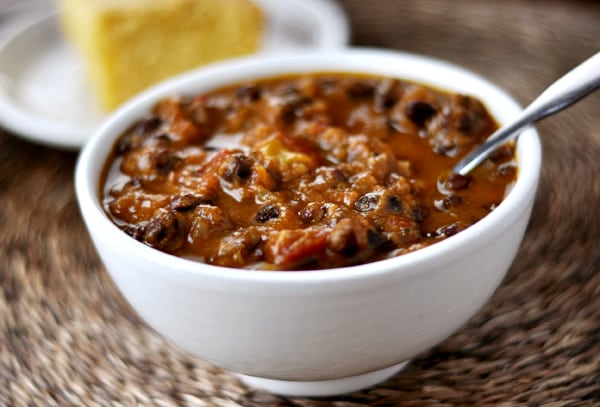 One can never have too many simple, filling, delicious chili recipes in their repertoire I like to say. And so I present to you our latest chili treasure – with a strikingly wonderful secret ingredient: pumpkin.
Now don't go and get scared off by that thinking "Where does pumpkin get off claiming it belongs in chili?" because I promise you'll be doing yourself a great injustice by not giving this chili a chance. The pumpkin acts as a silky binder to the chili, adding depth and creaminess.
I wondered how strong the pumpkin flavor would be but was pleasantly surprised at the mildness. When playing "What's the Secret Ingredient" Game at the dinner table my husband couldn't guess it for the life of him but shook his head knowingly when I told him, almost like "Yeah, I should have known!" It's there, but not too there, you know?
The combination of the warm pumpkin, hearty black beans, fresh onions and peppers and other gentle spices makes for a significantly delicious chili. Made in the slow cooker (alternatively, you could simmer it on the stove), this chili is such an easy dinner prep and the finished product is wow-worthy.
Perfect for this very hectic Thanksgiving week, this chili is a no-brainer of a weeknight meal and will fill all the little (and big) tummies you are feeding. P.S. I used round steak I had sitting around the freezer, which was tender and tasty, but the original recipe calls for leftover, cooked turkey. Um, hello? Think there might be a plethora of that around later on this week?
*Got your Thanksgiving A-Game on? Click HERE for any last minute Thanksgiving menu ideas…and may the force be with you this week!*

Cornbread Muffins or Cornbread and Fluffy Honey Butter
Broiled or griddled cheese quesadillas (for a fancier quesadilla these Crispy Cheese Wraps)
Fresh, seasonal fruit
One Year Ago: Pumpkin Cobbler
Two Years Ago: Tuscan Mac & Cheese Bake
Three Years Ago: Frozen Hot Chocolate
Black Bean & Pumpkin Chili
Yield: 6 servings

Cook Time: 5 hours

Prep Time: 20 minutes

Total Time: 5 hours 20 minutes
Ingredients
1 medium onion, chopped
1 medium sweet yellow pepper, chopped
1 tablespoon olive oil
3 garlic cloves, minced
2 cups chicken broth
2 cans (15-ounce each) black beans, rinsed and drained
2 1/2 cups cubed cooked turkey or 1 pound round steak, cut into 1/2-inch pieces
1 can (15-ounce) solid-pack pumpkin
1 can (14-1/2 ounce) diced tomatoes, undrained
2 teaspoons dried parsley flakes
2 teaspoons chili powder
1 1/2 teaspoons dried oregano
1 1/2 teaspoons ground cumin
1/2 teaspoon salt
Instructions
In a large 12-inch skillet, heat the oil until hot and rippling over medium or medium-high heat. Add the round steak (if using already cooked turkey, proceed to adding the vegetables) and brown the pieces lightly.
Transfer the meat to a 5-quart slow cooker, leaving oil in the skillet. Add the onion and yellow pepper to the skillet and saute until barely tender, 1-2 minutes. Add the garlic and cook one minute longer.
Transfer the mixture to the slow cooker. Stir in the remaining ingredients to the slow cooker. Cover and cook on low for 5 hours.
Recommended Products
As an Amazon Associate and member of other affiliate programs, I earn from qualifying purchases.

Recipe Source: adapted slightly from Taste of Home
Disclaimer: I am a participant in the Amazon Services LLC Associates Program, an affiliate advertising program designed to provide a means for me to earn fees by linking to Amazon.com and affiliated sites. As an Amazon Associate I earn from qualifying purchases.