Broccoli Cheese Soup
This no-velveeta homemade broccoli cheese soup is sure to win you over! The soup is simple and incredible and comes together quickly.
I could sum up this post by the following statement from my husband while devouring this meal: "This is the ultimate perfect dinner."
Of course it could have been the atmosphere since it had snowed all day and was the perfect night for soup, but still, when we were fighting over the last scoops in the pot, I knew this had to be a winner.
I received this recipe from a commenter, Liz, who has tried several recipes from here. Come to find out, after a few months of back and forth commenting, we figured out we went to high school together and went to the same church growing up.
What a small world – especially now that we both live several states away from where we grew up!
She mentioned the other day in an email that she had used the Italian Bread Bowl recipe for her broccoli cheese soup and her kids ate it up…plus it was a no-velveeta recipe.
Of course, I begged and pleaded for her recipe. While I don't have anything against velveeta, I wanted a recipe with less processed flavors, and if my kids would eat it…then I knew it would be a keeper.
This soup was incredible, and sure enough, my kids ate it with minimal fuss even with the broccoli. I was quite pleased (shocked, actually, but then quite pleased). It's since became one of our family's favorite soups of all time!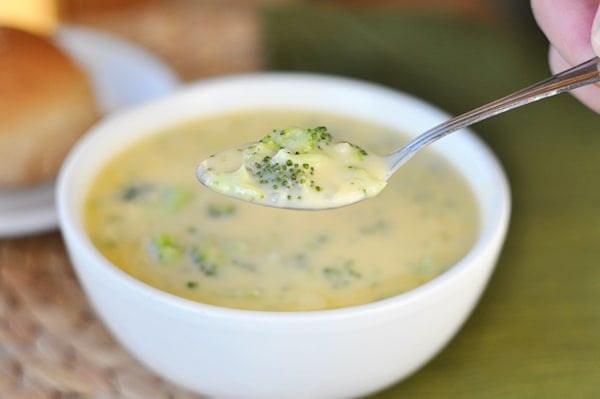 Recipe Source: adapted very slightly from my friend, Liz K.
Disclaimer: I am a participant in the Amazon Services LLC Associates Program, an affiliate advertising program designed to provide a means for me to earn fees by linking to Amazon.com and affiliated sites. As an Amazon Associate I earn from qualifying purchases.