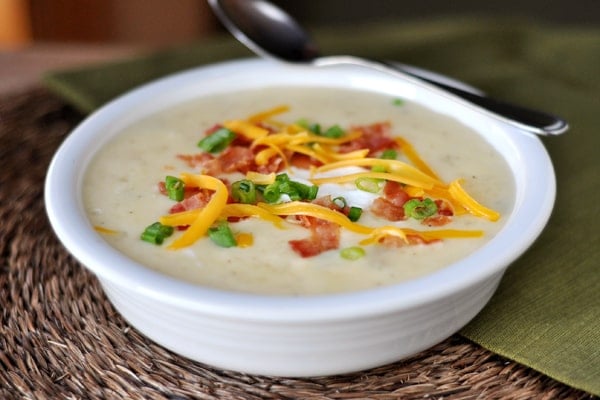 I have to admit that I'm not the hugest fan of straight-up, classic potato soup. At least the versions with chunks of potatoes, some type of thin, slightly creamy broth and maybe a few other vegetables thrown in. But baked potato soup is another matter.
This soup has some serious substance. I love the thick creaminess of the soup and the slight mashed, chunkiness of the baked potatoes. A hint of sour cream and cheese mixed in doesn't hurt…nor does the bacon adorning the top.
This version is slightly lighter than some other recipes I've seen out there – making use of lowfat milk and light sour cream. Shockingly, despite my boys' known aversion to potatoes, they ate this with nary a complaint! Of course, I let them put as many scoops of bacon and cheese on top as they wanted, but still, I expected a few groans and moans.
Simple in preparation and ingredients, this baked potato soup is an absolutely classic. A classic which will be utilized often this winter around our home, I am sure.
**Looking for Thanksgiving Dinner inspiration? Take a look at my menu-in-progress and plan away!**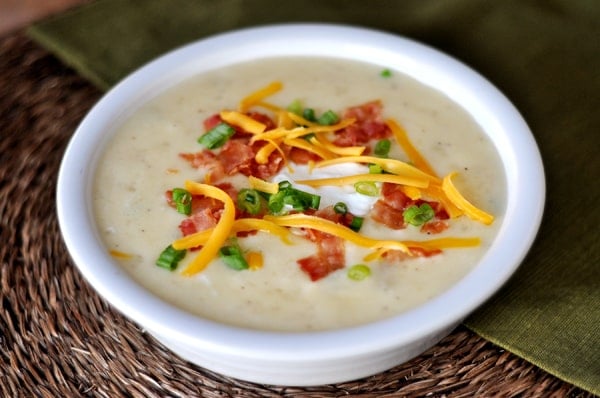 Rustic Crusty Bread (sliced with butter, or sliced and left plain for dipping)
Steamed vegetable like corn or green beans
Simple green salad (or something more fancy like this Massaged Kale Salad)
One Year Ago: Creamy Spinach Gratin
Two Years Ago: Thanksgiving 101: The Rest of the Recipes
Three Years Ago: Coconut Chicken Curry
Yield: 4-6 servings

Prep Time: 10 minutes

Cook Time: 1 hour 15 minutes

Total Time: 1 hour 25 minutes
Ingredients
Soup:
4-5 medium russet baking potatoes
4 tablespoons butter
1/2 cup all-purpose flour, divided
6 cups milk
2 teaspoons salt
1/4 teaspoon ground black pepper
3/4 cup shredded sharp cheddar cheese
1/3 cup finely diced green onions
1/3 cup light sour cream
Toppings:
Sour cream
Shredded cheddar cheese
Chopped green onions
Cooked, diced bacon pieces
Instructions
Preheat the oven to 375 degrees F. Pierce the potatoes all over with the tines of a fork. Place the potatoes directly on the oven rack and bake for about an hour, until tender and baked through. Remove the potatoes from the oven and let them sit for about 20 minutes, until they are cool enough to handle (or use an oven mitt if you don't want to wait for them to cool slightly). Cut the potatoes in half and scoop out the insides of the potatoes. Place the potato chunks in a medium bowl and mash with a fork or a potato masher until the potatoes are broken into smaller chunks.
In a large 4-quart pot, melt the butter over medium heat. When melted, add 1/4 cup of the flour and whisk to combine. Cook the mixture, whisking constantly, for 2 minutes until lightly browned. In a liquid measuring cup, whisk together the milk and remaining 1/4 cup flour. Gradually whisk the mixture into the pot, and cook until thick and bubbling, about 6-8 minutes. Stir in the potato chunks and salt and pepper. Whisk in the cheddar cheese until it is completely melted. Stir in the green onions and sour cream. Serve immediately with desired toppings.
Recommended Products
As an Amazon Associate and member of other affiliate programs, I earn from qualifying purchases.

Recipe source: adapted slightly from Annie's Eats