Thin and Chewy Butterfinger Cookies
The chewiest, most delightful little cookie ever. Full of Butterfinger candy bars, these are a great way to change up your cookie routine!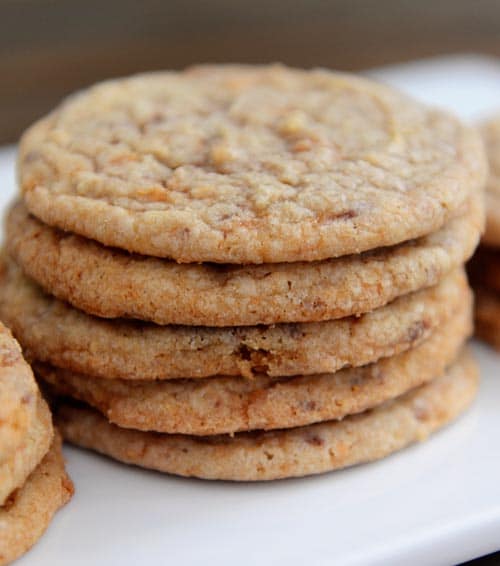 Fact: Brian made these cookies with the two youngest boys last Sunday afternoon.
Fact: I was certain they would not turn out.
Fact: I kept reminding Brian to follow the recipe exactly as I hovered over his shoulder sure ingredients were being misread on the fingerprint-smudged iPad.
Fact: I'm kind of hard to live with.
Fact: And, um, I was totally and completely wrong about the outcome of these cookies.
Fact: These amazing buttery chock-full-of-Butterfinger cokies are suuuuper yum. Like, beyond yum. Freakishly yum. Yum, yum, yum.
Fact: Brian never said, not even once, "I told you so" or "For the love, stop giving me advice about making Butterfinger cookies."
Fact: He's a good man.
Fact: Risking life and limb, I had to hoard the last dozen in order to take pictures of them so I could post the recipe.
Fact: No one knows exactly what happened to those cookies after pictures were taken. Reports are mixed and slightly fuzzy.
Fact: If you don't make these, you're totally missing out.
One Year Ago: Breakfast Burritos
Two Years Ago: Mexican Tomato and Corn Salad
Three Years Ago: Smoked Turkey Club Panini
Thin and Chewy Butterfinger Cookies
Ingredients
3/4 cup (12 tablespoons) butter, room temperature
1 cup granulated sugar
1 large egg
1 large egg yolk
1 teaspoon vanilla
2 1/4 cups all-purpose flour
1/2 teaspoon salt
3/4 teaspoon baking soda
2 cups chopped Butterfinger candy bars (about 11-12 snack size bars)
Instructions
Preheat the oven to 350 degrees F and line one or two rimmed baking sheets with parchment paper or a silpat liner (or just grease with cooking spray).
In a large bowl or in the bowl of a stand mixer, mix the butter and sugar together until light and fluffy, about 1-2 minutes. Mix in the egg, egg yolk and vanilla.
Stir in the flour, baking soda, salt and Butterfinger pieces.
Scoop the dough into heaping tablespoon-sized balls and space them about 2 inches apart on the prepared baking sheets.
Bake for 8-10 minutes - don't overbake or they will be crispy instead of chewy (unless you want the crispy effect, of course).
Recommended Products
As an Amazon Associate and member of other affiliate programs, I earn from qualifying purchases.
Recipe Source: from Cookies and Cups
Disclaimer: I am a participant in the Amazon Services LLC Associates Program, an affiliate advertising program designed to provide a means for me to earn fees by linking to Amazon.com and affiliated sites. As an Amazon Associate I earn from qualifying purchases.