Healthy, delicious, and SO easy, this homemade peach frozen yogurt is the best summertime (or anytime!), guilt-free snack or dessert!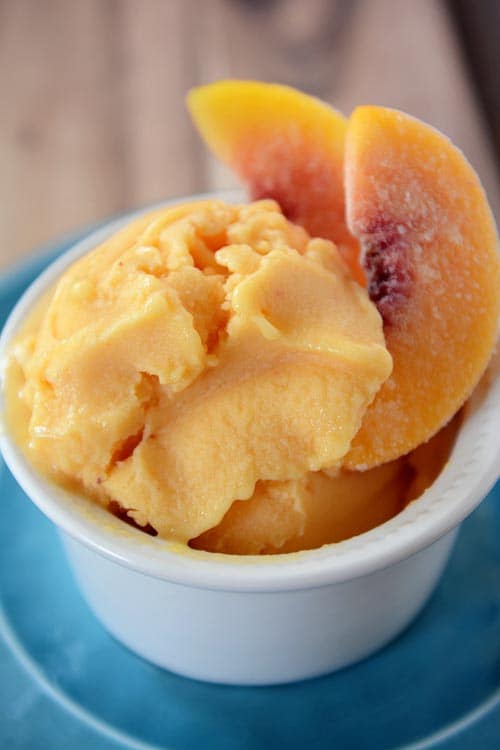 This super delicious, super fast, super simple peach frozen yogurt is our latest go-to summer treat. My kids think they're indulging in a gourmet, decadent ice cream; little do they know, it's actually called frozen yogurt and it's good for them (no comment on how they should probably get out more).
Using ripe, sweet fruit is key so you can get away with only 1/4 cup of sweetener for the entire batch (so use good-quality frozen fruit or freeze your own fresh peaches). After that, it's lowfat yogurt and a touch of fresh lemon juice. Simple, right?
And when you taste the creamy luxuriousness that happens after only six minutes of work (ok, seven minutes if you open frozen bags of peaches reeeeaaalllyy slowly), you'll be eating it nearly every day like we are.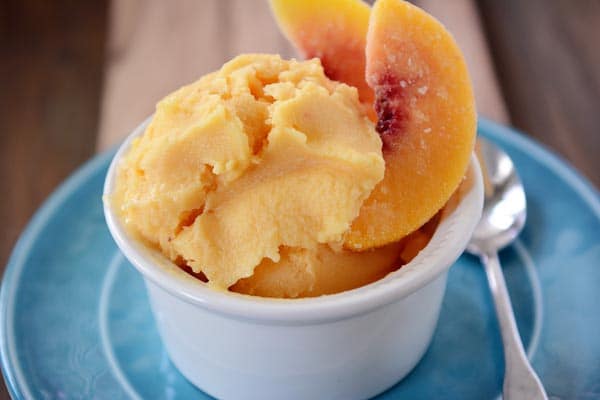 We've also tried strawberry and blueberry, both delicious, but peach is still our fave.
There probably aren't many household chores I loathe more than cleaning up and washing my food processor – the very thought usually has me weeping – so if it's any indication, I've willingly pulled out The Beast (even humming sunshiney songs under my breath whilst doing so) in order to make this frozen yogurt happen. Often.
It just kills-me-in-a-good-way to have such a delicious, fast and healthy option for a sweets fix. Then I don't feel so guilty when a fistful or three of dark chocolate chips unexpectedly finds it's way into my mouth at 2:07 p.m. every single solitary day.
One Year Ago: Pesto and Sausage Baked Ziti
Two Years Ago: Sweet and Spicy Pork Tenderloin
Three Years Ago: BBQ Chicken Kebabs
This recipe easily doubles but you'll need a really large food processor (it worked well in my 14-cup food processor). Also, you can serve it immediately but it's pretty soft. It firms up great after about 20-30 minutes. You need a food processor for the frozen yogurt but it's probably worth a try to make it in a high-powered blender (like Blendtec or Vitamix) since they can usually make ice cream type desserts quite well.
We've tried this with strawberries and blueberries, too, although peach continues to be our favorite (the creamiest of all of them). I think mango would be fantastic also.
Ingredients
16 ounces frozen peaches (about 4 cups)
1/4 cup honey or agave nectar
1/2 cup lowfat plain yogurt
2 teaspoons fresh lemon juice
Directions
In the bowl of a 7- or 8 cup food processor, add the peaches, agave nectar or honey, yogurt and lemon juice.
Process until the frozen yogurt is smooth and thick, about 5-6 minutes.
Serve immediately if you don't mind really soft frozen yogurt, otherwise, scrape the mixture into a tupperware-type container and freeze for 20 minutes (or up to a month if well-covered).
https://www.melskitchencafe.com/peach-frozen-yogurt/
Printed from Mel\'s Kitchen Cafe (www.melskitchencafe.com)
Recipe Source: adapted slightly from

Just a Taste

by way of

Eating Well

(I increased the agave nectar by a tablespoon and reduced the lemon juice slightly)