Caramel Apple Cider Floats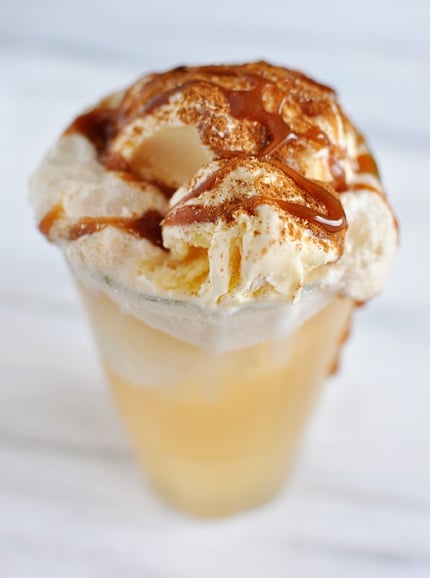 Quite simply, these little apple cider floats are divine. You know a recipe has to be good when someone sends it to me one day (thanks, Teresa!), I make it the next and post it the next, bypassing hundreds of other recipes waiting in the wings in the process.
Continuing with the theme from Friday, these lovely floats are packed with apple flavor, fizzy ginger ale, creamy vanilla ice cream and the perfect (and most essential) addition of caramel sauce and a sprinkle of nutmeg and cinnamon. Can you even handle it?
Do you understand the essence of how delicious these are?
Before I work myself into a tizzy, please make them while you can still find fresh apple cider. You know, the really beautiful, murky-in-a-good-way, apple cider that you can usually only find this time of year (not the clear stuff that looks like apple juice, although you could use that in a dire pinch).
The bonus is, you can use the leftover apple cider for this and if you do, please overnight me some immediately. Even though the temperatures are positively frigid here, I can always make room for ice cream, what about you?

As a quick P.S., my 7-year old has decided he wants to go an entire year (until his next birthday in October 2013) without eating treats. Don't ask me why, he is quirky and loveable like that.
And…and…and…he asked me to do it with him. What's a mom to do? How could I say no? So, I'm in. Please pray for me.
I'll be accepting applications for taste-testers in the very near future, since heaven knows I'll still be posting plenty of sweet treats here.
Oh, and if you think he won't last – you don't know my kid. He has more willpower in his pinkie then I have in my whole body. Hence, the request for prayers. Do you think the detox period will kill me?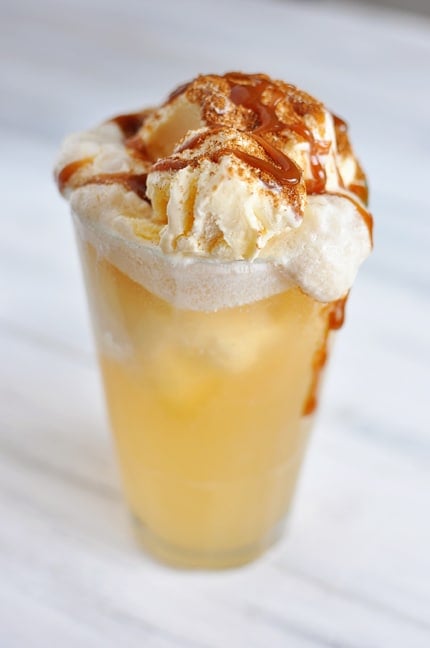 One Year Ago: Peanut Butter Texas Sheet Cake
Two Years Ago: Caramel Apple Cheesecake Bars with Streusel Topping
Three Years Ago: My Mom's Classic Chili
Caramel Apple Cider Floats
Yield: one float (increase as necessary)

Prep Time: 5 minutes

Total Time: 5 minutes
Ingredients
1 cup ginger ale
1/2 cup apple cider
1-2 scoops vanilla ice cream
Caramel sauce, for drizzling (see note)
Instructions
In a large glass, combine the ginger ale and apple cider. Drop in one or two scoops of vanilla ice cream. Sprinkle with nutmeg and cinnamon and drizzle with caramel sauce. Serve immediately!
Notes
Apple Cider: if at all possible, try to find freshly pressed apple cider, the "real" stuff - it should be dark and murky and absolutely beautiful, not the clear liquid that basically looks like apple juice. It's usually around only in the fall season and you can often find it at local orchards (or great grocery stores). Use the clear stuff in a pinch but the deep apple flavor won't be quite as strong.

Chilling the Glasses: also, I like to chill the glasses in the freezer for about 15-20 minutes beforehand. It helps keep the float nice and chilly.

Caramel Sauce: storebought caramel sauce works, but I like to use this divine caramel sauce or the simple version from this recipe.
Recommended Products
As an Amazon Associate and member of other affiliate programs, I earn from qualifying purchases.

Recipe Source: adapted slightly from Our Best Bites