Cheese Rolls with Buttery Parmesan Crust
For a roll that is soft, tender, filled with cheese, and utterly delicious, these cheese rolls with buttery parmesan crust are exceptional!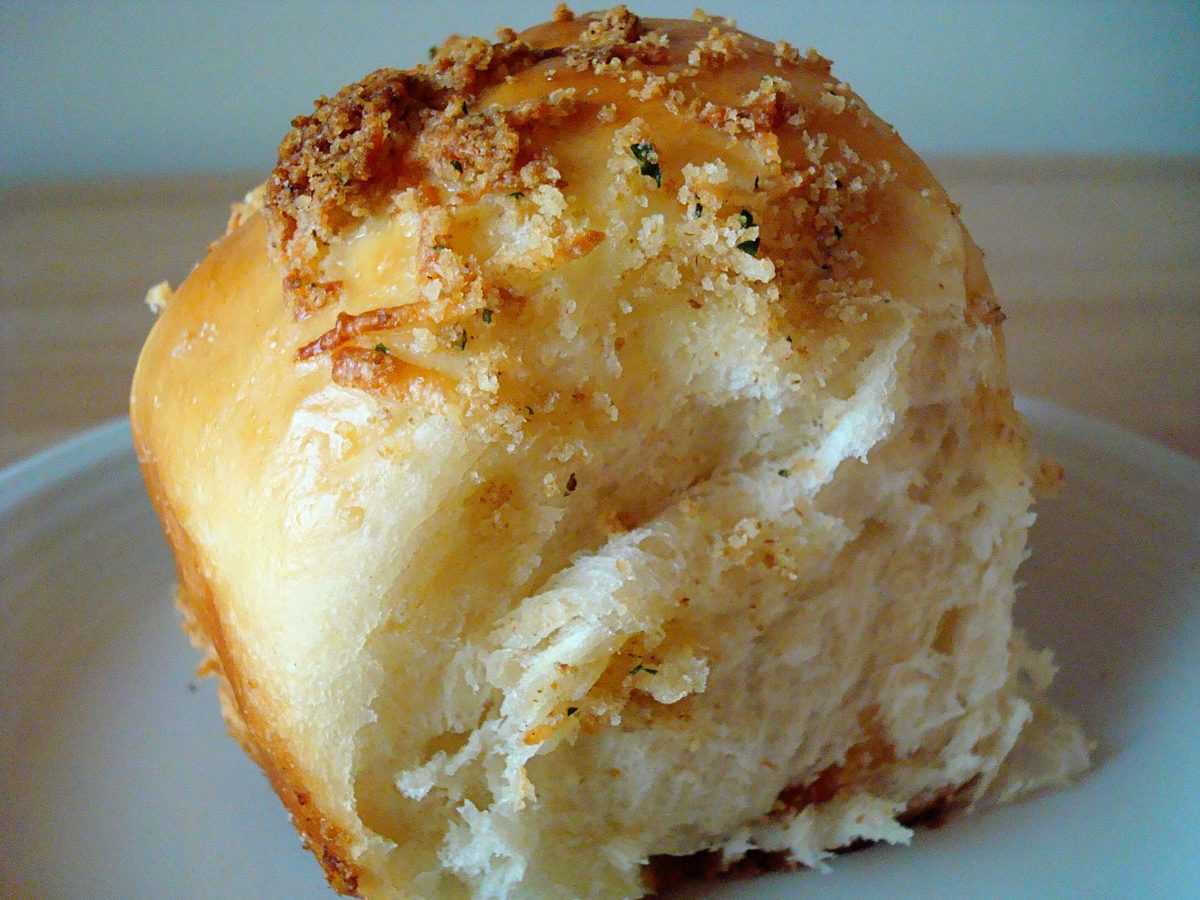 These rolls were made on a whim when I wanted a dinner roll a bit out of the norm. I have my favorite dinner rolls but every once in a while I like to change things up a bit and try new roll recipes.
When I consulted my trusty King Arthur Flour Baker's Companion (which has been by my side for years and never let me down), I spotted these beauties and knew I wanted to make them.
Let's talk about the resulting characteristics of these rolls, shall we?
Soft.
Tender.
Filled with Cheese.
Topped with a crunchy crust of bread crumbs, butter and parmesan.
Very mildly sweet.
Freeze well.
Delicious.
Can you see why these were some of the best rolls I've made lately? I guess I'm going to have to add another roll to my list of favorites. If you opt out of filling the rolls with cheese, the rolls themselves are fantastically delicious and they don't need the surprise of cheese to be a crowd-pleaser.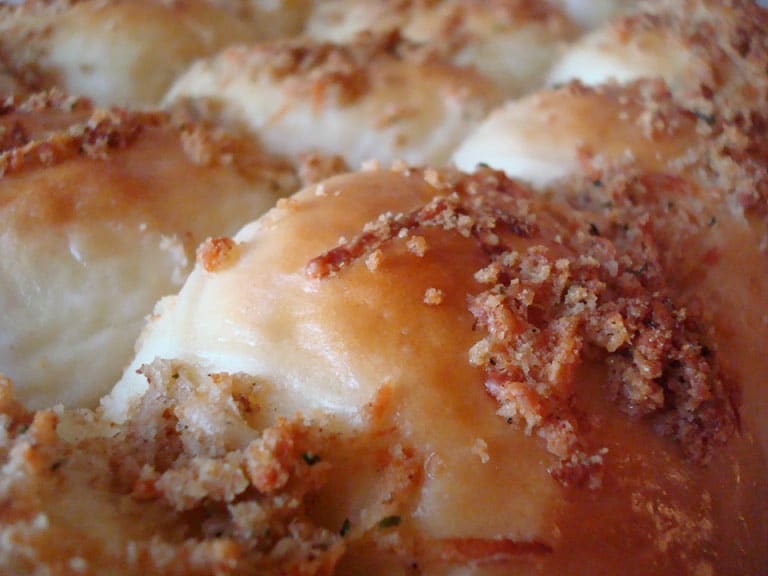 P.S. I had a lot of leftovers and froze them (already baked) for later eating. They reheated perfectly (3 minutes in the microwave on 80% power) and were just as tasty as before.
FAQs for Cheese Rolls with Buttery Parmesan Crust
What if I don't need 15 rolls?
You can halve the recipe by just cutting all of the dry ingredients in half (just use the egg yolk for the egg portion of the recipe). You could also make the whole batch and freeze whatever you don't want for later.
How long do you knead the dough?
In my Bosch mixer, I knead this dough for 5 minutes.
Cheese Rolls with Buttery Parmesan Crust
Additional Time:
37 minutes
Total Time:
1 hour
10 minutes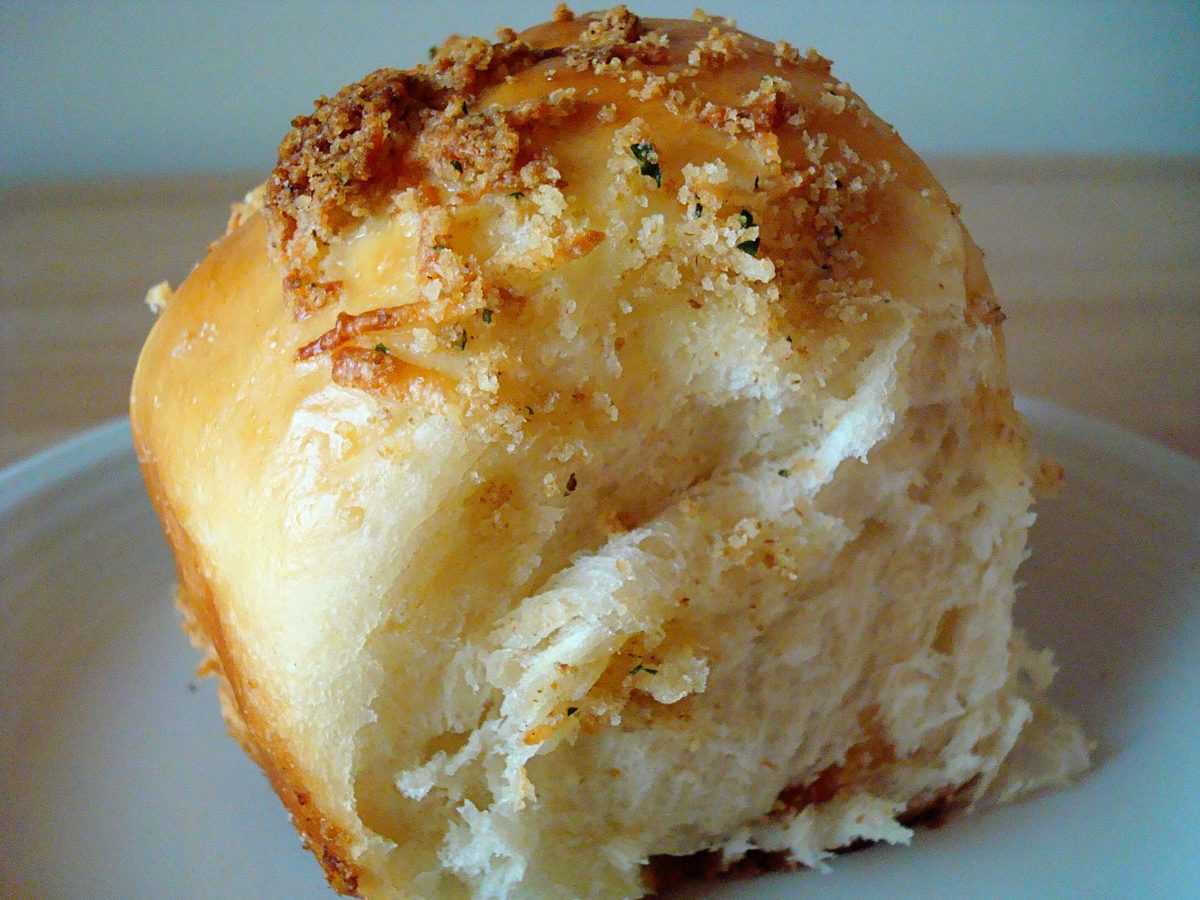 Ingredients
Dough:
4 1/2 teaspoons instant yeast
1/2 cup warm water
1 cup lukewarm milk
1 large egg, lightly beaten
1/4 cup butter, softened
1/3 cup sugar
1 teaspoon salt
5-6 cups unbleached all-purpose flour
Filling:
8 ounces cheddar or pepperjack cheese, cut into 15 cubes
Topping:
2 tablespoons butter
1/4 cup Italian-flavored bread crumbs
1/4 cup grated parmesan cheese
1 egg yolk beaten with 1 tablespoon water
Instructions
For the dough, combine all the ingredients and mix and knead until you have a soft, elastic dough (don't add too much flour – the key to soft dinner rolls is a soft dough!). Place the dough in a lightly greased bowl and cover, letting rise in a warm place for 20-30 minutes.
Prepare a 9X13-inch pan by lightly greasing the bottom and sides with butter or nonstick cooking spray. Deflate the dough and divide into 15 pieces. Shape the pieces of dough into rounds and punch a cube of cheese from the bottom up into the center of each piece. Pinch the dough tightly together to close the bottom. Place the rolls, pinched side down, in the prepared baking pan. Cover and let rise again for another 15 to 20 minutes, or until nearly doubled.
While the rolls are rising, melt the butter and stir in bread crumbs and parmesan cheese. Set aside.
Preheat the oven to 375 degrees. When the rolls have risen, brush the tops with the egg yolk beaten with water. Sprinkle tops of rolls liberally with the bread crumb mixture. Bake for 15 to 18 minutes, until the tops of the rolls are nicely browned. Remove from the pan immediately and cool on a rack. Serve warm.
Notes
Flour Amount: as with all yeast doughs, I never use the flour amount called for in the recipe as a hard fast rule (unless a weight measure is given and then I pull out my kitchen scale). Because humidity, temperature, altitude and a multitude of other factors can impact how much flour you need in your yeast doughs, I always judge when to quit adding flour by the texture and look and feel of the dough rather than how much flour I've added compared to the recipe. This tutorial on yeast may help identify how a perfectly floured dough should be.
Yeast: if you double the recipe, don't double the amount of yeast – it should stay the same as in the original recipe.
Recommended Products
As an Amazon Associate and member of other affiliate programs, I earn from qualifying purchases.
Disclaimer: I am a participant in the Amazon Services LLC Associates Program, an affiliate advertising program designed to provide a means for me to earn fees by linking to Amazon.com and affiliated sites. As an Amazon Associate I earn from qualifying purchases.