Looking for great cheesecake taste without most of the fuss? These cheesecake bars fit the bill to fulfill that cheesecake craving!
I have a most favorite recipe for the real-deal cheesecake. And it is beyond words delicious.
I also have a recipe for an over-the-top no-bake cheesecake that graces our house on Halloween. Fantastic. Chocolate Caramel Cheesecake? Check. Brownie Mosaic Cheesecake? Got it.
But until now, I've never had a recipe for a no-fail Cheesecake Bar recipe. While authentic cheesecakes have their place, sometimes I don't want to mess with a water bath, risk of cracked cheesecake tops, extra-long baking times, meticulous instructions. Fussy, fussy, fussy.
If you are looking for great cheesecake taste without most of the fuss, this recipe fits the bill. Thick graham cracker crust topped with rich, creamy cheesecake – it fulfills the cheesecake craving in a splendid way.
I upped the amount of crust to filling ratio but if you like a thinner crust, feel free to scale down the crust measurements.
Yield: 8-inch square pan

Prep Time: 10 minutes

Cook Time: 50 minutes

Additional Time: 5 hours

Total Time: 6 hours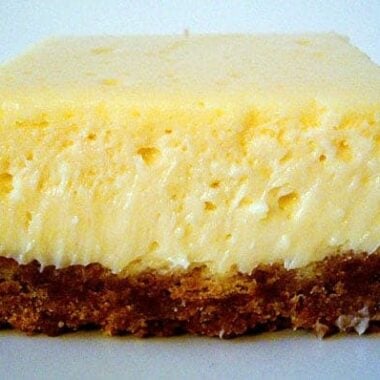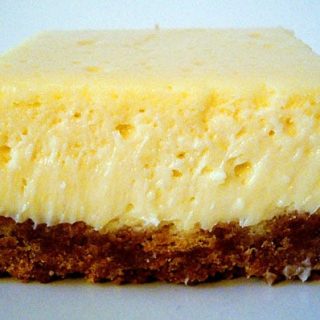 Ingredients
Crust:
2 cups crushed graham crackers
8 tablespoons butter, melted and cooled
3 tablespoons light brown sugar
3 tablespoons all-purpose flour
1/8 teaspoon salt
Filling:
2 (8-ounce) packages cream cheese, softened
2/3 cup (4 2/3 ounces) granulated sugar
2 large eggs
¼ cup sour cream
2 teaspoons fresh lemon juice
1 teaspoon vanilla extract
Instructions
Preheat oven to 325 degrees. Line an 8-inch square baking dish with foil, letting edges hang over the side, and grease foil.
Combine the graham cracker crumbs with the butter, brown sugar, flour and salt and mix well. Sprinkle the mixture into the prepared pan and press into an even layer. Bake the crust until beginning to brown, 12 to 15 minutes.
Beat the cream cheese until smooth in a large bowl, scraping down bowl and beaters as needed. Gradually beat the sugar until incorporated, about 1 minute. Beat in the eggs, one at a time, until completely combined. Beat in the sour cream, lemon juice and vanilla until combined.
Pour the filling over the crust. Bake the bars until the edges are set but the center still jiggles slightly, 35 to 40 minutes.
Let the bars cool completely in the pan, set on a wire rack, about 2 hours, then cover with foil and refrigerate until chilled, at least 3 hours or up to 24 hours. Remove bars from pan using foil and cut into squares and serve.
Notes
Plan Ahead: the bars need to cool completely (about 2 hours) and chill in the fridge (about 3 hours) before serving.
Recommended Products
As an Amazon Associate and member of other affiliate programs, I earn from qualifying purchases.

Recipe Source: adapted from America's Test Kitchen