Chicken Corn Chowder
This chicken corn chowder is is packed with flavor and texture and perfectly balanced with red pepper, tender corn, cheese, and salty ham.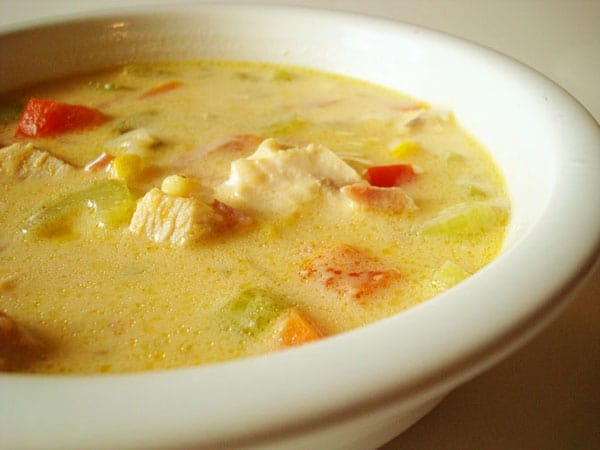 I've got chowder on the brain. From the creamy Chicken and Corn Chowder with Sweet Potatoes to the Boston Clam Chowder I posted recently, warm soups are just the medicine I need to avoid the doldrums of a cold, chilly fall leading toward the inevitable doom of winter.
This particular chowder recipe is from my incredible chef of a sister-in-law, Erin (the exact same one that brought us the clam chowder recipe – she's a gold mine of fabulous food!).
I made this soup last week and despite the long list of ingredients, it really does come together quickly. The night I served this, things (or should I say kidlets) were particularly crazy at the table.
With four boys, we get our fair share of rowdiness every night but this night was out of control. Yelling, shouting, vying for attention. Phrases like "M000000M, make him quit looking at my soup!" and "His feet are touching my chair!" were flying rampant.
My husband and I didn't so much as make eye contact during dinner since we were so busy diverting flying elbows and acting as the dinner police. Imagine my surprise when my husband managed to boldly exclaim through the chaos that this soup was "awesome."
Awesome.
He said it twice. TWICE. Twice on a night when we had no business saying anything to each other or even tasting our food for that matter, since all of our resources needed to be directed toward convincing our children not to start an epic family food fight. And he was right.
This soup is awesome. Packed with flavor and texture, it is perfectly balanced with the sweet red pepper, tender corn, creamy milk and cheese, and salty ham.
Just don't ask how much ended up on my kitchen floor.

Cornbread Muffins or Cornbread and Fluffy Honey Butter
Broiled or griddled cheese quesadillas (for a fancier quesadilla these Crispy Cheese Wraps)
Fresh, seasonal fruit
Yield: 6 servings

Prep Time: 15 minutes

Cook Time: 15 minutes

Total Time: 30 minutes
Ingredients
2 tablespoons extra virgin olive oil
2 stalks of celery, finely chopped
1 red bell pepper, finely chopped
1 medium onion, finely chopped
1 jalapeno, finely chopped, seeds and membrane removed (this is important for flavor – but doesn't add heat because the seeds and membranes are removed and it is cooked with the other veggies)
1/4 cup thinly sliced or cooked chopped ham
3 cloves garlic, minced
2 (14-oz.) cans chicken broth
3 tablespoons flour
3 ears of fresh corn kernels or 1 1/2 cups frozen corn kernels
2 large chicken breasts, cooked and shredded
4 oz. softened cream cheese
1 cup milk
1/2 teaspoon salt
1/4 teaspoon pepper
1 cup shredded cheddar cheese
Instructions
Place olive oil in a large pot over medium heat. Saute celery, bell pepper, onion and jalapeno until tender, about 5 minutes. Stir in the garlic and ham; cook for another 3 minutes. Whisk the broth with the flour in a liquid measuring cup or bowl and then stir into the soup. Stir in the corn and chicken. Bring to a low boil and reduce heat.
Whisk together the cream cheese and milk in a large bowl until smooth (I had a difficult time getting my cream cheese to completely whisk into the milk so my soup had some minor small lumps but next time, I'll soften the cream cheese until almost melted in the microwave).
Whisk the cream cheese/milk mixture into the soup along with the salt, pepper, and cheddar cheese. Simmer on low until ready to serve.
Notes
Plan Ahead: this recipe calls for cooked chicken.
Recommended Products
As an Amazon Associate and member of other affiliate programs, I earn from qualifying purchases.

Recipe Source: from my sister-in-law, Erin
Disclaimer: I am a participant in the Amazon Services LLC Associates Program, an affiliate advertising program designed to provide a means for me to earn fees by linking to Amazon.com and affiliated sites. As an Amazon Associate I earn from qualifying purchases.