Cheesy Au Gratin Potatoes
This cheesy au gratin potato recipe takes all the yummy requirements of an au gratin potato dish and puts it into an easy, no-fuss process.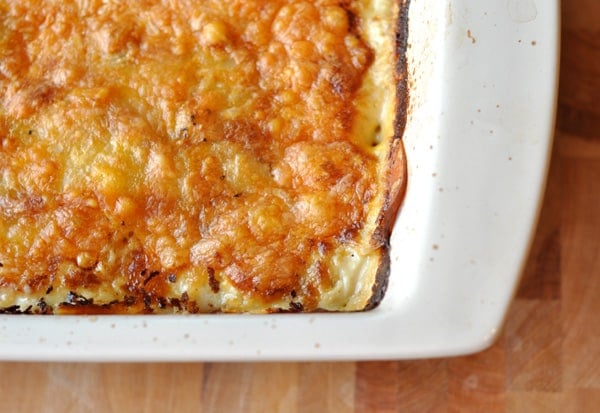 I know, I know, au gratin potatoes aren't the most authentic of Thanksgiving dishes since mashed taters usually take the starch center stage for this holiday.
However, I have to say that I love a cheesy, creamy potato dish at Thanksgiving and since this one will be appearing at my Thanksgiving table (and probably Christmas, too!), I wanted to share it here.
This recipe takes all the delectable requirements of an au gratin potato dish and streamlines it into an easy, no-fuss process.
The ingredients are simple and wholesome (in every caloric sense of the word, if you know what I mean) and the finished dish bakes up with perfectly cooked thinly sliced potatoes layered between creamy cheesy goodness and topped with a crunchy, browned crust.
I've tried a lot of au gratin potato dishes in my day and this is the one that makes me declare, "Bring on the potatoes, baby."
One Year Ago: Whole Wheat Oatmeal Chocolate Chip Cookies
Two Years Ago: Sweet and Spicy Slow Cooker Chicken
Cheesy Au Gratin Potatoes
Yield: 6 servings

Prep Time: 15 minutes

Cook Time: 1 hour 25 minutes

Total Time: 1 hour 40 minutes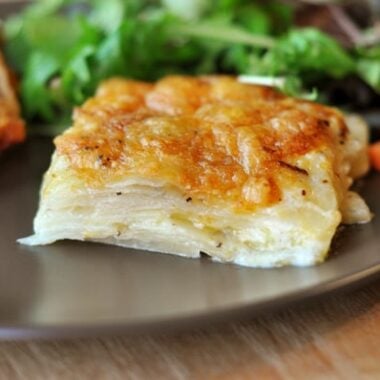 Ingredients
1 1/4 cups shredded sharp cheddar cheese
1 1/4 cups shredded Monterey jack cheese
1/2 cup grated Parmesan cheese
2 teaspoons cornstarch
3 pounds russet potatoes, peeled and sliced 1/8-inch thick
Salt and pepper
3/4 cup heavy cream
1/2 cup low-sodium chicken broth
Instructions
Preheat the oven to 350 degrees and adjust an oven rack to the middle position. In a large bowl, toss the cheeses and cornstarch together until evenly coated.
In a large gratin dish (about a 2- to 3-quart dish), shingle half of the potatoes. Sprinkle the potatoes evenly with 1 1/2 cups of the cheese mixture, 1/2 teaspoon salt, and 1/4 teaspoon pepper. Top with the remaining potatoes, shingling them neatly and evenly. Sprinkle another 1/2 teaspoon salt and 1/4 teaspoon pepper evenly over the top.
Combine the cream and the broth in a large measuring cup and pour the mixture over the potatoes. Top with the remaining cheese mixture and bake until golden brown and a fork inserted into the center slides in easily with little resistance, 75 to 85 minutes. Let the potatoes cool for 10 minutes. Serve.
Notes
Slicing the Potatoes: the key to this dish is the evenly sliced potatoes. It will be nearly impossible to accomplish this feat by hand, since the potatoes need to be sliced 1/8-inch thick. I don't have a mandolin, which would work perfectly, however, a slicing disk on a food processor/shredder works great and in a pinch, I've used the slicing side of my box grater.
Recommended Products
As an Amazon Associate and member of other affiliate programs, I earn from qualifying purchases.

Recipe Source: adapted from Cook's Country April/May 2009