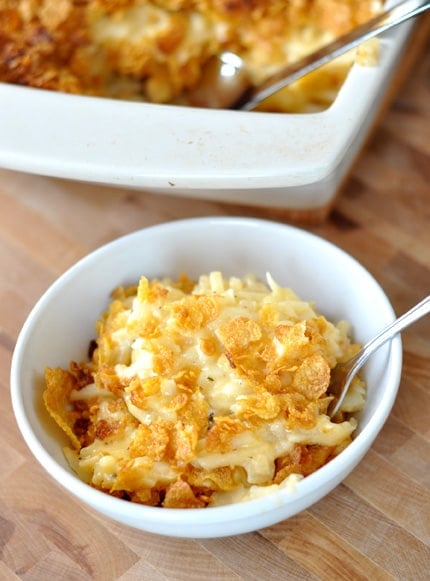 I know, I know, the cheesy potatoes pictured and defined in this post don't necessarily fit the standard, high-class, French definition of au gratin potatoes, but in my defense, I grew up eating my mom's cheesy, humble potato dish, which she always called au gratin potatoes, so that's what I'm calling these babies.
No matter what you call them, the recipe below is finally the culmination of searching and testing and experimenting with recipes to make a cheesy potato dish just like my mom's – but sans cream of chicken soup.
I made these potatoes on a whim this weekend and couldn't wait to tell you about them, even if I am a bit tardy, because let's be serious, cheesy potatoes should not be meant for Easter dinner alone.
You may call this type of potato dish "funeral potatoes" or simply "cheesy potatoes" or "au gratin potatoes" like I do, but all you really need to know is that these divine potatoes are creamy and cheesy and perfect.
I was dancing around my kitchen with joy knowing I had finally stumbled upon a flavorful, simple potato variation, which will finally go into my tried-and-true recipe file for anytime I get the hankering for au gratin (mom-style) potatoes.
Cheesy Au Gratin Potatoes
Ingredients
3 tablespoons butter
1 large yellow onion, chopped
1/4 cup all-purpose flour
1 1/2 cups low-sodium chicken broth
1 cup milk
1 ½ teaspoons salt
1/2 teaspoon pepper
1/2 teaspoon dried thyme
2 cups shredded sharp cheddar cheese (8 ounces)
26-ounce bag frozen shredded hash browns or about 5-6 large russet potatoes, peeled, cooked and shredded or sliced
1/2 cup light sour cream
3 cups cornflakes, lightly crushed
2 tablespoons butter, melted
Directions
Melt the butter in a large pot over medium heat. Add the onion and cook until the onion is softened and translucent,a bout 5-6 minutes. Stir in the flour and cook, stirring constantly, for about a minute. Combine the chicken broth and milk in a liquid measure and slowly whisk in the mixture. Add the salt, pepper and thyme. Stir to combine. Bring the mixture to a boil and then reduce the heat to medium-low and simmer, stirring frequently, until the mixture is slightly thickened, about 5 minutes.
Take the pot off the heat and stir in the cheese until smooth. Mix in the frozen hash browns or potatoes, lifting and folding the mixture until well combined. Finally, stir in the sour cream.
In a medium bowl, toss the lightly crushed cornflakes with the butter until evenly combined. Scoop out the potato mixture into a 9X13-inch baking dish and top with the buttered cornflakes. If baking the potatoes by themselves, bake at 350 degrees for 45 minutes, until hot and bubbly around the edges. If baking the potatoes with a ham (my ham recipe bakes at 300 degrees), bake the potatoes for 90 minutes at 300 degrees then crank the oven to 400 degrees and bake the potatoes for 10 minutes more. In both baking situations, let the potatoes rest for 10 minutes before serving.
https://www.melskitchencafe.com/cheesy-au-gratin-potatoes-2/
Printed from Mel\'s Kitchen Cafe (www.melskitchencafe.com)
Recipe Source: inspired by a recipe in Cook's Country as well as my mom's timeless au gratin potato recipe