The clam chowder recipe of all clam chowder recipes, this creamy, hearty New England clam chowder is absolute perfection.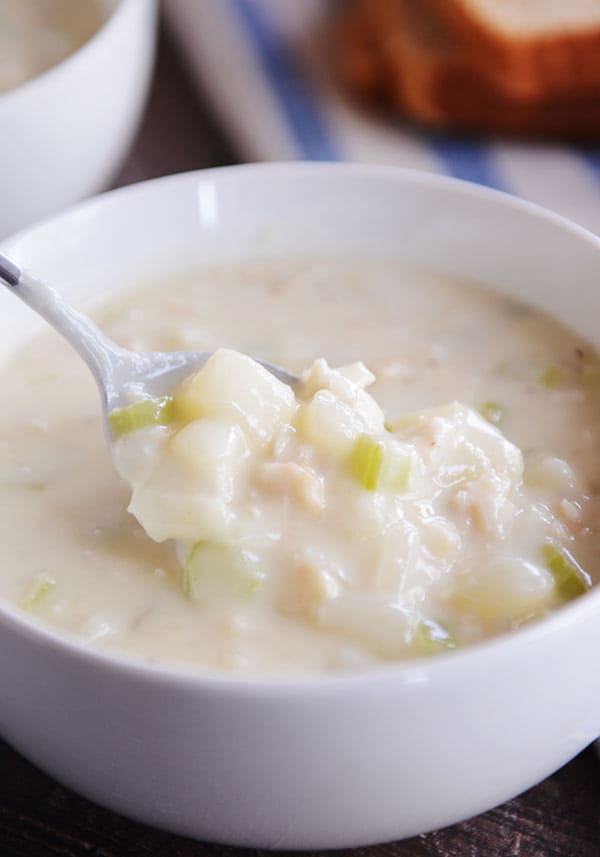 This clam chowder is so incredibly delicious, it's totally converted me from being slightly lukewarm about clam chowder (I like it but haven't ever really loved it) to being completely passionate about the stuff.
It's long been Brian's favorite soup (this is our old go-to recipe, which is good, but today's version is incredible), and this year, I knew I wanted a favorite version. A stellar version. A so-good-you'll-cry version.
And this is it. The crying part may have actually happened, too, because it took me several variations to get this New England-style clam chowder just right, and even though it was getting more delicious and more delicious with each variation, I was wanting and needing Clam Chowder Bonanza 2016 to be over sooner than later (one can only eat clam chowder so many nights in a row without getting slightly emotional).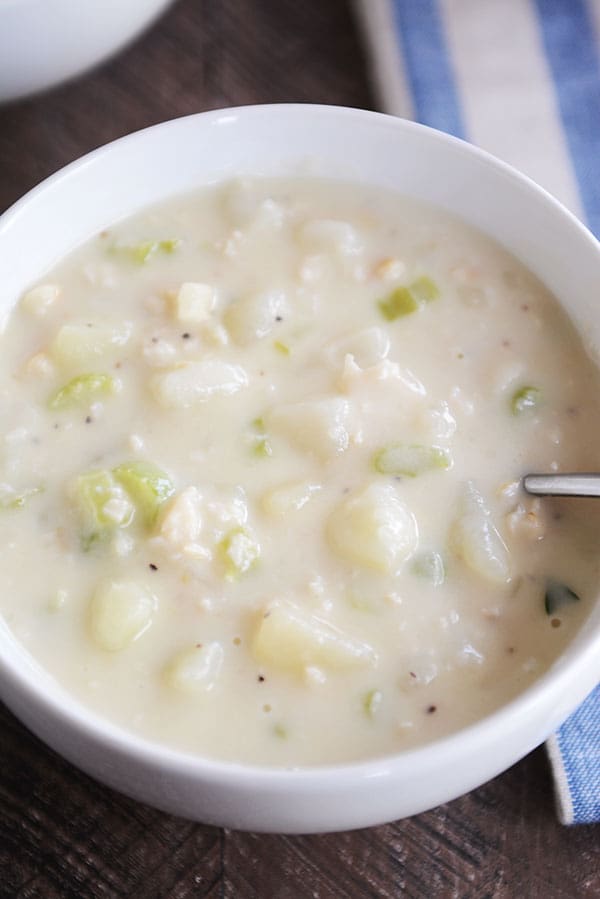 The simple flavors of this clam chowder come together to form something magical. Creamy and hearty, this clam chowder is perfection. Really, it is.
I experimented with all different varieties of potatoes and found that I far preferred russet potatoes over red potatoes, which isn't usually the case (sorry, humble little russets). Yukon Gold's make an acceptable substitute, but russets are my fave here – their soft, creamy texture is just what the chowder needs.
I totally understand clam chowder can be a very personal (and often polarizing) subject. For us, creamy New England- or Boston-style clam chowder reigns supreme, and this version is going to be a long-standing favorite, I just know it.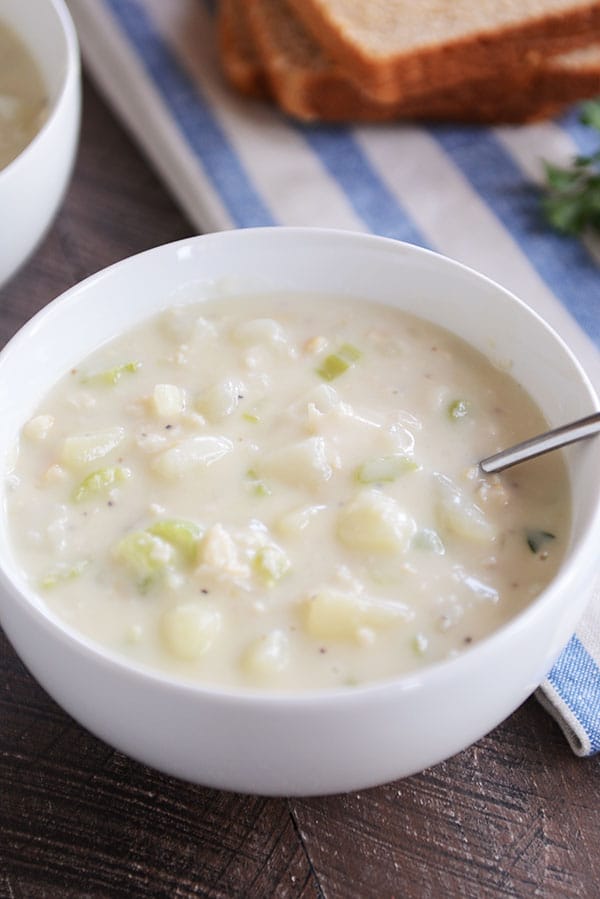 This soup reheats beautifully, although it will definitely thicken as it stands (especially if refrigerated overnight). The flavors are even more delicious the next day. And don't ask me how I know, but even straight from the fridge, the clam chowder is tasty, tasty, tasty.
Sorry if the thought of cold leftovers is revolting (Brian is giving you a high five). I'm a cold leftover lover and proud of it, and I'm happy to report most of my kids agree with me. Some of that may be the inheritance of my impatient nature – who wants to waste a good minute warming something up in the microwave?
If you've been on the lookout for a great clam chowder recipe, give this one a whirl! I have a feeling I'm not the only one who will become fully converted to clam chowder after tasting the deliciousness of this New England-style version.
Gosh, I love soup season.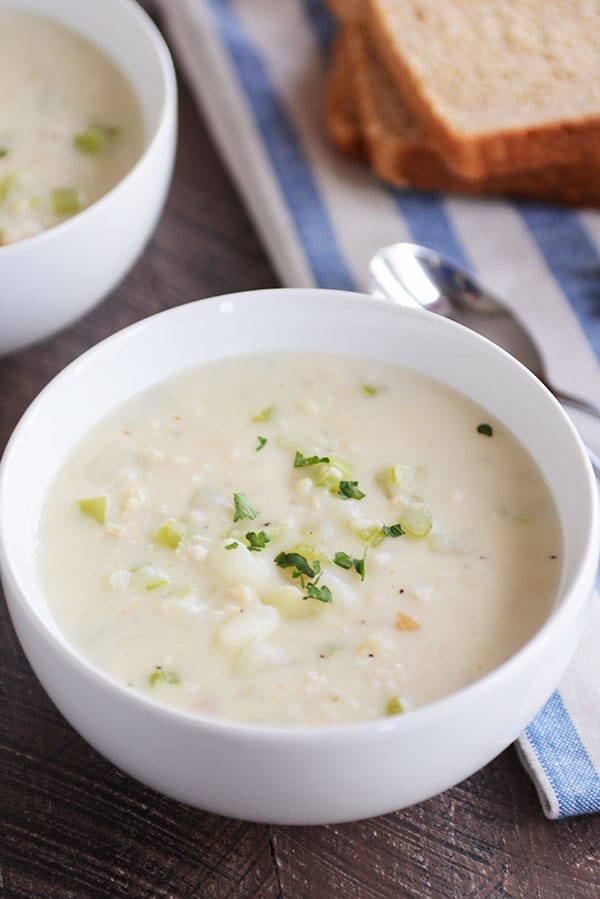 One Year Ago: Apple Pie Cinnamon Rolls
Two Years Ago: My Favorite Halloween Food Ideas
Three Years Ago: Loaded Broccoli Cheese and Bacon Soup
Ingredients
5 cans (6.5 ounces each) chopped clams
2 bottles (8 ounces each) clam juice
1 cup low-sodium chicken broth
1 1/2 pounds russet or yukon gold potatoes, peeled and small diced (about 3 medium potatoes)
1 bay leaf
4 tablespoons butter
2 tablespoons olive oil
1 cup finely diced onion
1 cup diced celery (about 4 medium stalks)
2 garlic cloves, finely minced or pressed through a garlic press
1/2 cup all-purpose flour
1 cup milk
1 cup half and half
1 teaspoon salt
1/2 teaspoon pepper
1 tablespoon red wine vinegar
Directions
Drain the clams, reserving the juice. Set both the clams and juice aside.
In a 5- or 6-quart pot, combine the clam juice, broth and potatoes (the potatoes will just barely be covered with liquid; it's important they are diced small). Bring to a simmer, add the bay leaf, and cook until the potatoes are tender, about 8-10 minutes.
While the potatoes cook, in a second pot, heat the butter and olive oil over medium heat until the butter is melted. Stir in the onions, celery, and garlic. Cook, stirring occasionally, until the vegetables have softened, 5-7 minutes.
Stir in the flour and cook for 30 seconds to a minute. Gradually whisk in the milk and half and half, stirring quickly to avoid lumps. Bring to a simmer and cook until the mixture has thickened, 4-5 minutes.
Stir the creamy mixture into the potatoes, whisking quickly until combined (take out the bay leaf if it's getting in the way). Stir in the salt, pepper, vinegar, and reserved clams. Bring the soup to a gentle simmer and cook for 4-5 minutes.
Stir in any of the reserved clam juice to thin the consistency, if desired (I usually don't but we like it thick). Serve.
https://www.melskitchencafe.com/new-england-clam-chowder/
Printed from Mel\'s Kitchen Cafe (www.melskitchencafe.com)
Recipe Source: from Mel's Kitchen Cafe (after playing around with a lot of different versions including this old version on my site for Boston clam chowder and this recipe at Epicurious, among others)