Steak Hoagies with Mushrooms, Onions and Peppers
These steak hoagies with mushrooms and peppers are so fast and hands-down better than any restaurant sandwich you would pay mega bucks for.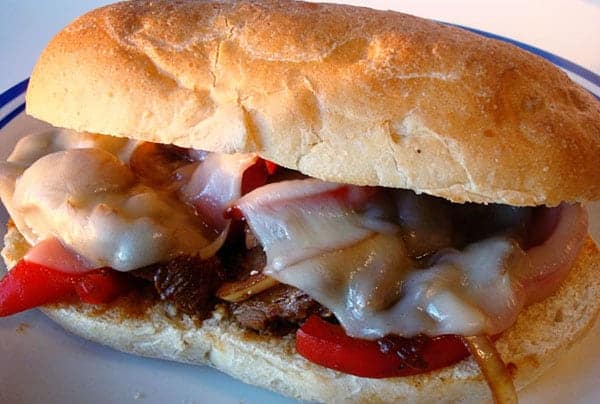 My stomach is growling just looking at the picture of this fantastical sandwich. I originally spied it in an issue of Cook's Country and didn't get around to making it until I saw Norah post about it on her blog. After she raved about it, I knew I should try it and it did not disappoint.
These babies are fast (so fast!) and hands-down better than any sandwich I've paid mega-bucks for.
Because the steak is cooked in a stovetop skillet, you don't have to worry about the cold weather (assuming you have cold weather in your area) deterring you from grilling up these sandwiches.
I fashioned one of my favorite roll recipes into hoagie buns and the combination of the succulent steak, tender veggies and creamy provolone cheese on light and perfect homemade buns was breathtakingly wonderful (not to mention quite economical).
Steak Hoagies with Mushrooms, Onions and Peppers
Yield: 4-6 large sandwiches

Prep Time: 15 minutes

Cook Time: 18 minutes

Total Time: 33 minutes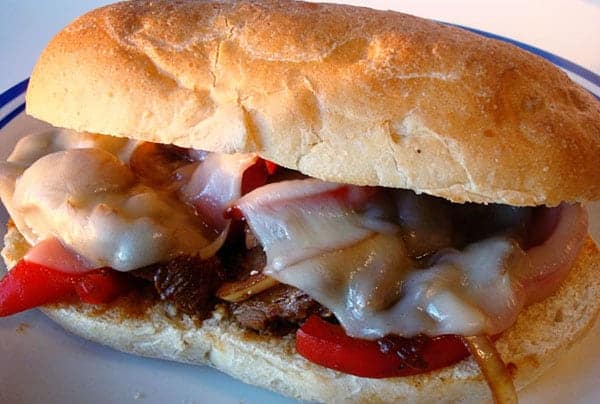 Ingredients
3-4 pounds sirloin steak, about 1 inch thick (strip steaks are originally called for in the recipe but were way too expensive when I shopped so use whatever is the best buy)
1 tablespoon sauté spice (equal parts black pepper, salt, and garlic powder)
2 tablespoons olive oil
1 onion, sliced thin
1 red bell pepper, seeded and sliced thin
8 ounces white mushrooms, sliced thin
2 tablespoons steak sauce (I used A-1)
1/2 teaspoon dried oregano
4-6 (6 inch) sub rolls, slit partially open lengthwise
6 ounces thinly sliced deli provolone cheese
Instructions
Adjust oven rack to upper middle position and heat oven to 450 degrees. Pat steak dry with paper towels and rub saute spice liberally into each side. Heat 1 tablespoon oil in large skillet over medium high heat until rippling. Cook steaks until well browned, 5 to 6 minutes per side (this is all the cooking time the steaks get so cook them according to your preference). Transfer to plate and tent with foil. Let them rest for five minutes, then slice thinly against the grain.
Meanwhile, add remaining oil, onion, bell pepper, mushrooms, and 1/2 teaspoon salt to empty skillet and cook until vegetables are softened and golden brown, 6 to 8 minutes. Off the heat, stir in steak sauce, oregano, and sliced steak until well combined.
Divide steak mixture among rolls and top with cheese. Arrange sandwiches on rimmed baking sheets and bake until cheese is melted and rolls are golden brown around edges, about 5 minutes. Serve.
Recommended Products
As an Amazon Associate and member of other affiliate programs, I earn from qualifying purchases.

Recipe Source: adapted from Cook's Country
Disclaimer: I am a participant in the Amazon Services LLC Associates Program, an affiliate advertising program designed to provide a means for me to earn fees by linking to Amazon.com and affiliated sites. As an Amazon Associate I earn from qualifying purchases.