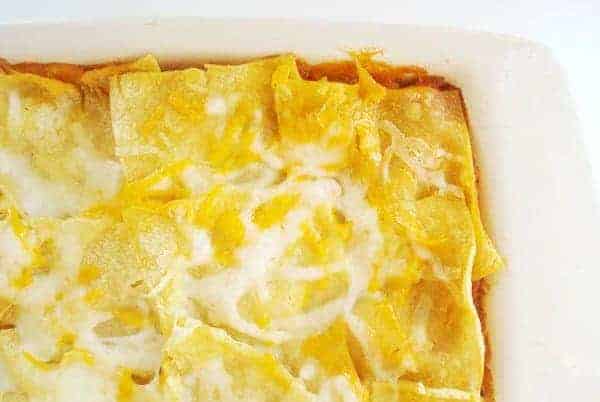 Here's my contribution to Cinco de Mayo! And boy, is it good (the picture would be even prettier if I wouldn't have forgotten the bright, fresh cilantro – so just try to picture it yourself, alrighty?).
Classic chicken tortilla casserole meets a revamped, homemade filling that is so delicious I'm surprised any made it into the casserole itself since I was ready to eat it up with some tortilla scoops. Not to mention the fact that my house smelled utterly amazing while this spicy, tasty concoction simmered on my stove.
I'm in love with chipotle chiles for their amazing flavor and warmth and they definitely add great depth to this dish (they also appear in these yummy chicken tacos).
The best thing about this casserole is that it can be made up to two! days ahead and refrigerated. Now that's what I call practical (someone's looking out for us, bless their little hearts!).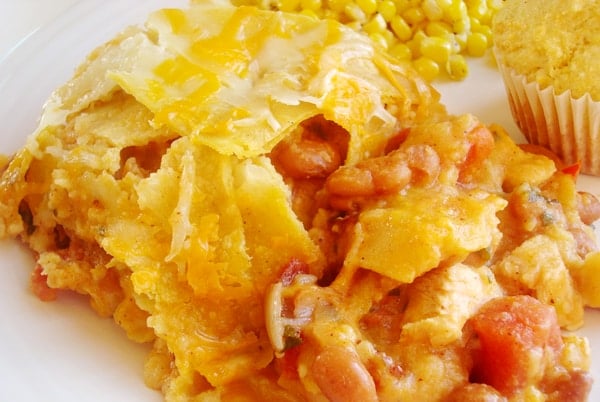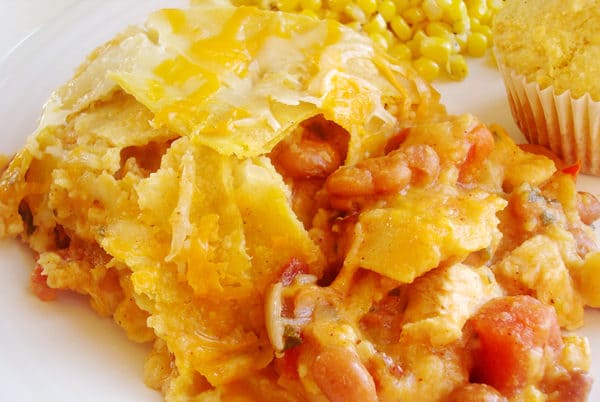 Cornbread Muffins
Fresh, seasonal fruit
Steamed corn or Corn on the Cob
Yield: 6 servings

Prep Time: 15 minutes

Cook Time: 1 hour 30 minutes

Total Time: 1 hour 45 minutes
Ingredients
2 tablespoons canola oil
1 large onion, chopped fine
2 red bell peppers, stemmed, seeded, and diced medium
1 teaspoon ground cumin
1 teaspoon chili powder
¾ teaspoon salt
3 medium garlic cloves, finely minced
2 tablespoons all purpose flour
2 cups low sodium chicken broth
2 canned chipotle chiles in adobo sauce, chopped with 2 teaspoons sauce (decrease the amount of sauce to 1 teaspoon if you want it less spicy)
2 (15.5 ounce) cans pinto beans, drained and rinsed
1 (14.5 ounce) cans diced tomatoes, drained
2 pounds boneless skinless chicken breasts trimmed of fat and cut into bite-size pieces
¼ cup plus 2 tablespoons chopped fresh cilantro
2 tablespoons lime juice
¼ teaspoon ground black pepper
18 (6-inch) round corn tortillas
Vegetable cooking spray
6 ounces cheddar cheese shredded (about 2 cups)
6 ounces Monterey jack cheese shredded (about 2 cups)
Instructions
Adjust an oven rack to the middle position and heat the oven to 450 degrees. Heat the oil in a dutch oven or large pot over medium heat until shimmering. Add the onion, bell peppers, cumin, chili powder, and salt; cook, stirring occasionally, until the vegetables are soft and the onions are golden, about 10 minutes. Add the garlic and cook until fragrant, about 1 minute
Add the flour and cook, stirring constantly, until golden, about 1 minute. Slowly whisk in the chicken broth and bring to a simmer, whisking often. Add the chipotles with adobo sauce, beans, and tomatoes; simmer until the flavors have blended about 5 minutes. Add the chicken and cook, stirring occasionally, until no longer pink, about 4 minutes. Stir in ¼ cup cilantro, the lime juice and pepper.
Place a damp paper towel on the bottom and top of the corn tortilla stack. Microwave for 45 seconds to 1 minute until they are soft and pliable.
Toss the cheeses together in a medium bowl. Spread 1/3 of the chicken mixture in a lightly greased 9X13 inch dish. Layer 6 tortillas on top of the filling, overlapping as needed, and sprinkle with 1 ½ cups of the cheese. Repeat the process to form a second layer.
Spread the remaining filling in the baking dish. Cut the remaining 6 tortillas into quarters and arrange over the top and finish off with the remaining cheese. Bake until the cheese is golden brown and the casserole is bubbling, about 15 minutes. Cool for 10 minutes. Sprinkle with the remaining 2 tablespoons cilantro before serving. Serve with additional accompaniments, such as salsa, diced avocado, sour cream or sliced green onions. The casserole can be made and refrigerated for up to 2 days. To bake, cover tightly with foil. Bake about 1 hour. Remove foil and bake until cheese has browned, about 10 minutes longer. Cool for 10 minutes.
Notes
Tortillas: keep the corn tortillas wrapped in plastic or covered with a damp kitchen towel until ready to use – they will dry out quickly.

Make-Ahead: the casserole can be made and refrigerated for up to 2 days. To bake, cover tightly with foil. Bake about 1 hour. Remove foil and bake until cheese has browned, about 10 minutes longer. Cool for 10 minutes.
Recommended Products
As an Amazon Associate and member of other affiliate programs, I earn from qualifying purchases.

Recipe Source: adapted slightly from America's Test Kitchen Cover & Bake