Stir Fry Basil Chicken
This stir fry basil chicken is fast, healthy, and the sweet and spicy Thai-style flavors combined with the fragrant basil are so very, very delicious.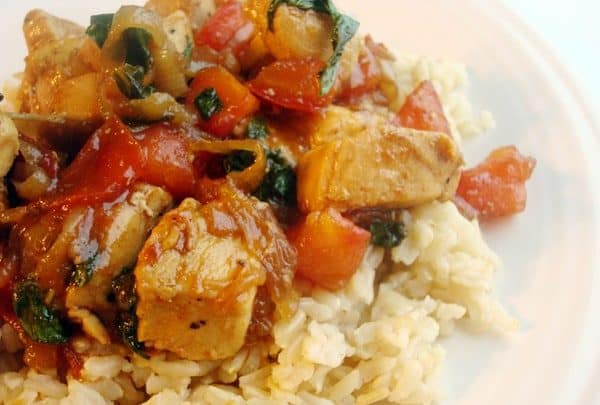 I'll keep it short and sweet today since my dirty toilets are beckoning and after the grind of cleaning, the day is too beautiful to be wasted inside.
Make this dish. As soon as you can. It is fast (2o minutes, people!), healthy, and the sweet and spicy Thai-style flavors combined with the fragrant basil are so very, very delicious. (Thank you Emily for the recipe!)

I served it over this brown rice and because the entire meal was so healthful, I ate three of these to compensate.
One Year Ago: Southwestern Turkey Burgers
Two Years Ago: Mini Black Bottom Cupcakes
Yield: 4 servings

Prep Time: 10 minutes

Cook Time: 12 minutes

Total Time: 22 minutes
Ingredients
1 tablespoon canola oil
3 garlic cloves, finely minced
1/4 teaspoon – 1/2 teaspoon red pepper flakes (depending on how spicy you like it – I used 1/4 teaspoon and it perfectly warm but not too spicy)
1 yellow (or other sweet) onion, cut in half and sliced in thin half moon strips
2 boneless, skinless chicken breasts (about 1 1/2 pound), cut into bite-size pieces
1/4 cup oyster sauce
1/4 cup hoisin sauce
2 tablespoons soy sauce
1 tablespoon sugar
1 bunch fresh basil (about 1/2 cup), torn into pieces
2 large tomatoes, chopped
Instructions
Heat the oil in a large non-stick skillet over medium heat. Add the garlic and red pepper flakes. Stir constantly and cook for 30 seconds to one minute, until fragrant (don't let the garlic burn!). Add the sliced onions. Cook until translucent, stirring every now and then, about five minutes. Add the chicken and cook for 3-5 minutes, until browned and cooked through.
Add the oyster sauce, hoisin sauce, soy sauce, and sugar and stir until everything is well coated. Reduce the heat to medium low and sprinkle the tomatoes over the top of the mixture. Tear the basil by hand and sprinkle it over the tomatoes. Over medium heat, let the tomatoes and basil sit, without stirring, for about 5-7 minutes. Stir the mixture until everything is well combined and heated through.
Serve immediately over rice.
Recommended Products
As an Amazon Associate and member of other affiliate programs, I earn from qualifying purchases.

Recipe Source: adapted (according to what I had on hand) from Emily, a MKC reader
Disclaimer: I am a participant in the Amazon Services LLC Associates Program, an affiliate advertising program designed to provide a means for me to earn fees by linking to Amazon.com and affiliated sites. As an Amazon Associate I earn from qualifying purchases.