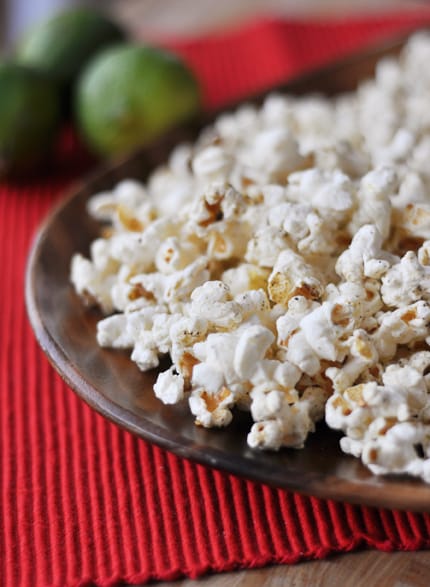 I have long since thought that the perfect party would consist of about 50 different savory and sweet varieties of popcorn. Just that. Popcorn. Oh, and maybe some water or another simple beverage. I'm so fancy, I know. But I love, love, love popcorn.
Not just the simple, buttered kind, but I adore other savory styles of popcorn, too, and this Chile Lime Popcorn is just about the tastiest set of kernels I've ever eaten.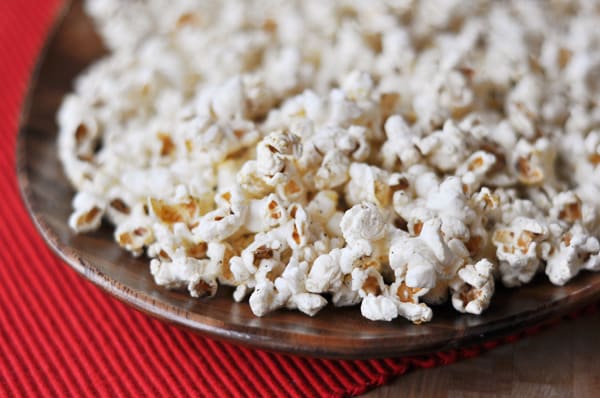 Infused with a subtle lime flavor and tossed with gentle smoky spices, this light, buttery, spicy snack is a great way to change up serving regular ol' popcorn.
A bowl full of this magical popcorn would be perfect alongside any appetizer, dessert spread, or served for movie night or game day.
Delicious stuff. Enough said.
Yield: 16 cups of popcorn

Prep Time: 15 minutes

Cook Time: 7 minutes

Total Time: 22 minutes
Ingredients
4 quarts freshly popped popcorn
1/3 cup (5 1/3 tablespoons) butter, melted
2 teaspoons freshly squeezed lime juice, from about 1-2 limes
1/2 teaspoon finely grated lime zest
1/2 teaspoon freshly ground black pepper
1/2 teaspoon salt
1/2 teaspoon red pepper flakes
3/4 teaspoon ground cumin
Instructions
Preheat the oven to 300 degrees F. Line a baking sheet with foil, silicone baking mat or parchment paper. Set aside.
Put the popped popcorn in a large, clean paper bag or a jumbo-sized ziploc bag (which is what I used). In a small bowl whisk together the butter and lime juice. In another small bowl combine the lime zest, black pepper, salt, red pepper, and cumin.
Drizzle half of the butter mixture over the popcorn, fold over or close the top of the bag, and shake until the popcorn is coated and moist. Taste. Add more of the butter mixture if you like, and give a second shake. Sprinkle most of the pepper mixture over the popcorn, fold over or close the top of the bag, and shake a few times to coat. Taste, and if you'd like more pepper flavor add the rest of it. Toss to combine.
Spread the popcorn evenly over the baking sheet and bake until the popcorn is dry, 5-7 minutes. Store in an airtight container until ready to serve (this is best served within a few hours).
Recommended Products
As an Amazon Associate and member of other affiliate programs, I earn from qualifying purchases.

Recipe Source: adapted from 101 Cookbooks, originally from Popcorn by Patrick Evans-Hylton