Everything tastes better in a wonton cup and these hot pizza dip bites are no exception! These pizza bites will be the hit of your next party!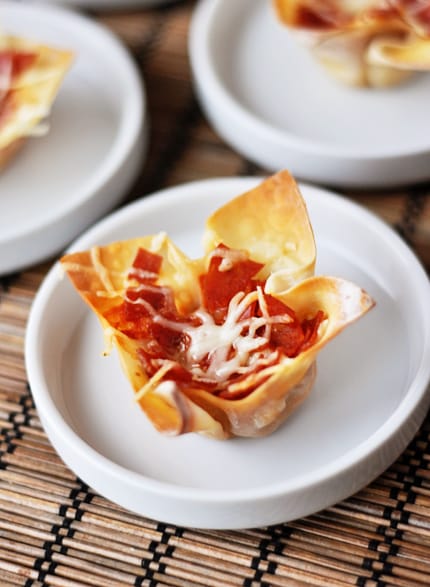 If I've said it once, I've said it a million times: EVERYTHING TASTES BETTER IN A WONTON CUP.
Ok, so I've actually never really said that but I'm going to start because it is true and these hot pizza dip bites provide impeccable proof. Meant to be a family-style dip, my sweet blogging friend, Kim (in MD!), sent me the recipe for Hot Pizza Dip, adding that she has made it into bite-size wonton cup form before.
So of course I copied her and did the same thing and oh my pizza-loving heavens, these crispy little cups filled with all things wonderful when it comes to pizza were incredibly delicious.
I hate it when I have to steal food from my children but in this case, the guilt was mild when I snatched the last pizza bite from the plate as my 7-year old was going for the same treasure.
Don't worry, he had already eaten at least 6 of the magically wonderful appetizers and I was simply trying to teach him some self-control.
Adaptable to fit your pizza visions (meat lover's, Hawaiian, all veggie??), these pizza bites are bound to be the hit of your next party. I've included directions in the recipe for the bite-size version and also the dip style. Think of me with every bite you take.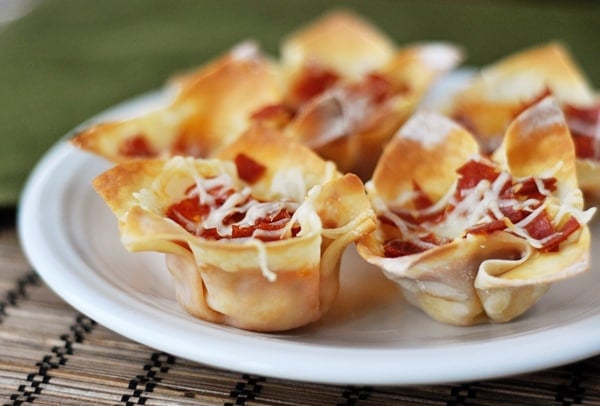 Yield: about 24

Prep Time: 15 minutes

Cook Time: 16 minutes

Total Time: 31 minutes
Ingredients
8 ounces cream cheese, light or regular, softened
½ teaspoon dried oregano
½ teaspoon dried basil
½ teaspoon garlic powder or 1 clove fresh minced garlic
1 cup shredded mozzarella cheese
1 cup finely shredded parmesan cheese
1 cup pizza sauce or good marinara sauce (my favorite pizza sauce recipe is here)
3 ounces finely chopped pepperoni
24 square wonton wrappers
Instructions
Preheat the oven to 350 degrees F. In a small bowl, whisk together the cream cheese, oregano, basil and garlic. Lightly grease a mini-muffin tin pan with cooking spray and press one wonton wrapper gently into the muffin tin, carefully but firmly pressing it into the sides of the cups. Bake the wonton wrappers for 4-6 minutes, until lightly browned. Remove the pan from the oven and keep the wonton wrappers in the mini cups.
Dollop a teaspoon or two of the cream cheese mixture into the bottom of each wonton cup. Sprinkle mozzarella cheese over the top of the cream cheese mixture. Top with a teaspoon or so of the pizza sauce. Sprinkle with parmesan cheese and chopped pepperoni. Bake for 10 more minutes until the filling is bubbly and wonton edges are golden brown. Serve warm!
To make this into a dip: spread the cream cheese mixture into the bottom of a 9" shallow oven-proof dish. Sprinkle ½ cup of the mozzarella, then
½ cup of the parmesan cheese over the cream cheese mixture. Spread the pizza sauce over the cheeses. Sprinkle with remaining cheeses. Top with pepperoni and other veggies or pizza toppings of your choice. Bake until hot and bubbly, about 20 minutes. Serve warm with tortilla chips, baquette slices or crackers.
Notes
Dip vs. Bites: these pizza bites can also be made in a shallow baking dish as more of a dip versus finger food.

Toppings: also, feel free to tailor toppings to your tastes. The sky's the limit when it comes to pizza!
Recommended Products
As an Amazon Associate and member of other affiliate programs, I earn from qualifying purchases.

Recipe Source: from my virtual friend, Kim in MD