Chocolate Caramel Cheesecake
If you need a terribly indulgent and crowd-pleasing dessert recipe look no further! This chocolate caramel cheesecake is decadent and extremely delicious.
Along with the Holiday Morning Buns, this decadent cheesecake made an appearance on my husband's birthday a few weeks ago.
If you need a terribly indulgent and crowd-pleasing dessert recipe for Christmas next week, I would suggest looking no further.
From Smitten Kitchen, I've had my eye on this recipe for a while but was skeptical about a chocolate cheesecake because I thought it might be "too much" – too dense, too rich, too one dimensional. Oh, how I was wrong!
This was one of the best cheesecakes I have ever had and I was actually surprised at how much my husband liked it. Sure, I made it for his birthday and all, but he's not an over-the-top chocolate fan (there was selfish motive in making it, let's be honest) and still he could not get enough.
The cheesecake is surprisingly light and not at all gritty and thick like some baked cheesecakes I have had. The caramel helps lighten the heaviness of the chocolate and overall, this was superb.
It is definitely my new go-to chocolate cheesecake recipe and will probably be making an appearance at our Christmas dinner.
Chocolate Caramel Cheesecake
Yield: 9.5-inch springform pan

Prep Time: 15 minutes

Cook Time: 1 hour 15 minutes

Additional Time: 6 hours

Total Time: 7 hours 30 minutes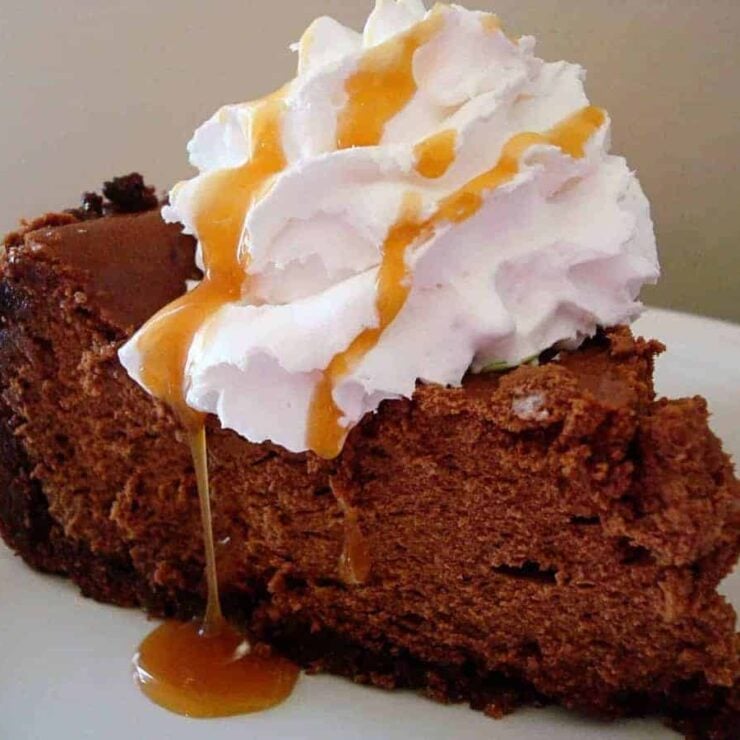 Ingredients
Cheesecake:
1 crumb-crust recipe (recipe below)
1 cup sugar
3/4 cup heavy cream
8 oz fine-quality bittersweet chocolate (not unsweetened), chopped
1/2 cup sour cream
3 (8-oz) packages cream cheese, softened
4 large eggs
1 teaspoon vanilla
Crumb Crust:
3 cups (10 oz) finely ground cookies such as chocolate wafers or chocolate teddy grahams
5 tablespoons butter, melted
1/3 cup sugar
1/8 teaspoon salt
Instructions
For the crumb crust, Stir together crust ingredients and press onto bottom and 1 inch up side of a buttered 24-centimeter springform pan. Fill right away or chill up to 2 hours.
For the cheesecake, preheat oven to 350°F.
Cook sugar in a dry heavy saucepan over moderately low heat, stirring slowly with a fork, until melted and pale golden. This step takes a lot longer than I thought – a good 10-15 minutes on my stovetop. After the sugar turns pale golden, cook without stirring, swirling pan, until deep golden. Remove from heat and carefully add heavy cream (mixture will vigorously steam and caramel will harden). Cook over moderately low heat, stirring, until caramel is dissolved. (I will admit I had a bit of trouble with this step – my caramel never fully dissolved again but I was also a little impatient and probably didn't wait long enough so I ended up removing the chunks of sugar that never dissolved and using the rest of the cream/caramel mixture in the cheesecake. The cheesecake still tasted phenomenal. Next time I'll try to have more patience in remelting the hardened caramel.) Remove from heat and whisk in chocolate until smooth. Stir in sour cream.
Beat cream cheese with an electric mixer until fluffy, then beat in chocolate mixture on low speed. Beat in eggs, 1 at a time, then vanilla, beating on low speed until each ingredient is incorporated and scraping down bowl between additions.
Put springform pan with crust in a shallow baking pan. Pour filling into crust and bake in baking pan (to catch drips) in middle of oven 55 minutes (this took about 65 minutes in my oven), or until cake is set 3 inches from edge but center is still slightly wobbly when pan is gently shaken. My cheesecake developed an enormous crack after baking so next time I will bake it in a water bath to eliminate cracking.
Run a knife around top edge of cake to loosen and cool completely in springform pan on a rack. (Cake will continue to set as it cools.) Chill cake, loosely covered, at least 6 hours. Remove side of pan and transfer cake to a plate. Bring to room temperature before serving (I actually found the cheesecake tasted better slightly cold). Makes 8 to 10 servings.
Recommended Products
As an Amazon Associate and member of other affiliate programs, I earn from qualifying purchases.

Recipe Source: adapted from Smitten Kitchen via Epicurious.com
Disclaimer: I am a participant in the Amazon Services LLC Associates Program, an affiliate advertising program designed to provide a means for me to earn fees by linking to Amazon.com and affiliated sites. As an Amazon Associate I earn from qualifying purchases.